New Year = new calendar, 8 most common Q&A about photo calendars
by Julia,
10 Jan 2019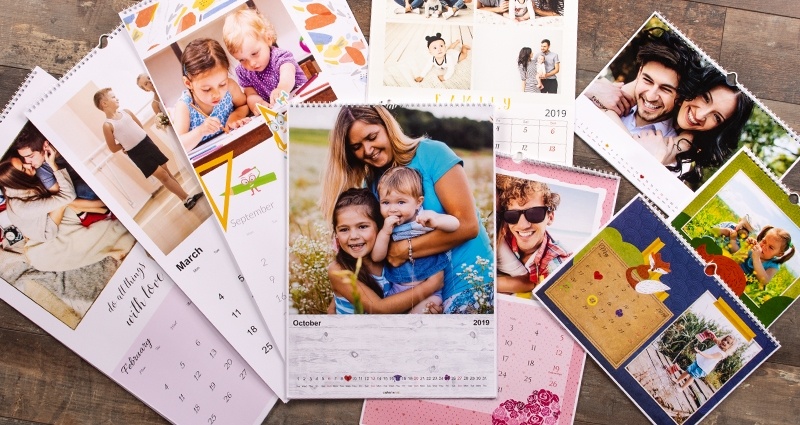 When we say "January", we immediately think about the New Year and... a new calendar! This is why we've prepared for you the most common questions about calendars asked by our Customers but also by other web users + our answers in the form of Q&A. Be sure to check them out!
1. Where to print a (photo) calendar? Which website is the best to create a calendar?
When it comes to the second question, the answer is simple. There is a variety of websites where you can create your calendar from scratch. However, if you are reading this article, you'll surely agree with us that the best of them is colorland.com :)
Whereas, the question "where to design a calendar" can be answered in two ways – the first answer can be found in the paragraph above. The second one is very simple: you can create it everywhere – in a train, at home, during the break at work. All you have to have is access to a computer/laptop and to the Internet – our intuitive and easy to use online editor will do the rest. It's a software which, thanks to many personalisation options, will let you quickly and efficiently design a unique calendar with your favourite photos. 
2. Who to design a photo calendar for?
You like a photo calendar idea but you're still unsure who you can present with such a calendar? You don't have to wonder anymore – a photo calendar is great for everyone! You can design a calendar with photos of grandchildren for grandparents; with family photos of children for your wife or with photos of holiday adventures spent together for your friend. There's no limit!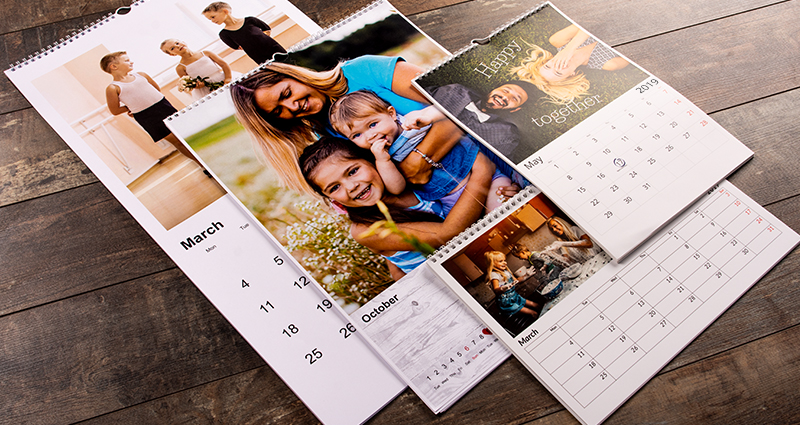 3. Photo calendar with one or many photos?
If you decide to create a unique photo calendar at the Colorland's website, you will surely forget what the word "limits" means. Our online editor will let you add as many photos as you want on each page of your calendar! You can opt for a calendar with 1 single photo or you can let your imagination go wild and create a collage full of the most wonderful moments which will make you happy for the next 365 days!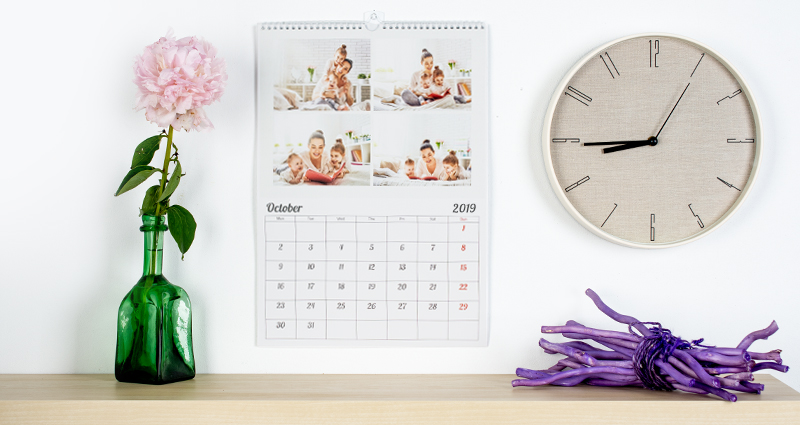 4. Calendar as a planner for the whole family? How to make it?
Thanks to Colorland's online editor, your photo calendar can be easily converted into a functional planner for the whole family. All thanks to the possibility to fully personalise a timeline by marking the most important dates for the family such as anniversaries, birthdays, etc. Remember that you can mark each date with a different icon (e.g. a balloon, heart or champagne glasses) and even change its colour! It's worth thinking about preparing a motivational calendar or a calendar in the form of a "to-do" list which we described in our previous article.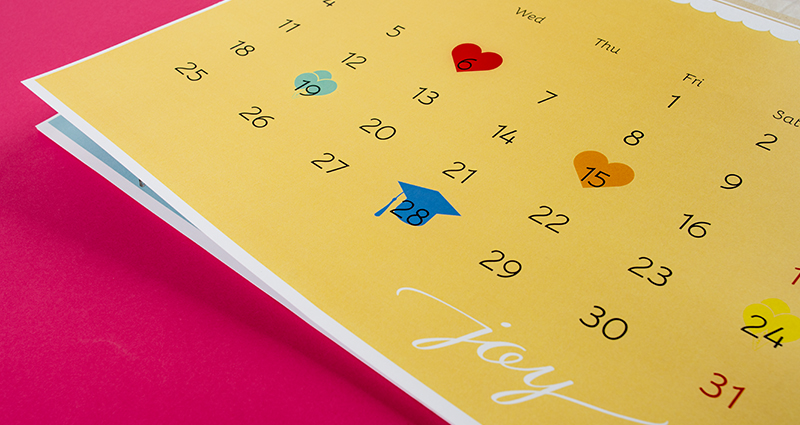 5. Which formats can be ordered at the Colorland's website?
At the moment we offer 3 photo calendar formats: A4, A3 and XL. All formats are available in the portrait orientation, except the A4 calendar which can be ordered both in the portrait and landscape ones!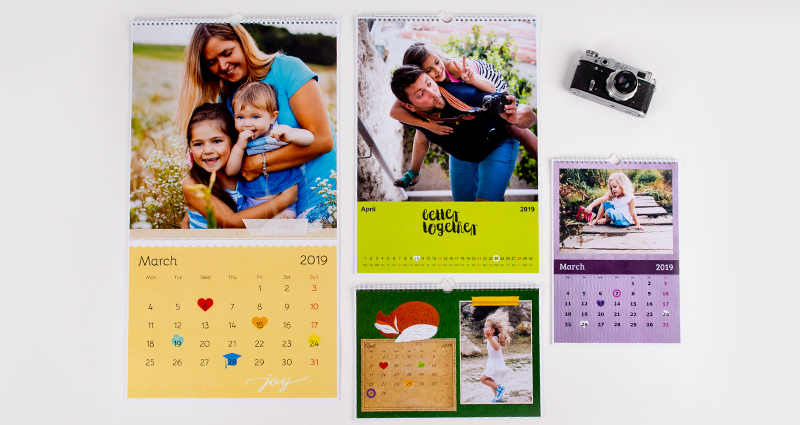 6. How to create a calendar?
With Colorland, it's a piece of cake! It's enough to choose a template, format and its start month (yes, the Colorland's photo calendar can start from any month you want, even from October!). Next, the website will transfer you to the world where real magic happens, it means to our online editor where you will be able to:
- change the calendar's background (panel on the left side) – not every month of your calendar have to have backgrounds from the same template, you can freely mix them! What is more, all the editor options are totally free of charge!
- add cliparts, masks and frames (panel on the left side) – the calendar personalisation means much more than adding a photo and changing the background :) You have many cliparts divided into categories, masks and frames to choose from
- using the panel on the right side of the editor (Events and Settings option) you can also personalise the timeline itself! First of all, you can mark birthdays and other important dates (mentioned above) on it but also change colours of the week days, colour of the year, colour of holidays or colour of particular days – the way your calendar will look like depends only on you!
- by clicking on the "Text" option on the right side of the editor you can also sign your photos – remember that you have many font types, sizes and colours to choose from!
- if you create your calendar using a different domain than UK or IE, you can choose between two timeline languages: language of your domain and… English! You can also change it by clicking the "Settings" option.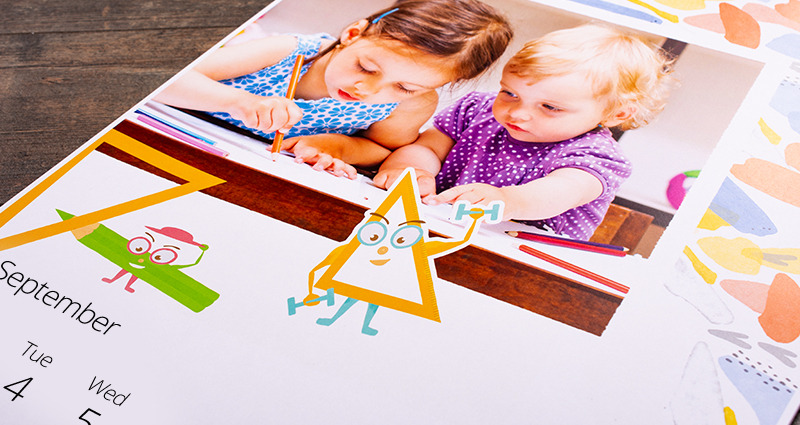 7. How can you add photos to the Colorland's editor?
The online editor gives you the possibility to add your favourite photos from:
- your hard drive
- other orders placed through Colorland's website
- Facebook, Instagram or Google.
8. How can I order calendars in large quantities and how can I request an individual pricing of my order?
The final number of calendars should be entered at checkout before placing an order. Remember that our Development Department would be happy to answer all your questions regarding bulk orders and individual pricings. Do you wonder what a "bulk order" means? We call so every order of more than 3 pieces of the same product. It's enough to take advantage of the "Bulk Orders" tab available in the footer of Colorland's website.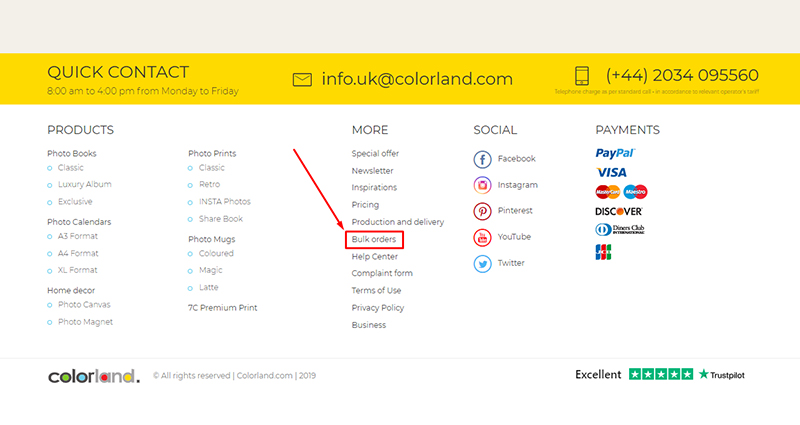 We hope we've removed the majority of your concerns regarding Colorland's (photo)calendars and interested you enough to start creating your photo calendars now!
You can find the best prices in our special offer. And in case of any additional questions, we encourage you to read our Help Center or contact our Customer Service team which will be pleased to answer your questions!