How to design the cover of a Photo Book?
by Anna,
08 Jun 2020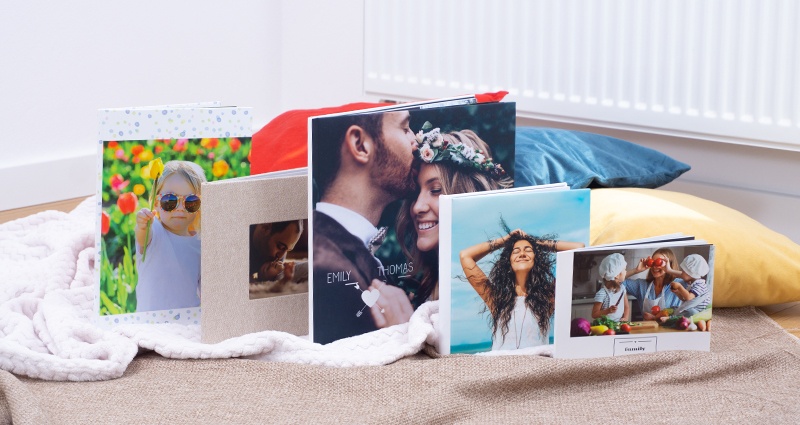 "Don't judge a book by its cover" - as the saying goes. However, the cover is the first thing you see after you've opened the parcel. If this is a present, you can see the reaction when the book is being unpacked. What is more, the cover will be the first thing visible when the book stands on your shelf. It's like the wallpaper you see when you unlock your phone, and only the one chosen photo happens to be the wallpaper, right?
Should the cover be hard or soft? Matt or gloss? Sponge-padded or the standard one? Perhaps the one bound in eco-leather or textile with a photo slot cut out on the front cover? When designing a Photo Book some options can be chosen at the end (in the basket) but a part of them is reserved only for particular books. Therefore, the designing process should start with the cover!
Softcover Photo Books vs Hardcover Photo Books
A hard cover is more durable and elegant. There are three hardback Photo Books in our offer (Classic, Exclusive and Starbook) and one Photo Album (available in several formats). If you're looking for something less official and lighter you should take a look at our A5 softcover Photo Book.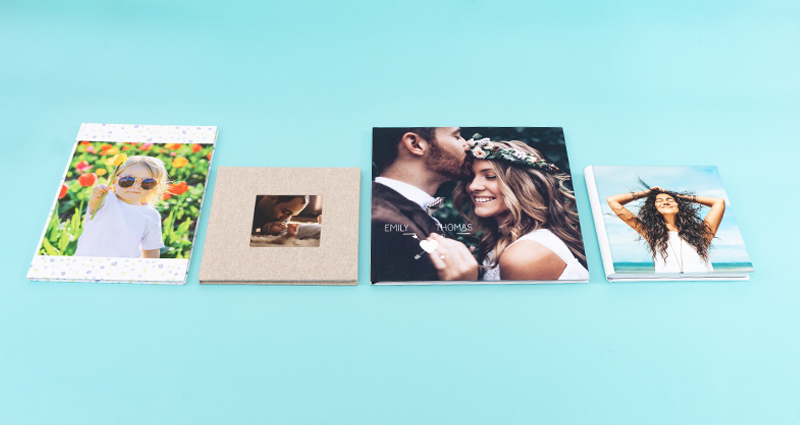 From the left side: a Classic Photo Book, an Exclusive one, a Starbook and a Photo Album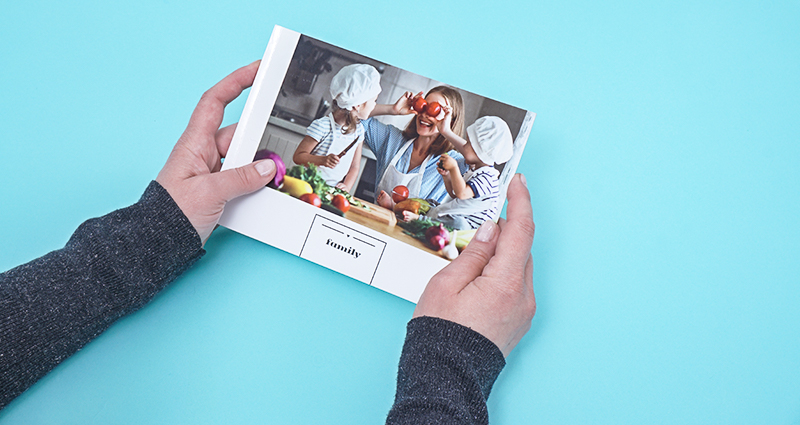 A5 softcover Photo Book
Sponge-padded covers
This option is available as an add-on in the basket with our Classic Photo Book. It will be offered to you each time you add your project to the basket. Covers of our Exclusive and A5 Photo Books are produced in a different way and we can't (for now) fill them with a sponge.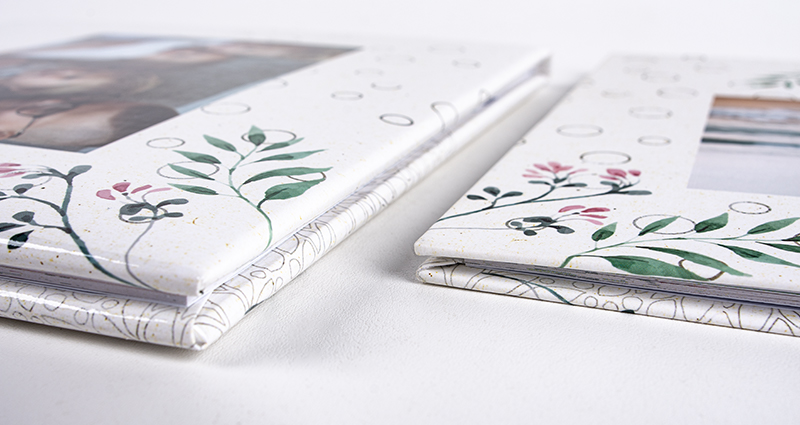 Classic Photo Books comparison: with and without the sponge
The Starbook and Photo Albums are our most exclusive products. Covers of such books are already sponge-padded as a standard feature and don't have to be paid extra for. Most of our clients pick them for special occasions (e.g. as a wedding Photo Book or as a gift to someone).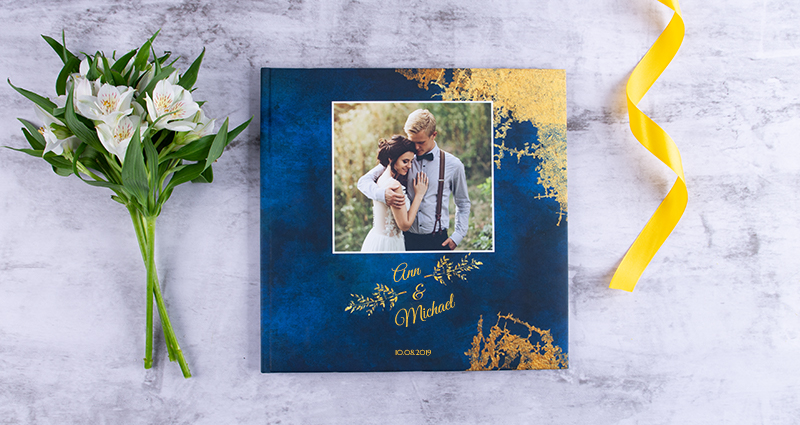 A wedding Starbook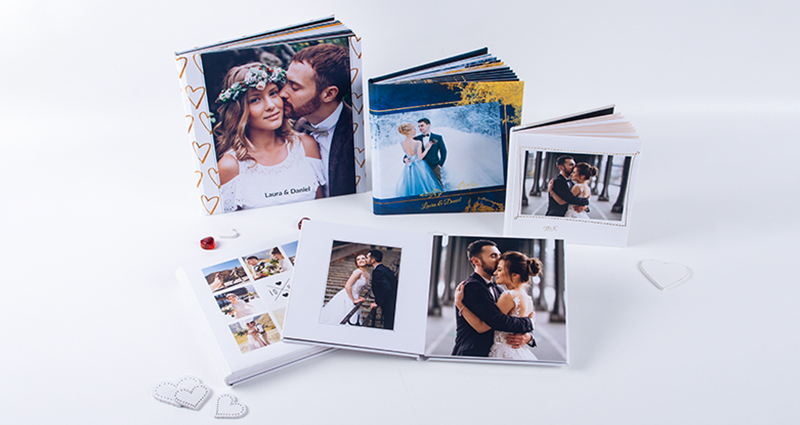 Wedding Photo Albums in three formats: 30x30, 20x20, 15x15 cm
Matt vs glossy Photo Book's cover
A standard hard cover with glossy laminate is the most popular with our clients. When adding your project to the basket you can change glossy laminate to a matt one (paid extra). The matt laminate safeguards the Photo Book against greasy marks and scratches. It seems more elegant, too. Therefore, all our Starbooks and Photo Albums have a standard matt lamination. You can, of course, change the matt laminate of a Starbook to a glossy one without paying extra.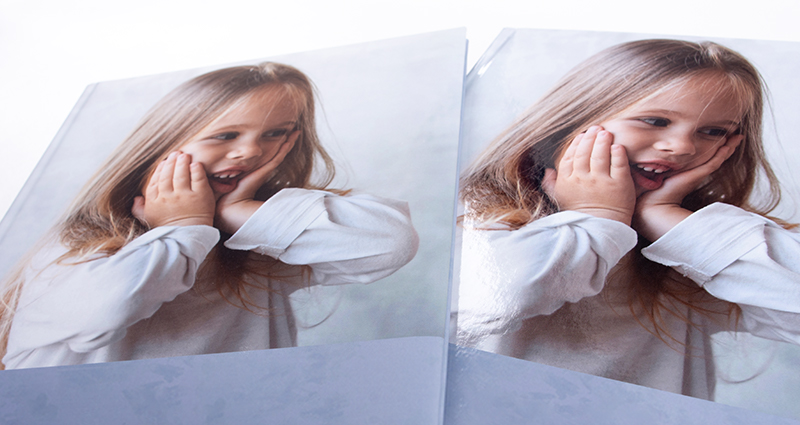 Matt vs glossy Photo Book's cover
Eco-leather Photo Book cover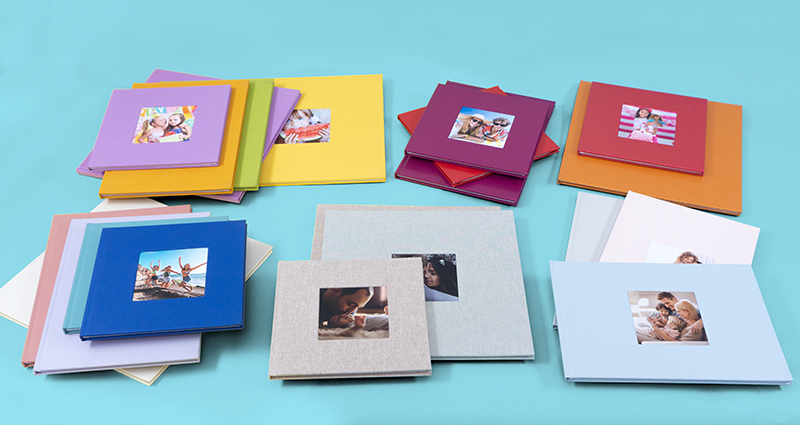 Exclusive Photo Books
Our Exclusive books have a totally different type of the cover. Their covers are bound in eco-leather or textile. Therefore, this type gives you options unavailable with other Photo Books. There are several covers to choose from with various colours, structure and finish. All available materials can be checked on the Exclusive Photo Book's landing page (bottom of the page).
The linen cover is currently our bestseller.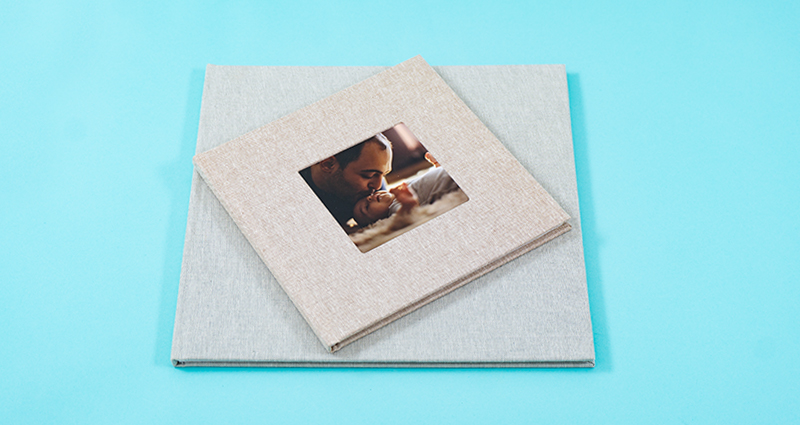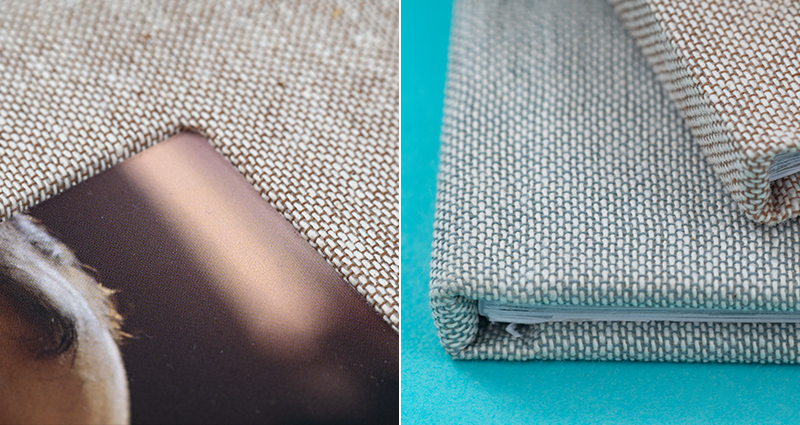 Other popular types are glossy eco-leather and pastel covers.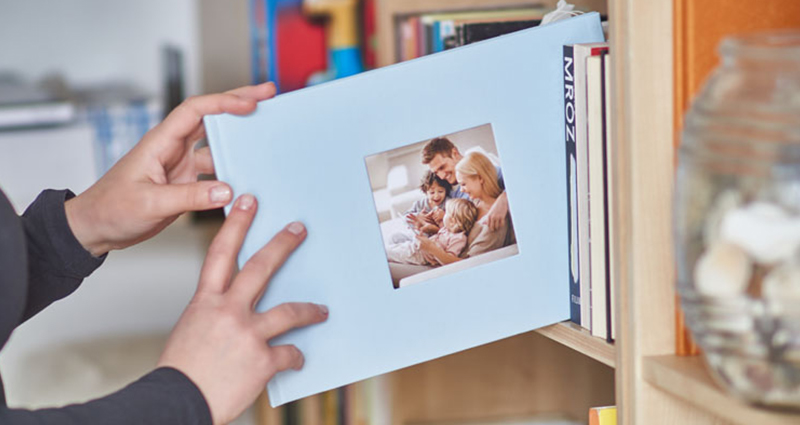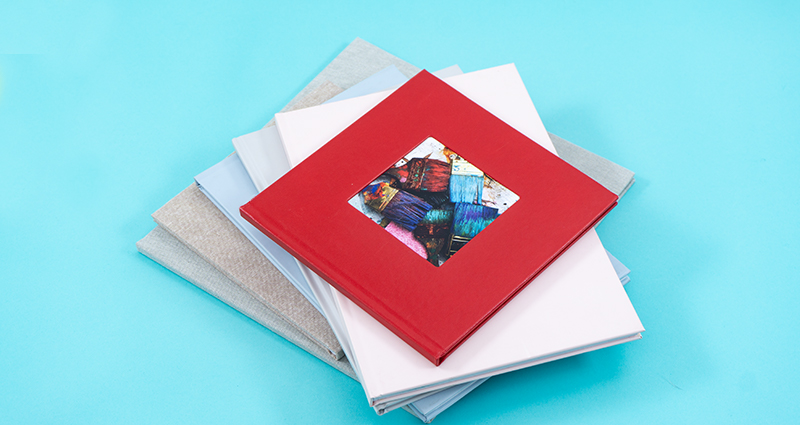 The colour and the material can be chosen in the basket after accepting the project's final version.
Additional forms of personalisation
All our Photo Book covers have some space for your pictures. In such books as Classic, Starbooks and the Photo Album the size of the photo and its place can be changed. You can also remove the picture if you don't need one. In Exclusive Photo Books, due to their textile (or eco-leather) cover, there is only one cut-out window where the photo can be placed. You can neither change its place and size nor can you remove it. The same goes for our A5 Photo Book. Its small format does not allow for much personalisation like moving the photo about and placing the text wherever we want without losing its charm. Since Photo Books make perfect travelling keepsakes and are often given as presents, we have limited their covers' personalisation to avoid chaos and errors.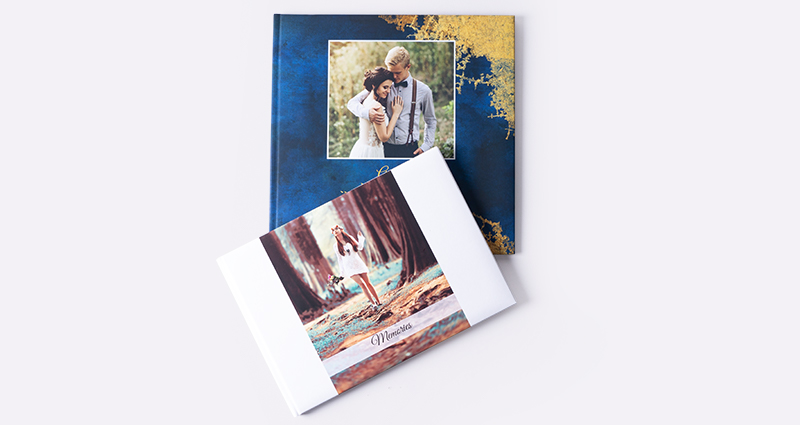 Every cover (except for Exclusive Photo Books) can be personalised with some text, a caption or an inscription (e.g. For mum, Croatia 2018, Cakes and cookies, etc.). This option is free and does not generate any extra cost.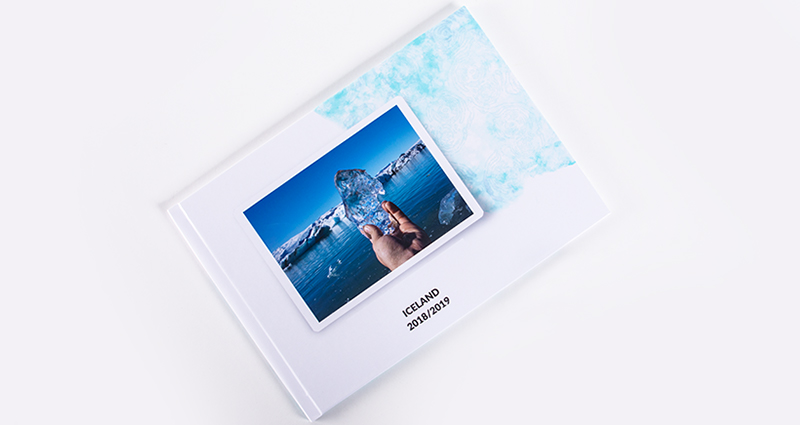 All such options are available in the editor while designing the book.
Ideas for Photo Book covers
Designing new covers and inspiring you to play with the options provided in the editor are all part of our job. We keep changing something to meet your needs – we modify the finish of the cover, we add the sponge, we select various photo layouts and adjust the font. You can do exactly the same thing in our online editor and in the basket.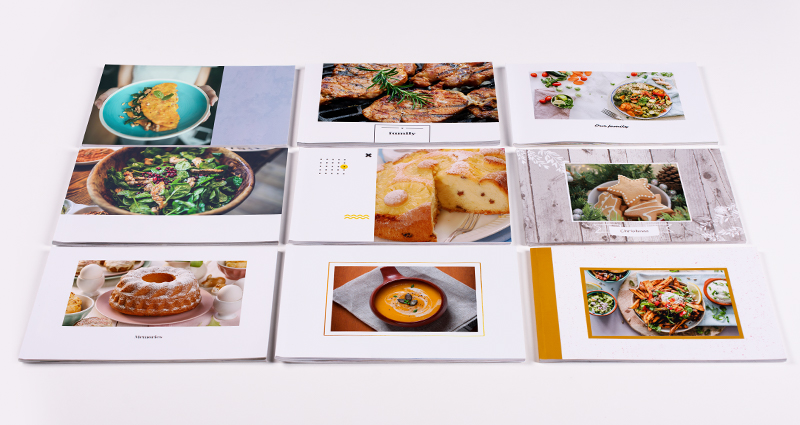 A5 Photo Cookery Books
Choosing only one photo for the cover may seem impossible. If you can't decide (and you are not designing an Exclusive Photo Book or the A5) – change the layout and add more photos. The bigger the format the more pictures!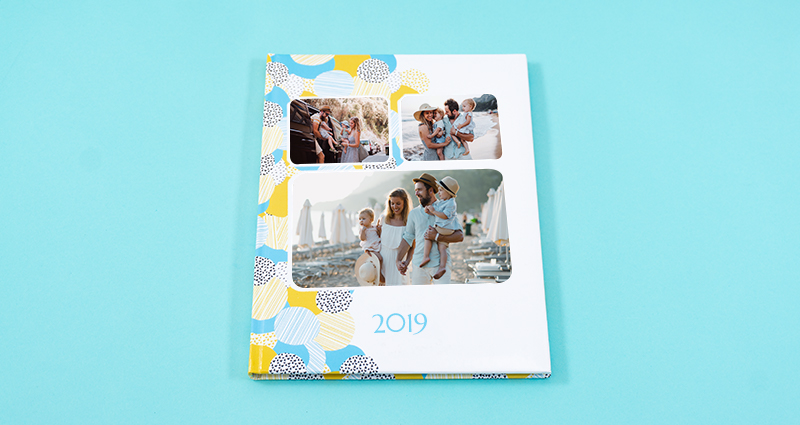 When designing your Photo Book you can freely change backgrounds and add decorative elements to your photos, e.g. frames or clip art. The same goes for the cover!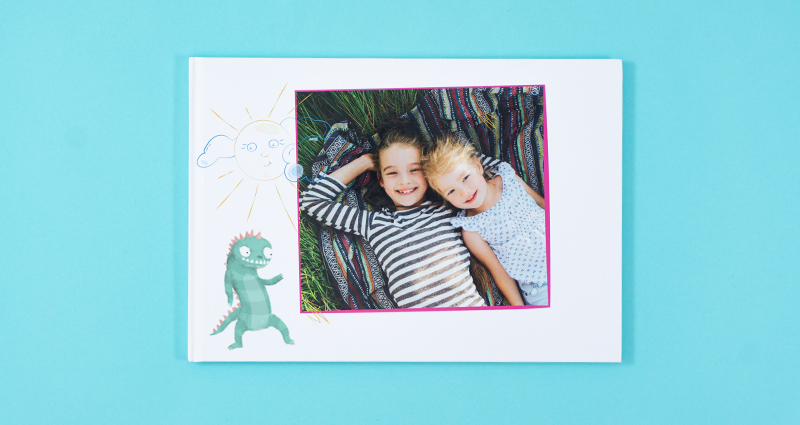 Although the back cover is not so much looked at (well, not like the front cover), it can still be personalised exactly the same way. The photo on the back cover can be a closing picture, summarising all what we have seen inside. A book presenting your life together may have your wedding photo at the back with a 'to be continued' caption. A holiday Photo Book can have a photo of the tickets for the new trip, etc.
Summary
→ Choose a Classic Photo Book if you'd like your photo placed on the whole cover and with a caption
→ Choose a Starbook or a Photo Album if you'd like your cover to be sponge-padded and matt without having to pay extra
→ Choose our A5 Photo Book if you'd like a soft cover
→ Choose an Exclusive Photo Book if you prefer a cover bound in eco-leather or textile.