Spring Cleaning part 2 – how to organize your BEDROOM and LIVING ROOM for spring?
by Annalisa,
29 Apr 2021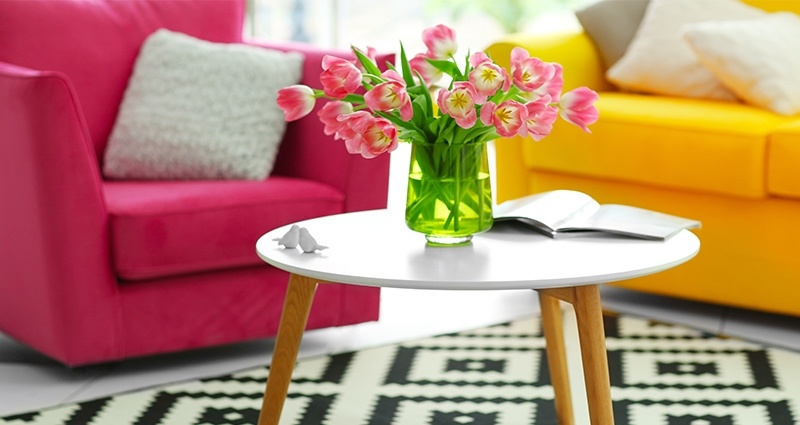 The spring is blooming. After spring cleaning the kitchen it's time to freshen up the bedroom and the living room. How to easily organize these rooms for spring? Maybe change the colour of the walls? Buy new sofa cushions? Check out our ideas!
All whites, natural browns, greys and cold pastels become passé in a spring bedroom and living room. Energetic and happy colours fit the spring vibe much better as they're associated with the blooming nature. Lush green, intense red, turquoise, yellow and pink are the thing. Of course it's difficult to buy new furniture every year but instead of that you can buy new accessories! If you appreciate interiors full of energy and emotions take into consideration incorporating some bold sets of colours into the living room. You can do that by incorporating small but noticeable elements which will give you the real spring vibe.
1. Choose cut flowers, pot flowers and floral themes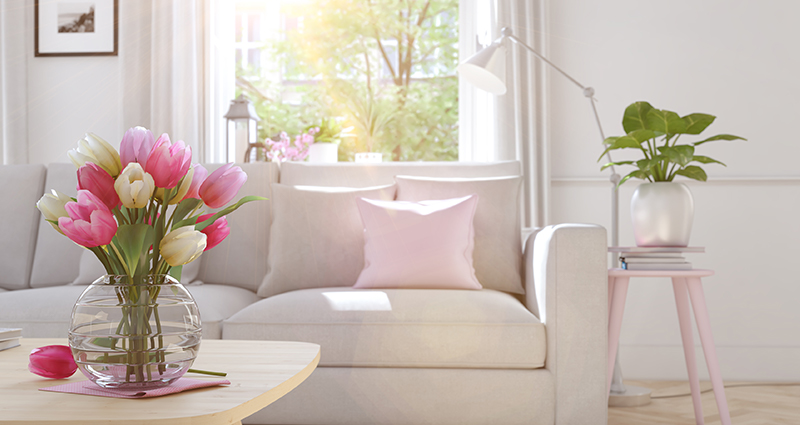 You don't have to buy the whole bouquet. Sometimes it's enough to buy a single daffodil or a tulip and put it in a glamorous vase or bottle. ;) Remember that all plants give the spring vibe no matter if they're cut or in pots. If you don't have a hand for flowers then choose a floral themed canvas, photo prints or flowers printed on a fabric like cushion pillowcases.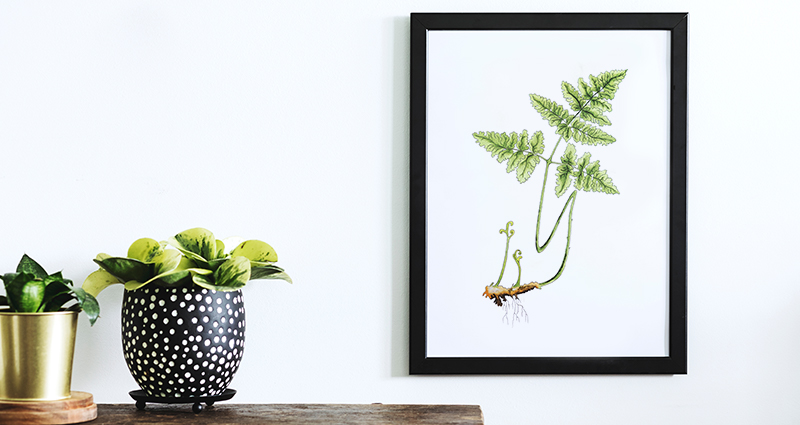 2. What about a quick painting?
It takes a considerable amount of time but is well worth it. Remember that colours of a room have a big influence on your well-being. Besides that bright and natural colours and themes mixed with the sunlight will surely bring new energy and a spring vibe to the room. What about a wallpaper in a luscious green, bright turquoise or energetic amaranthine? The choice is huge so make sure not to forget that it all comes down to details which in this case are accessories.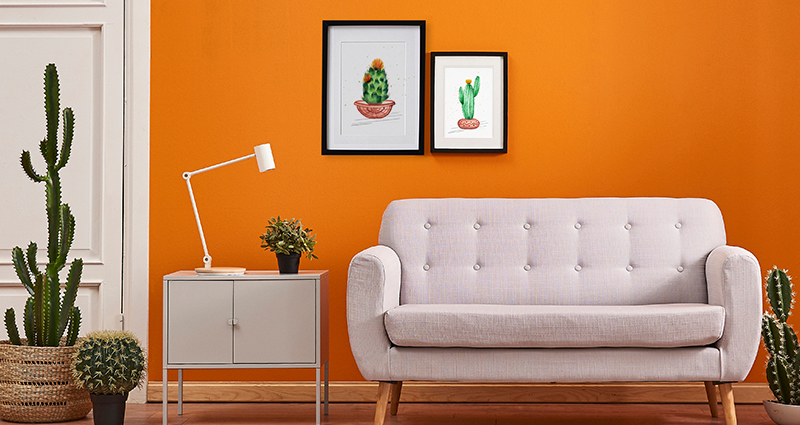 3. Delicate curtains
Delicate decorations are the way to go for spring and summer. Remember that curtains are a crucial element in every bedroom and living room. Besides that only one rule is important – the darker the room the lighter and brighter the curtains should be. You can choose to pin the curtain up or let it hang. It's all up to you to make the rooms fresh and ready for spring!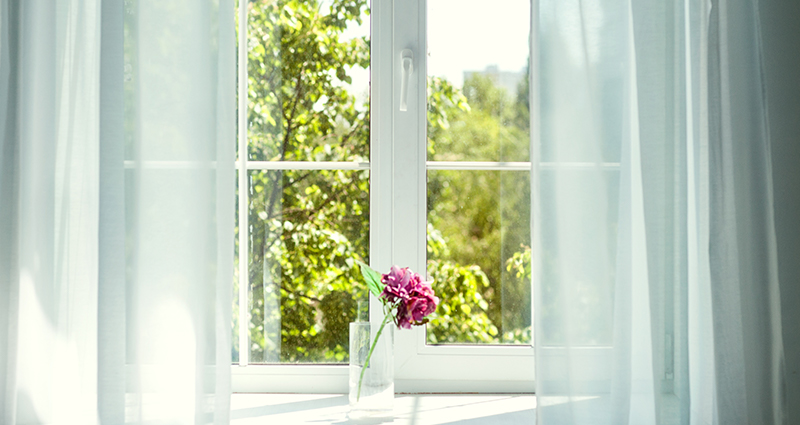 4. Play with fabrics!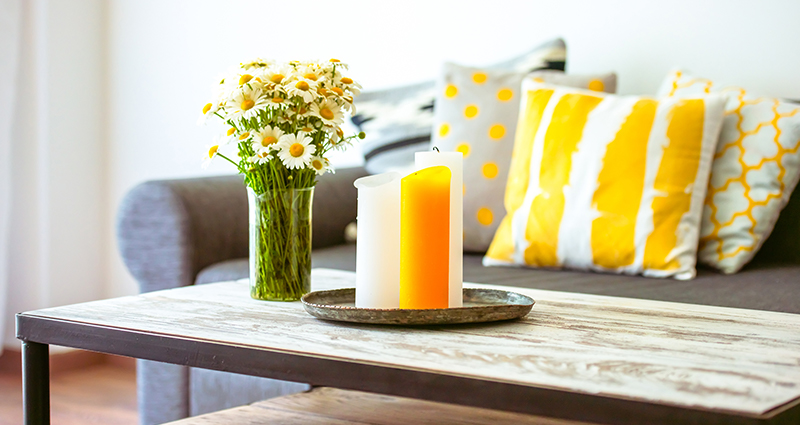 We've already mentioned new curtains and cushions. For spring let's remember that pieces of colourful cloths have an extraordinary potential! Throw them on couches, armchairs, tables and make pillowcases and doilies out of them. Change in details (colours, textures, patterns) will help change your interior.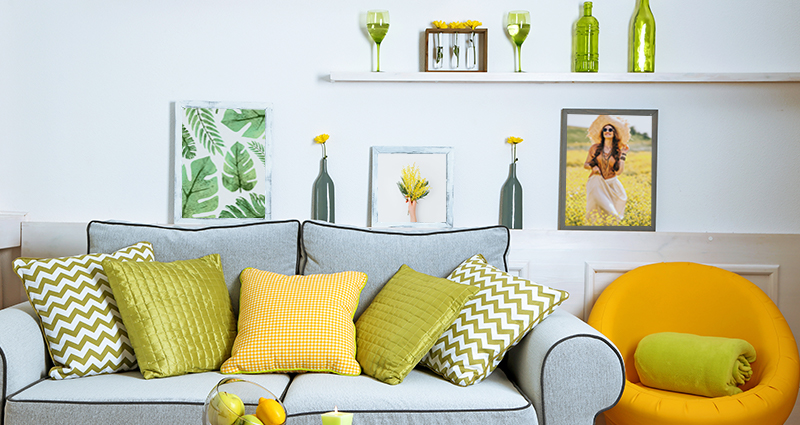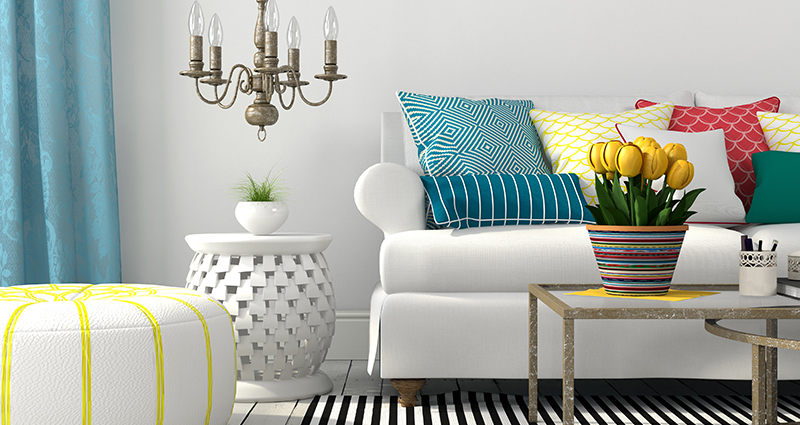 5. Maybe a furniture makeover?
Are you bored with your old furniture but you don't want to throw them out? How about a makeover?! Transform your furniture and give them a spring vibe. Front surfaces of doors and drawers can be veneered with a texture veneer or a wallpaper. What's interesting is that you can try using both plain and patterned materials interchangeably on one furniture. Another interesting technique is decoupage.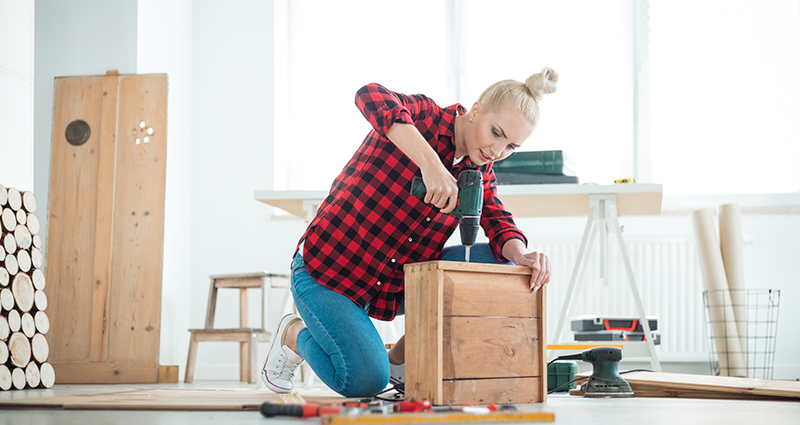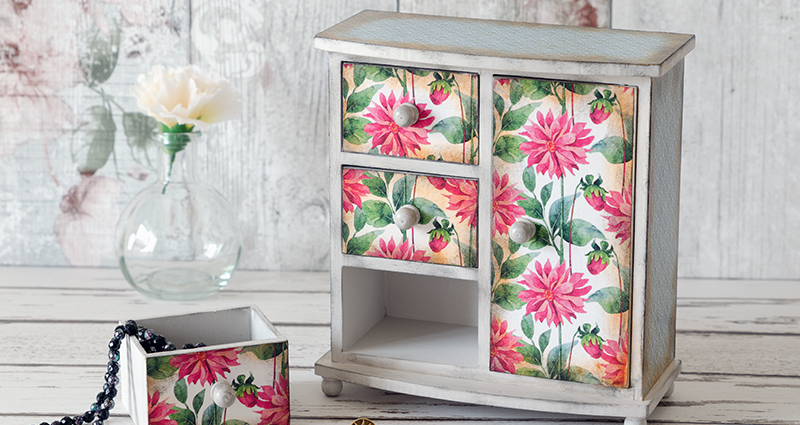 6. Success lies in details
It's good to give your rooms a little spring makeover and change some accessories such as paintings and framed photographs. Incorporate other decorative accessories connected with the most beautiful season of the year.
You can put photos from long walks or spring picnics on Photo Prints. Remember that especially after winter we're starving for vivid colours so use a little of greens and yellow and our rooms will become totally different places.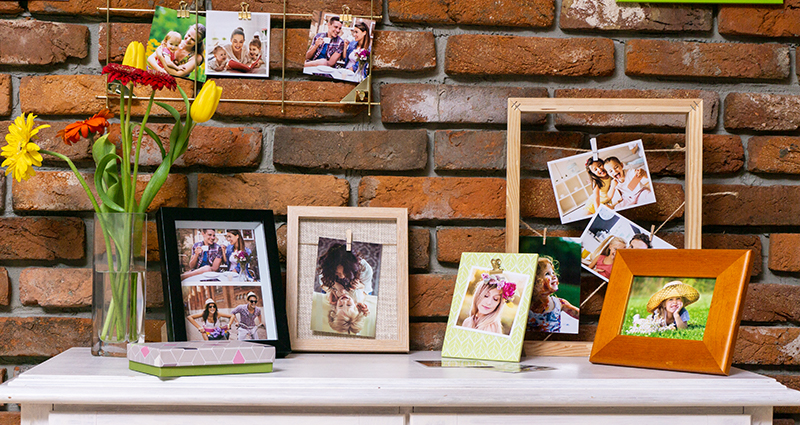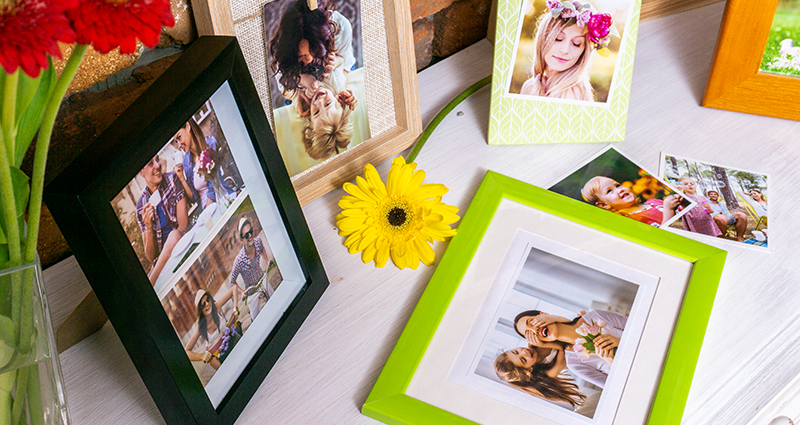 Of course traditional 4x6 Photo Prints can be put into the colourful photo frames but don't be afraid to experiment with the formats. Print a photo in 6x8, Insta or Retro style. Remember that if you choose the classic, square photos you'll be able to choose from 4 types of print papers.
Or maybe you'll choose a spring Sharebook? Choose a floral themed cover and print your 50 favourite photos. That will allow you to decorate your bedroom or living room and the rest will be safely stored as a miniature Photo Book.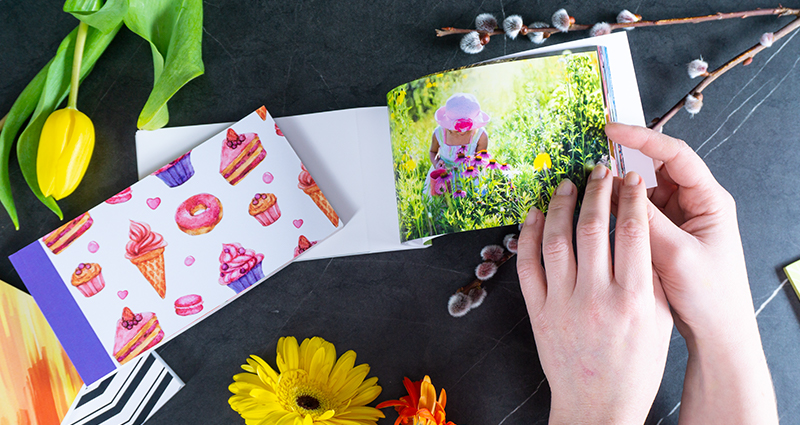 What about other ideas to freshen up the interiors for spring? Choose Photo Canvases! Remember that you can choose from different formats and templates divided into categories (make sure to check out our Living room/Bedroom category). Besides that you can not only fully personalize your canvas but also choose one of our pre-made templates.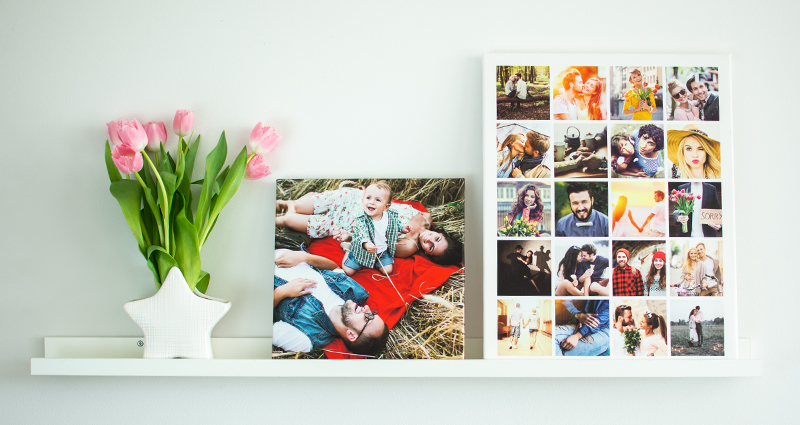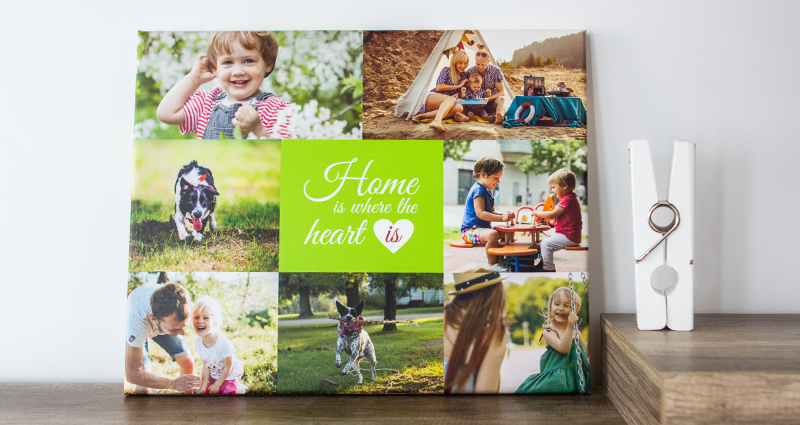 As you can see a Photo Canvas doesn't have to be put on a wall. You can put it against the wall as well. ;) However, if you do have free space then see how to make a decoration for bedroom or living room out of it. Look at the picture above. You can see that a little bit of green will make the room brighter. Add a Photo Canvas in vivid colours and you're done!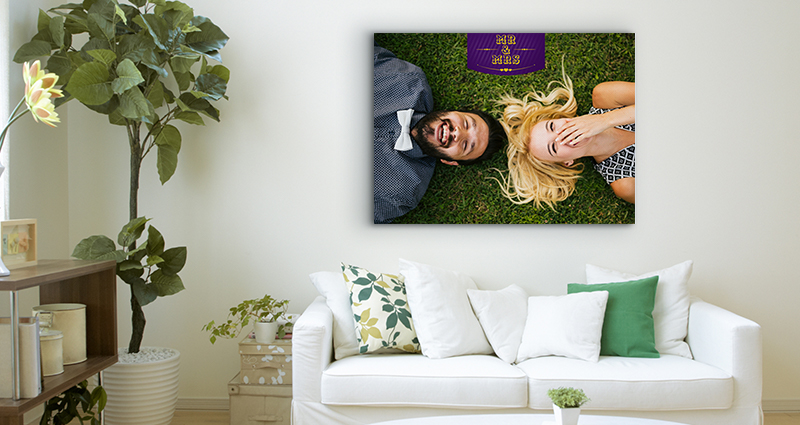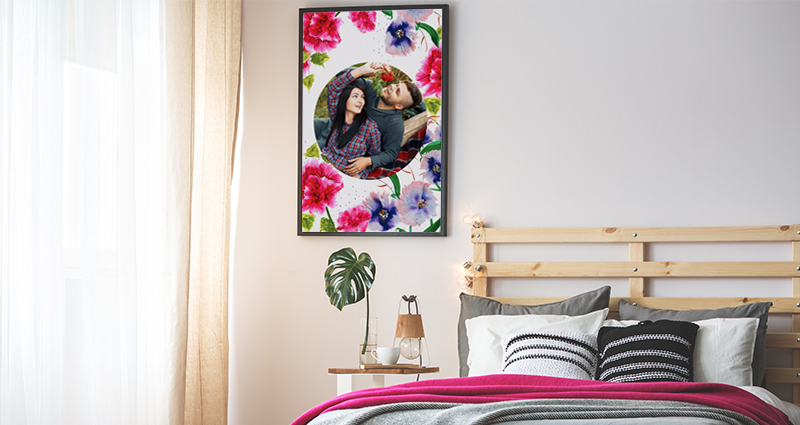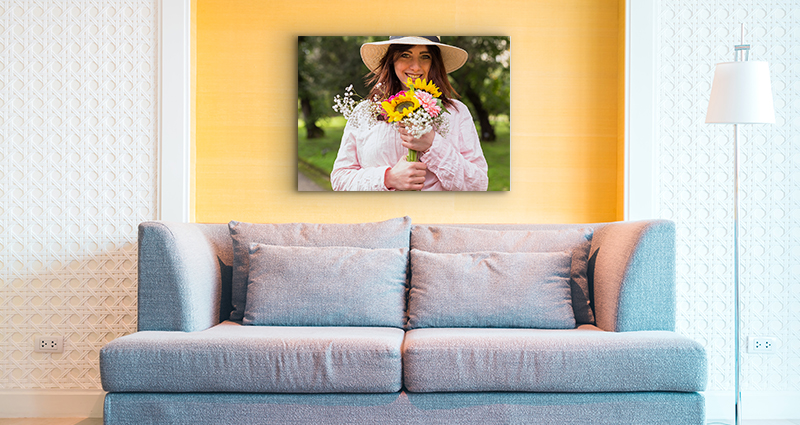 Feeling inspired? We hope that you've got a head full of ideas! Now think in what way you're going to freshen up your bedroom and/or living room for spring? Remember that Colorland offers the best prices and quality of photo products out there. Be sure to check out our special offers!