End of school year – have you got an idea for a school keepsake? Get inspired!
by Julia,
29 May 2018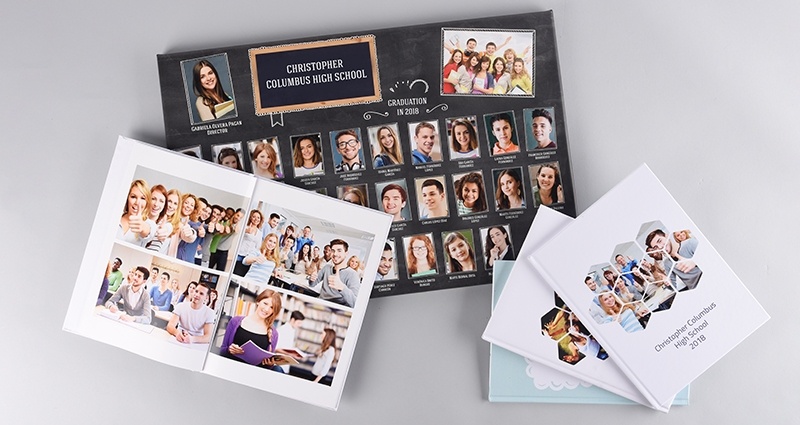 End of school year is just around the corner. It's a really important and desired moment for both students and teachers as it's the end of hard work during the whole school year. It's worth celebrating and memorising it. You can create a unique keepsake. Do you know what we mean? Let yourself be inspired!
Each person has different connotations with school. Everyone who's graduated can appreciate those careless moments full of fun, school friendships and school trips. It would be great to commemorate all of them in an extraordinary way – no matter if you're a parent and you want to create a gift for your child, or a teacher who wants to give a keepsake to each of your students. Colorland enables you to use 2 amazing school inspirations!
1. Several dozen of pages with memories on the pages of a Yearbook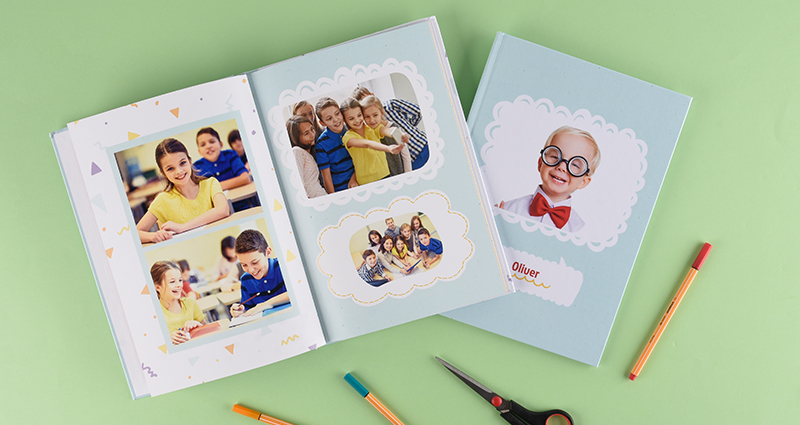 Do you know what a Yearbook is? Surely you've met that name plenty of times.  A Yearbook is a kind of an album which contains pictures of all students and teachers from one year.  Obviously, you can create it on your own, stick the pictures into a traditional album. But why should you do this if you have all of your pictures on your phone, camera or hard drive? Create a yearbook as a personalised photo book!
Colorland enables you to use plenty of templates which are perfect to commemorate the end of the school year. And you don't have to wait until the end of one of the stages of your education. You can document every school year and create an amazing photo album collection to which you will come back after many years.
Remember – you can be limited only by your imagination!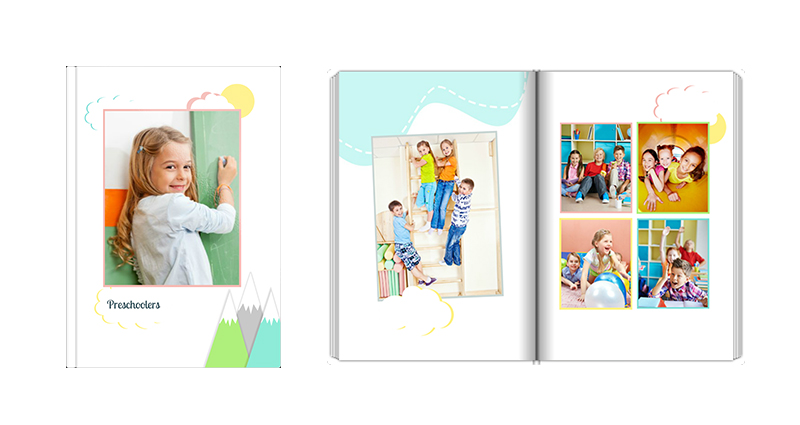 Preschoolers – perfect for a school photobook for preschoolers created in pastel colours.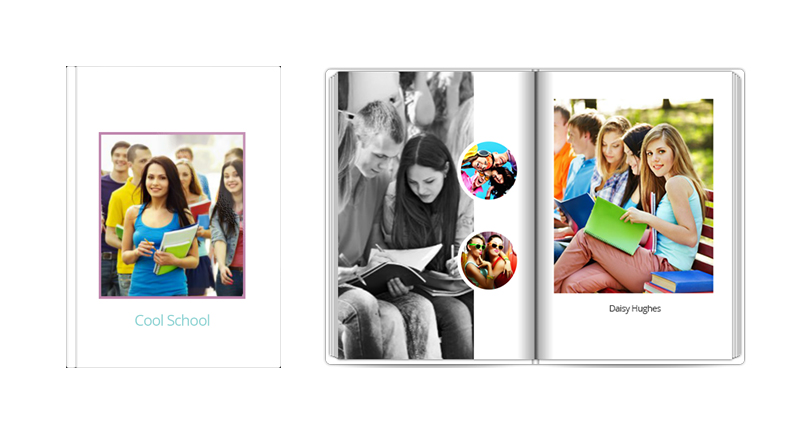 Cool School – an innovative template for secondary school students.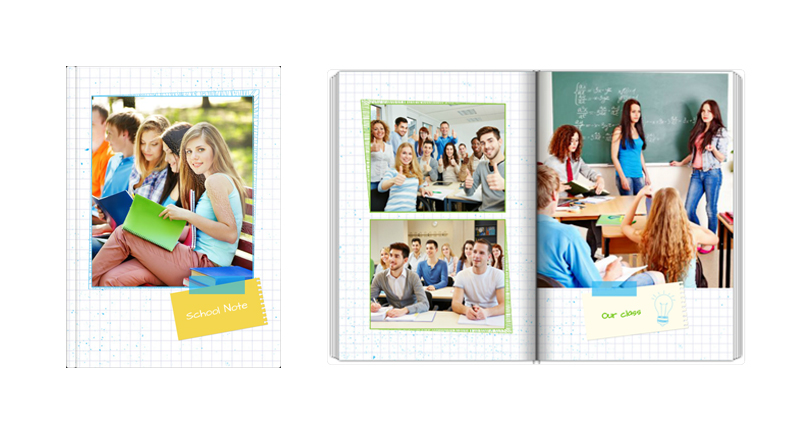 School Note – a yearbook template looking like a notebook.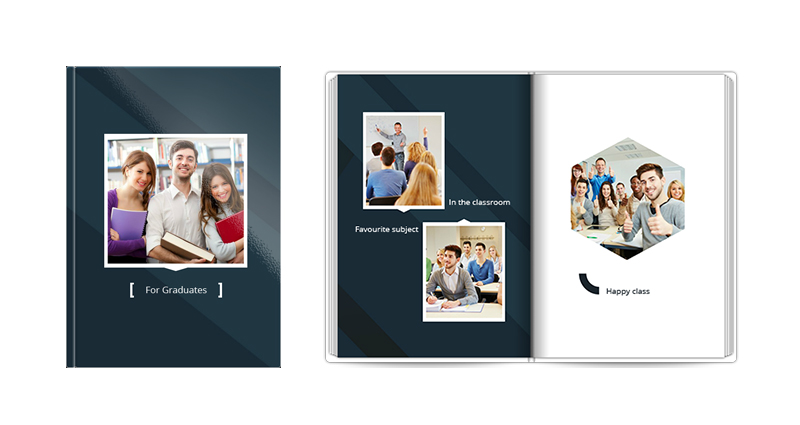 For graduates – an elegant yearbook template in white and navy blue colours, perfect for secondary school pupils and students.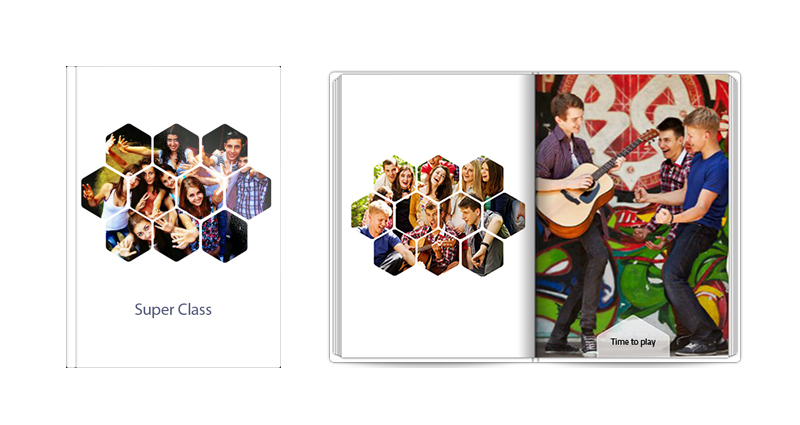 Super Class – an original template with unique spreads
Ok, but what to start with? 
A recipe for a yearbook is extremely easy.
Collect the pictures of your classmates and your teachers (we recommend them in a digital form), and invite them all to have fun while creating your yearbook! Let everyone choose some pictures from school trips or school parties which are the most important to them. Thanks to that you will be able to create an amazing personalised album full of the most beautiful memories.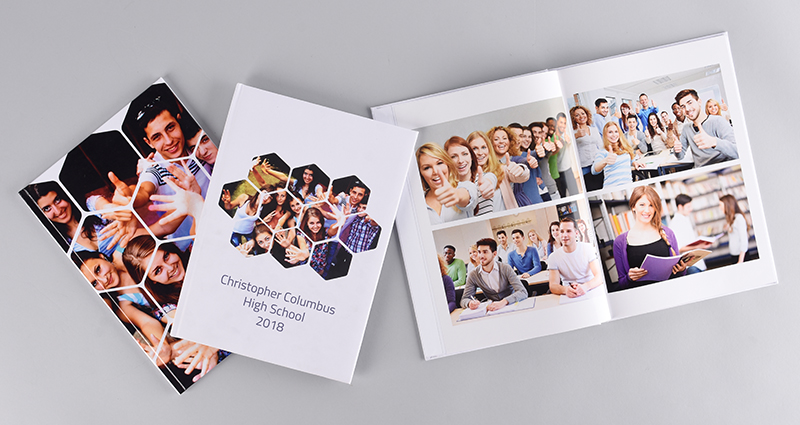 Let's go one step further and ask your classmates for their own entries!
Yearbooks are usually ordered in big quantities – in order to give one piece to each student. It's a great occasion to collect some additional entries from your classmates. Of course, you can sign your pictures in our online editor but we've got an amazing idea for you to make your yearbook even more valuable!
Exchange your books so as everyone could collect personalised entries from their school friends. It's fun not only for kids but also for older pupils and even students! 
2. School memory board – school or university memories every day in your cabinet.
School memory board is another idea for a school keepsake. It's very popular in some parts of the world. Memory boards are printed in many different sizes, usually as posters. But we suggest creating a photo canvas as a school memory board! It's a practical and high-quality school keepsake which will remind you of your school friends and teachers every day.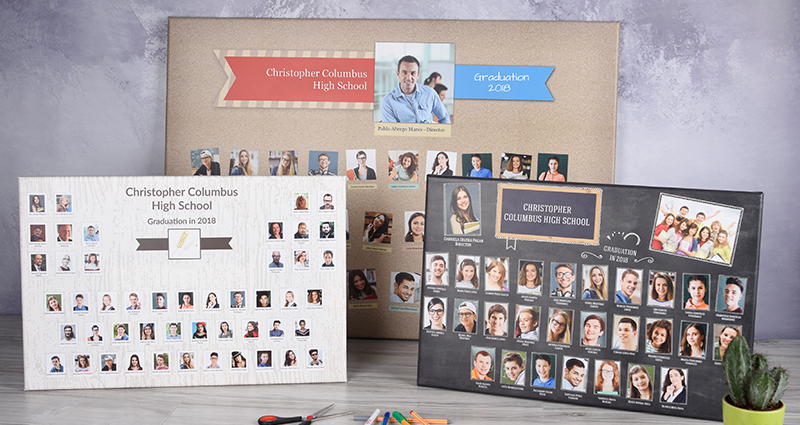 And again, Colorland comes with the ideas. Check the templates for school memory boards. We're sure that everyone will find something for themselves – preschoolers and students. Upload pictures of your schoolmates, teachers, school logo and create a great keepsake which will be, at the same time, a great decoration on your wall.
Let's move to the most important thing – check what templates we've prepared!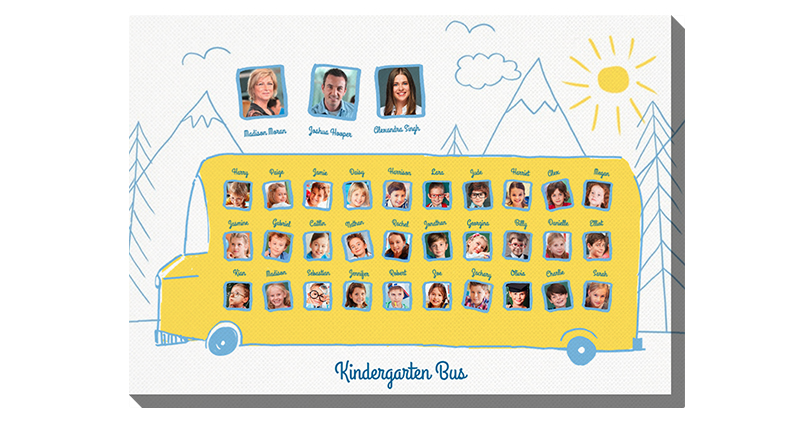 Kindergarten Bus – photo canvas for preschoolers in yellow and blue colours.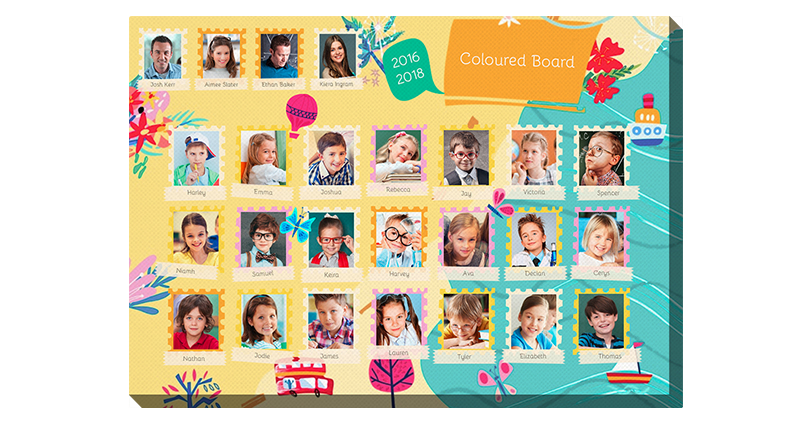 Coloured Board – photo canvas for children in vivid colours.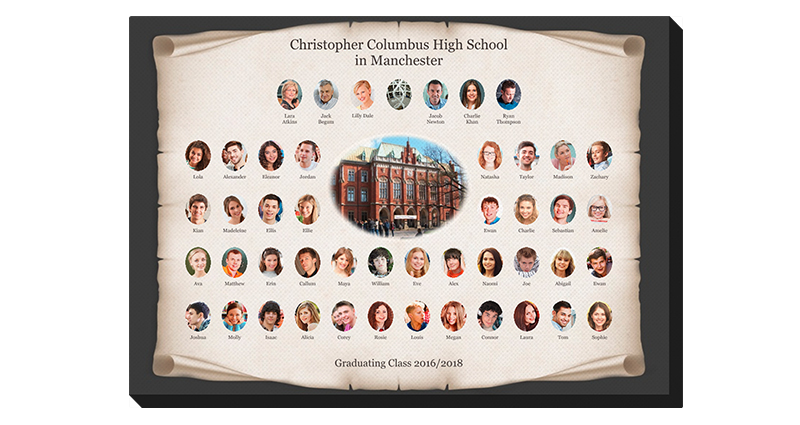 Paper Scroll Board – a school canvas imitating a paper reel.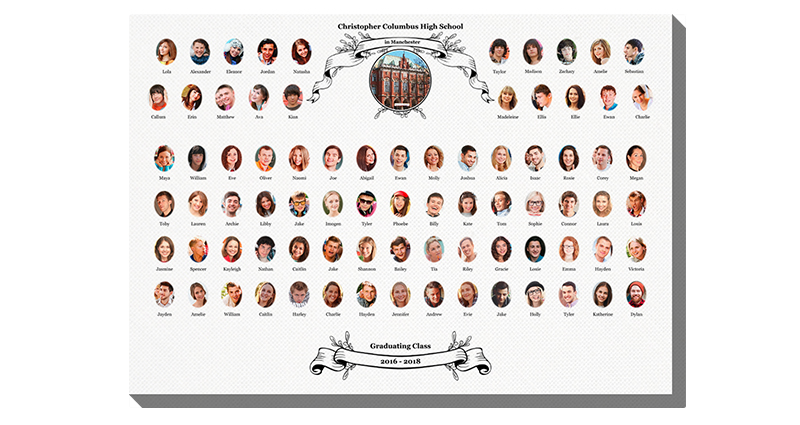 College Memory Board – an elegant and classic memory board with decorative ribbons.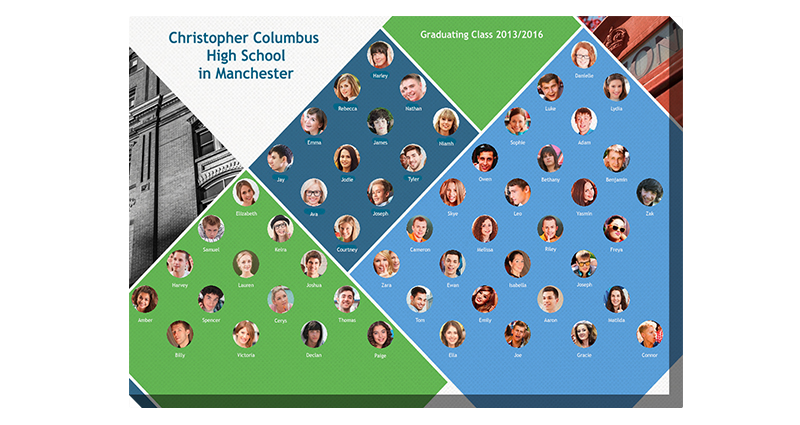 Modern Board – a modern school memory board with geometrical shapes
So what are you wondering about? Let's do this! If you're interested in any of our products in a bigger quantity, contact us and we'll prepare an offer especially for you which will surely meet your expectations!