7 great ideas for personalized boards with wedding seating charts and table numbers
by Anna,
29 Jul 2020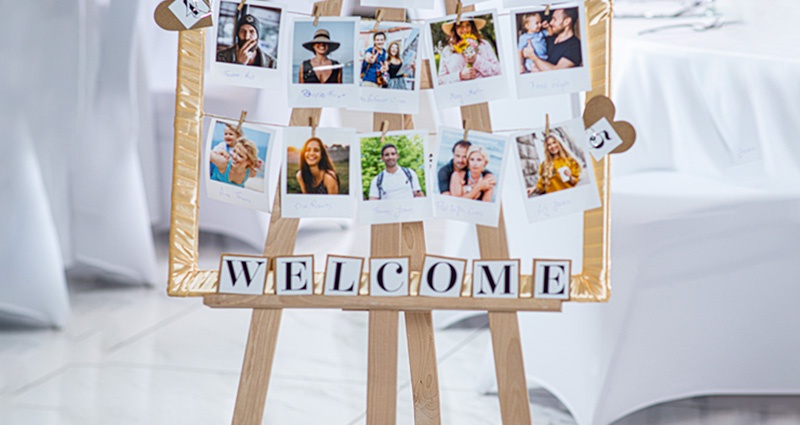 The big day of your wedding is coming and you're busy with preparations? Unless you've hired a professional wedding planner, choosing wedding decorations is the toughest nuts to crack. That's why we're presenting you today with 7 original ideas for personalized wedding seating charts and table numbers, which will surely make an unforgettable impression on your guests! It'll be a great keepsake for you too, when you'll dig it out from the attic in the future. What do you say? Are you ready?
Some introduction is needed before moving on to the substance. We'd like to divide this post into two parts - the first one will focus on ideas for personalized wedding (photo) boards with a list of guests, and the other one on ideas for unique table numbers. The first thing that comes to mind when thinking about decorations is the fact that they're small elements which are unworthy of our attention. However, that's not true as they are a part of the first impression of the ballroom and how we remember the wedding party. So make sure to pay attention to the aesthetics of the whole thing and make the big day one of a kind.
BOARDS WITH A LIST OF WEDDING GUESTS
A board with a list of wedding guests and their table seating is one of the first things to be looked for while entering the ballroom no matter if you throw a big party or a smaller reception for close family and friends. You should make sure that everybody feels comfortable sitting with people they know or with people they like. It's obvious that we cannot sit aunt Ruby, a very conservative traditionalist, near Mark who is the life and soul of the party and has quite liberal views ;) And these are our propositions:
INSPIRATION NO. 1 – A list of wedding guests on a watercolour photo canvas
The first idea we'd like to present to you is, of course, a list of wedding guests on a watercolour photo canvas. Remember that Colorland offers not only fully personalized canvases but also ready projects. Just pick a template you like. We'd like to recommend templates from the Watercolour Love series with cute hearts on which you can write names of the guests. Add a greeting, names of the newly-weds and the date of the wedding in the middle of the project and write names of the guests and where they're sitting around it. Do remember that you've got many formats to choose from and the only thing that limits you is your imagination. Such a canvas is also a great wedding keepsake for you, which  after a couple of years will remind you who was there on your special day.
INSPIRATION NO. 2 – DIY retro print frame with the seating of the wedding guests
Another idea is dedicated to all the fans of DIY and a wide spectrum of handmade projects. What's more is that it's an inspiration especially for people who organise smaller wedding receptions as you'll need photos of ALL your wedding guests to prepare such photo-frame. It can be quite a challenge.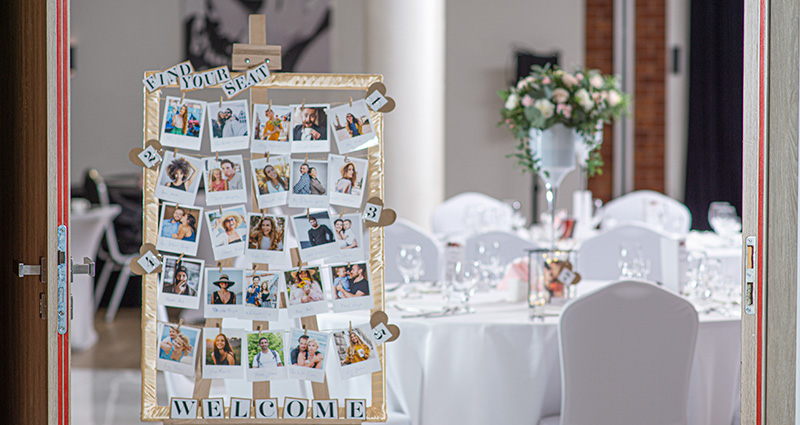 What do you need to prepare such a list? A wooden canvas frame, a ribbon, glue, decorative paper, jute twine, decorative mini paper-clips, scissors, photos of your wedding guests and… a bit of involvement and patience! Decorate the frame with the ribbon and twine, next attach photos to the twine near the table numbers. An ideal photo product for that will be retro prints, which you can also caption at the bottom of each photo.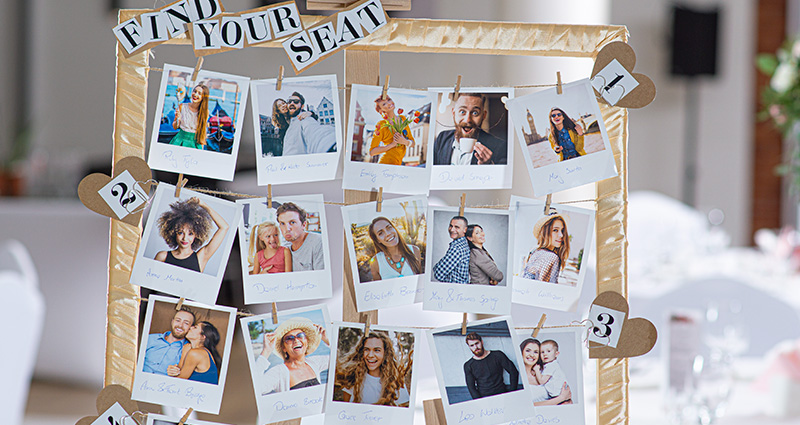 INSPIRATION NO. 3 – Personalized wedding guests seating list in the form of a photo canvas with a picture of the bride and groom
Another idea for a board with guests seating list is a photo canvas with a photo of the bride and groom. It can be a photo from holidays or a wedding photo session and printed in the middle of a big canvas. In the upper part of the project a caption can be added, e.g. 'Find your seat', and write wedding guests names around it and near specific tables. If you want such board to be even more personalized then don't forget to add your names and the date of the wedding at the bottom of the canvas!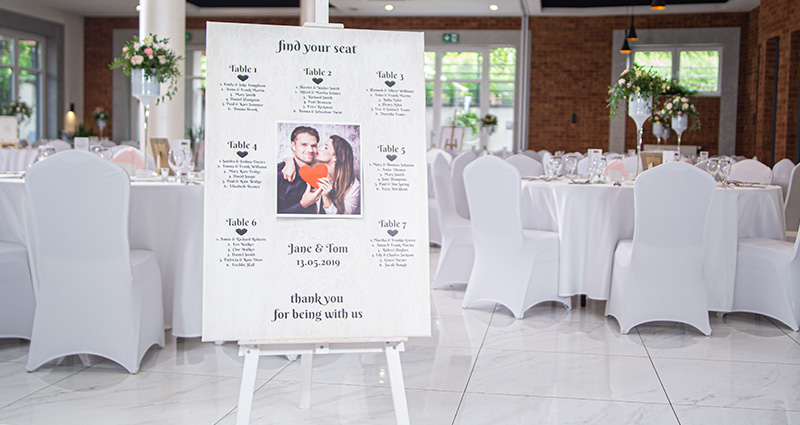 For the boards with guests lists and table numbers to be an elegant decoration they need to be consistent. That's why if you decide to have your wedding photo session on the board with table list then it's a great idea to use other photos from the same session while creating table numbers.  Of course it's not a must and the choice is yours, however it's a small tip which has never failed us. :) Let's proceed to our ideas for wedding table numbers. Let's go!
WEDDING TABLE NUMBERS
INSPIRATION NO. 1 – Prints of the newlyweds, holding table numbers in their hands, on a miniature easels
Our first proposition for creating unique table numbers is extremely easy. Organise a small photo session during which you'll hold an object on which it'll be easy to write the number of the table – it can be a piece of paper or a wooden heart. Next, print those photos by using Colorland's intuitive online editor. After that, put them on wooden mini easels and it's done! Isn't it easy? And so original!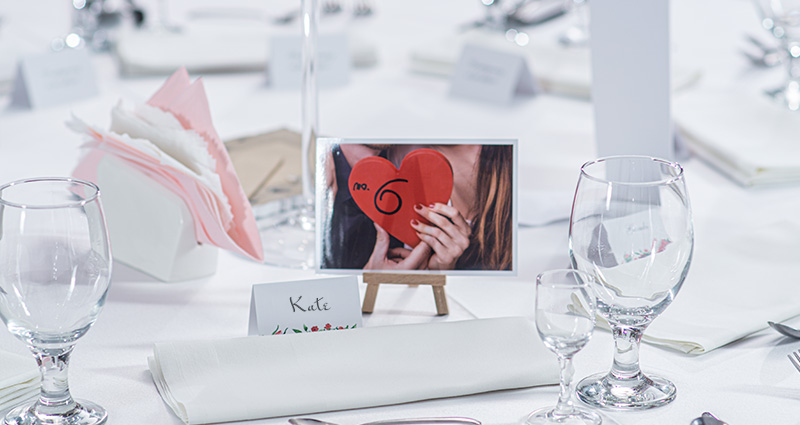 INSPIRATION NO. 2 – Photo of the newlyweds in a decorative frame with a decorative table number
A photo of the bride and groom in a decorative frame with a decorative table number on the side is an alternative to the Inspiration no.1. It's easier as you don't need photos from a special photo session, you can use your favourite photo with a number printed/written on a decorative paper and put inside the frame alongside the photograph.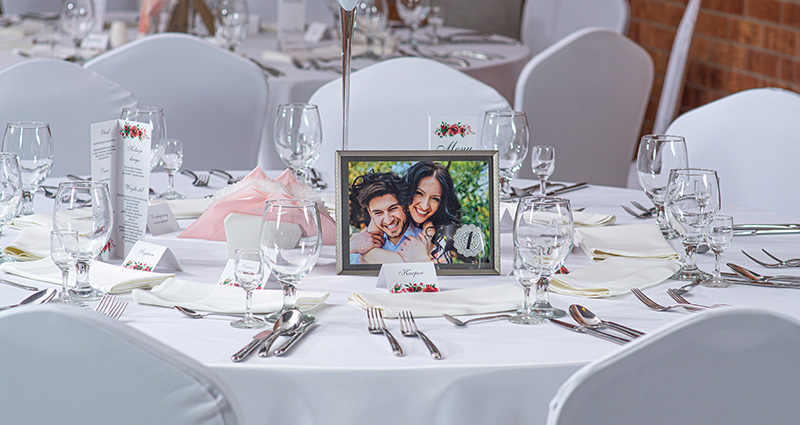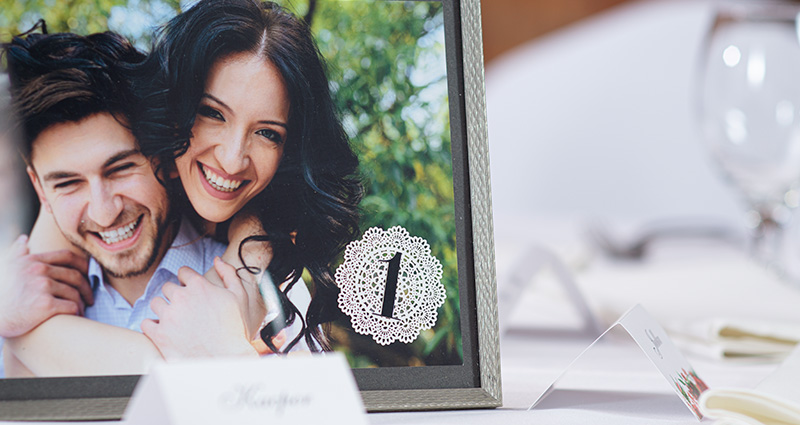 INSPIRATION NO. 3 – Photo lantern with your photo and the table number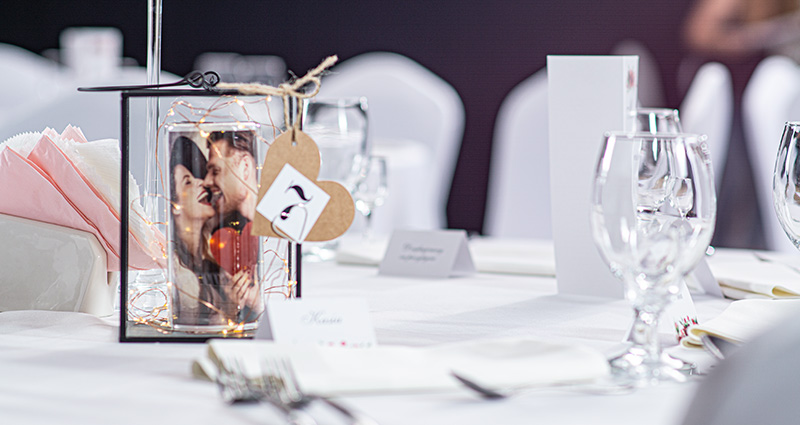 Keep in mind that all kinds of lights always add to the romantic aura. And they don't have to be put everywhere in the ballroom. Battery operated led lights (like the Christmas ones :)) put in a glass lantern with your rolled photo inside will be perfect here. It's a great idea to attach a table number card with a jute twine. And how do you like it?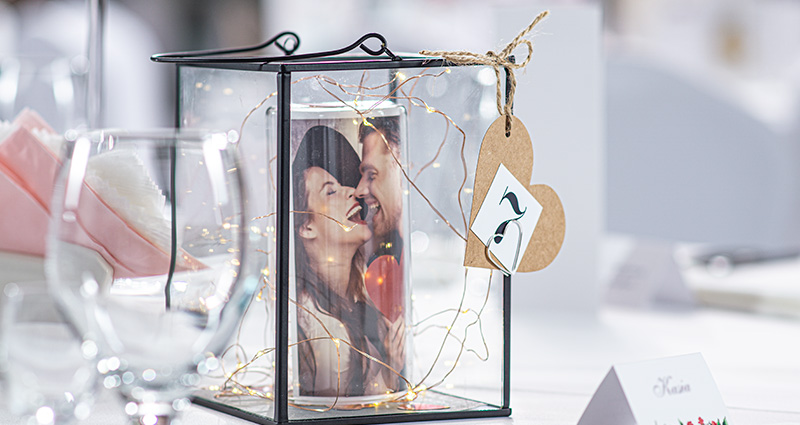 INSPIRATION NO.4 – Delicate miniature canvas with names of the bride and groom and a table number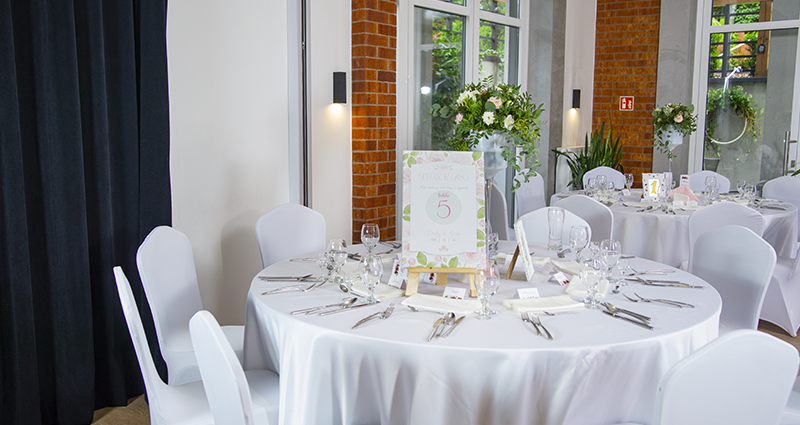 If you don't want the ballroom to be decorated with your photos from head to toe, you can always choose more delicate personalized touch. Just pick a subtle pastel background from the "Backgrounds" tab in the Colorland's editor (the theme is up to you, we selected flower pattern) and with the use of funky fonts write the table number and caption it with your names and date of the wedding. Keep in mind that it's enough to design such canvas only once, and then by adding a copy of the project into the cart on Colorland.com you can modify the table number. That's not all – the more copies of the same format you order the less you will pay! Just ask for an individual pricing by filling this form and we'll prepare an amazing offer specially for you!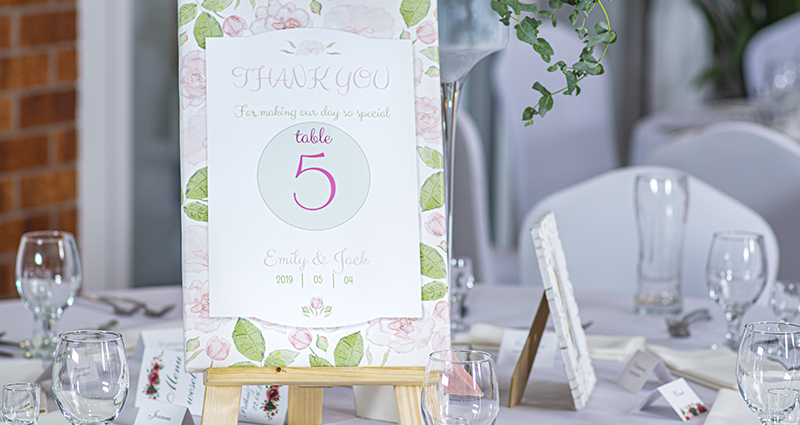 We hope that we've managed to inspire you and that thanks to our photo ideas for original personalized boards with wedding seating charts and table numbers preparing ballroom wedding decorations will become a pleasure! Keep in mind that it's the idea that counts and because the wedding day is (usually ;)) a once in a lifetime event, it should be made special in every way.