Autumn photography ideas and tips
by Anna,
15 Oct 2023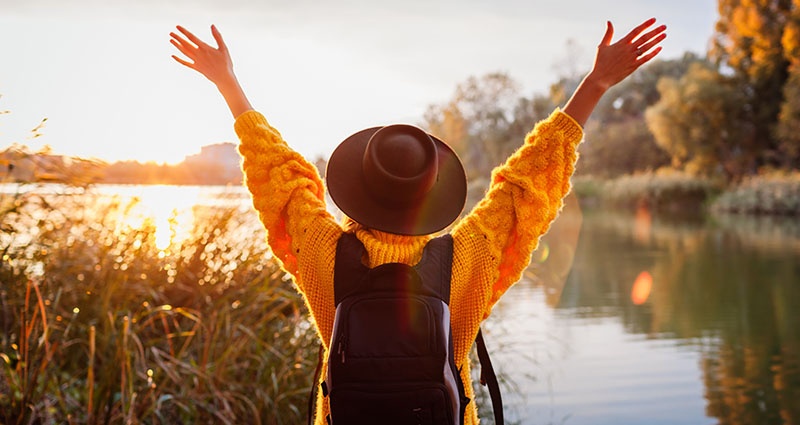 Autumn has arrived! That means one thing - it's time for photos with golden leaves in the background! If you are wondering how to make such a photo shoot to be a keepsake for years to come, here's the selection of tips for autumn photography. We have chosen the easy-to-implement ones; after all, the perfect shot is often a matter of seconds!
Autumn light photography – the most important point
Let's start with the basics, i.e. the light. In summer, the light is very strong, which means that you have to wait until the evening to take photos, or on the contrary, get out of bed at dawn. Fortunately, this changes with the arrival of September! For in autumn, juicy red, orange and green colours dominate, all bathed in a soft light that works perfectly with the lens. For this reason, one of the most important autumn light photography tips is simply to make the most of the good weather. Do you see the sun? Take your camera and go hunting for exceptional shots. In doing so, don't be afraid of bad weather, which can end up in a great photo shoot as well. Pay particular attention to fog or rain - they come out very well in photos!
It's time for autumn leaves photography
Now that you know what to do with the light, it's time for some mood-enhancing details - autumn leaves photography! Photos surrounded by colourful leaves are an obvious must-have, but it's worth going one step further and throwing a decorative pumpkin, candle, hat or warm scarf into your backpack on the way to the shoot. Why? Any of these items can be used for portraits as well as slightly further in the background!  A pumpkin or candle will work well for close-up shots, for example held in the hands, while a patterned scarf will work perfectly with earthy colours.
If you are interested in boho photos, a macramé hanging on a tree, e.g. with wooden elements, is also a good idea. To enhance the effect, scatter a few feathers in the air and let them swirl in the wind. Add some colourful leaves in the background and... the perfect autumn photo is ready!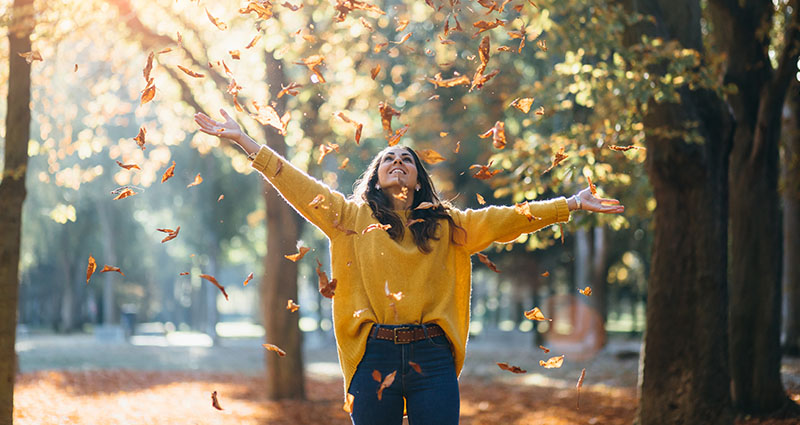 What would you say to autumn forest photography?
Posing against a backdrop of falling leaves is definitely an autumn thing. However, this is not the only right direction for a nice photo shoot! An equally good suggestion is autumn forest photography, using slowly falling trees as a landscape. If you add the warm light coming through the branches, you get an amazing effect, ideal for both a close portrait and an overall shot. Or perhaps there is... a castle in your neighbourhood? This fabulous scenery can serve as a backdrop! Especially if you're planning a photo shoot with a loved one - the castle walls make for a particularly romantic setting.
Finished photos in the style of autumn forest photography should be properly exposed. The Starbook is the most popular choice here: a photo book of the highest quality with an accurate and vivid reproduction of all the colours. You can include between 28 and 160 pages, all in the variety of formats - 11,5x8 and 8x11,5 inches as well as square versions in 8x8 and 12x12 inches editions. Order your autumn Starbook HERE.
Photography ideas for autumn – how to pose?
The more movement in your photos, the better! However, this doesn't mean running or jumping in front of the lens waiting to capture an interesting moment - although that can be a good way too! Instead, we suggest the standard and extremely charming patent of photography ideas for autumn, namely collecting leaves and tossing them up in the air. Another tried-and-tested suggestion is to lie on the ground against a natural, multi-coloured background.
Autumn photo shoot – how to display it?
Ok, your dream autumn photo shoot is ready! What now? We suggest turning it into something special, like a photo canvas or prints that can be framed and hung on the wall in an interesting composition. Autumn portrait photography in particular will be perfect for this. Another suggestion, although a little more advanced, is an arrangement of prints created solely on the basis of autumn macro photography. So if you have some close-up shots of autumn nature in your collection and you want to give your interior a little makeover, there can only be one direction. And that is to develop the photos lingering on your disks and phones!