Where to organize a wedding photo session? TOP 10 places in Europe according to Colorland
by Anna,
04 Jul 2019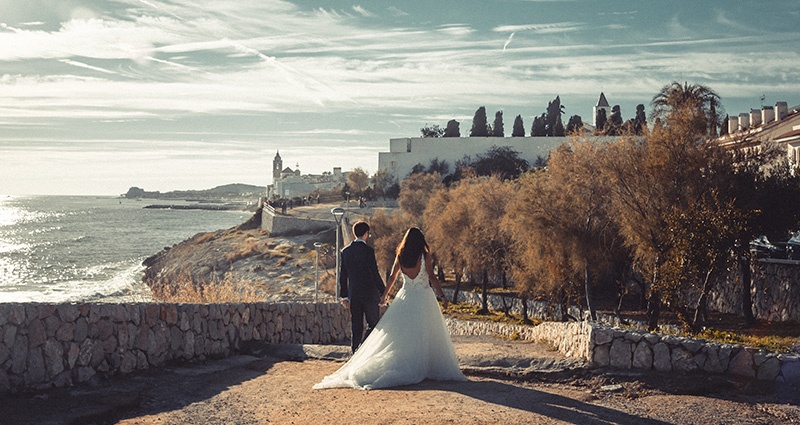 A wedding is an incredible experience in life of every couple and includes lots of wonderful emotions. It's worth to organize a wedding photo session and immortalize this special time on photographs which can be looked back at with joy. Are you wondering where to organize such session for it to be one of a kind? There are many possibilites and that's why we've decided to inspire you today. Make sure to read this post and get to know 10 places in Europe which will perfectly emphasize the character of your wedding photos!
What are the criteria to consider when choosing a spot for a wedding photo session?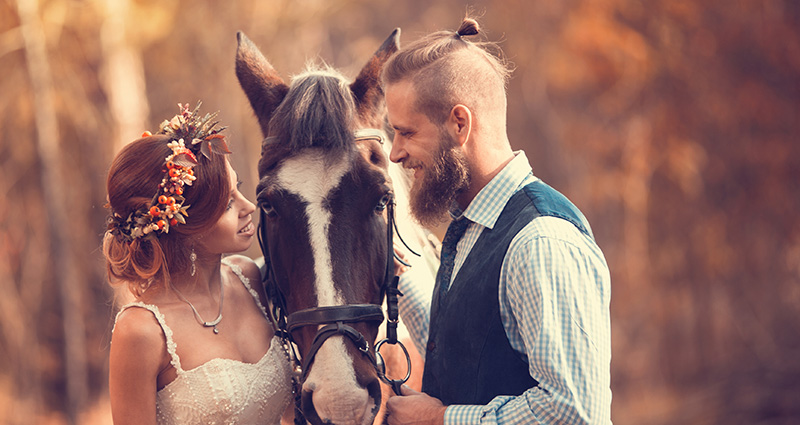 Couples often want "Original photos, full of emotions, passion and love". And that's what it's about! Another criteria worth considering is the couple's hobbies and passions cause if both of you love horseriding then maybe it's a good idea to organize a wedding photo session in a stud? Or maybe if you both like motorization organize a photo session with an antique car or motorcycle. Do you both have a great sense of humour? Then go to the amusement park! Cause how often do you get to see the bride and groom dressed head to toe at an amusement park? A photo session with a little humour guarantees a jaw-dropping effect.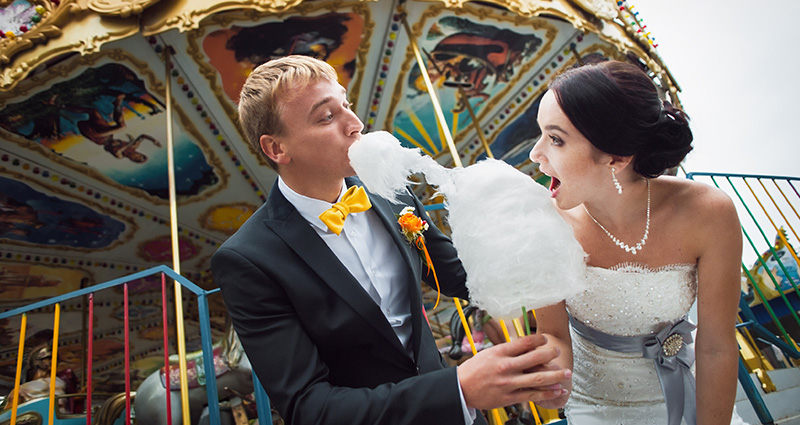 Or maybe you love travelling, discovering new places or going back to your favourite ones? Great! The world is so small and is wide open so pack your bags and get going! Where? See our suggestions below.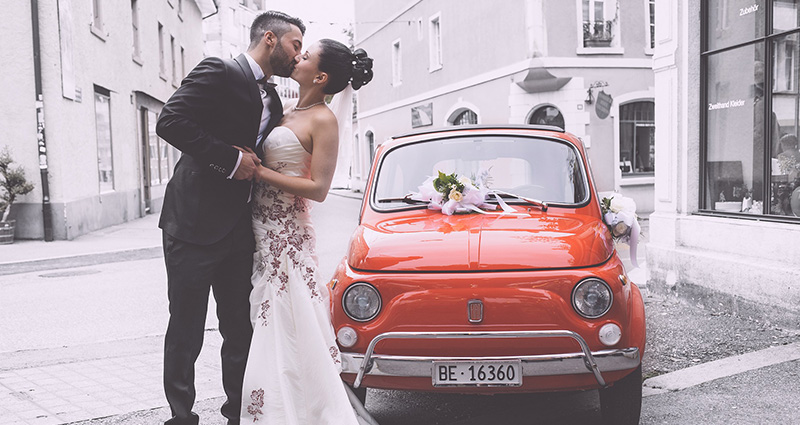 #1 The capital of lovers – Paris, France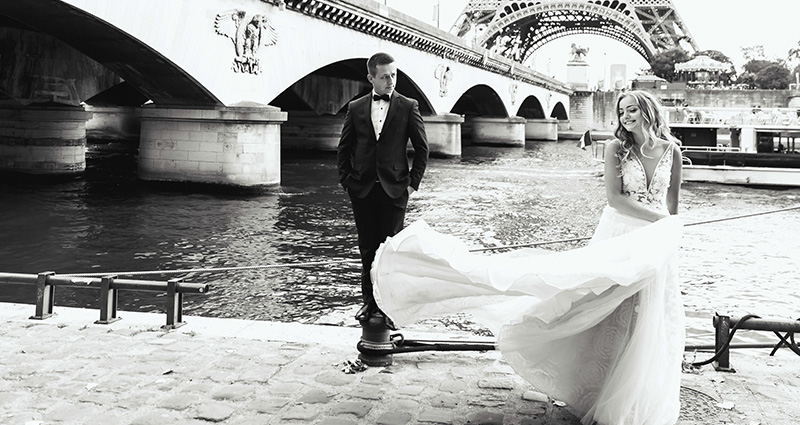 Paris, the city of lovers, comes to mind immediately when thinking of an ideal place to have a wedding photo session in Europe. The capital of France is associated with the outstanding charm of the cobblestone alleys, beautiful landmarks, gardens and palaces, and of course with the Eiffel tower. To tell the truth it's up to you what you want to immortalize on the photographs as Paris is a city of countless possibilities which without a doubt will add to your photos a bit of a romantic vibe.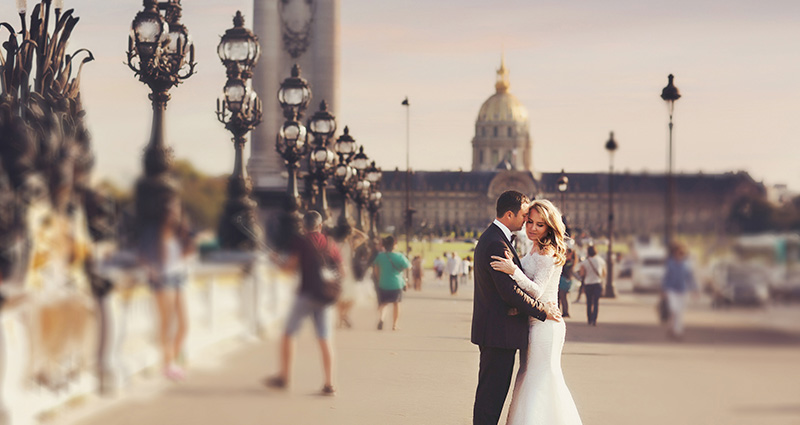 #2 The city of bridges and gondolas – Venice, Italy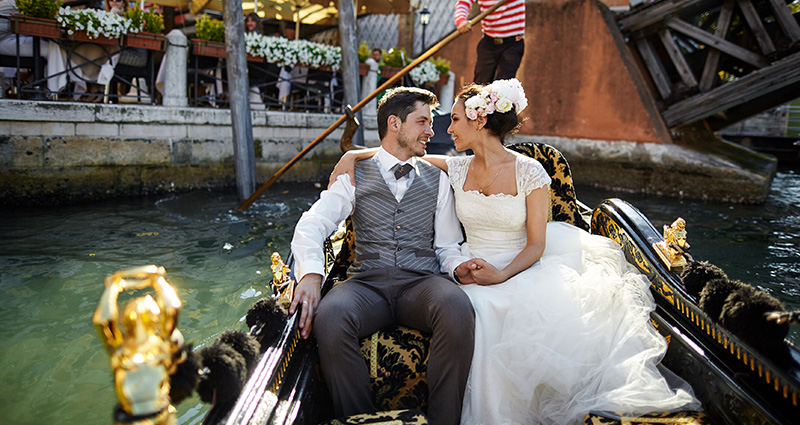 Venice is another european city wchich is considered  to be a capital of lovers. It's got a romantic, Italian atmosphere, wonderful lighting, countless channels and bridges and most importantly gondolas which make the whole city seem like it's floating. It's worth to take advantage of this place in the mornings when the tourists are still asleep. While visiting Venice, we highly recommend the Burano island which is located 7 km from Venice. Burano offers a fairytale like, colourful building facades that will be perfect as a background to a wedding photo session!
#3 The city with a soul – Prague, Czech Republic
Prague is without a doubt the city with a soul. Everyone who visited Prague at least once will tell you that. It's also a city of art and artists, with over a hundred museums and art galleries. It's an ideal place for all newlywed couples looking for an amazing place to have their wedding photo session at. It's worth noting that it's a place full of tourists all year round so in order to get that one special shot you need to be patient. :) Where exactly you should take wedding photos? The Charles Bridge is a demanding task for a photographer but if you're in Prague it's a mandatory spot to take photos at The Prague Castle will, without a doubt, charm you with its architecture. Take a chance and visit it in the morning. Who knows? Maybe there'll be a mist which will surely add magic and mystery to your photos and create a one of a kind scenery for your wedding photo session. What would you say about a park? Make sure to go to Vojanovy Gardens - the oldest garden in Prague (est. in XIIIth century).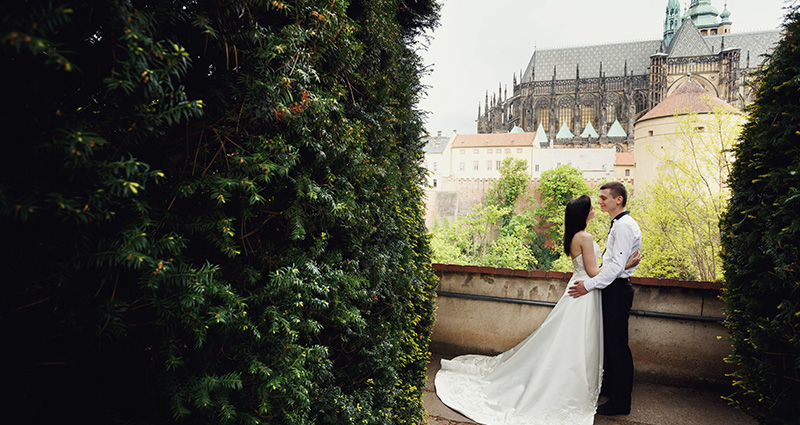 #4 Disney's Castle – a castle in Neuschwanstein, Germany
It's a fairytale-like place and the castle itself was the archetype for the castle in the Disney's Sleeping Beauty. So if you'd like to feel like a prince and princess just for one day it's the best castle there is for a wedding photo session. The castle is located in south Bavaria and has become an idealized knight castle of the king Ludwig II. It's without a doubt a perfect place for a romantic, or even a fairytale wedding photo session.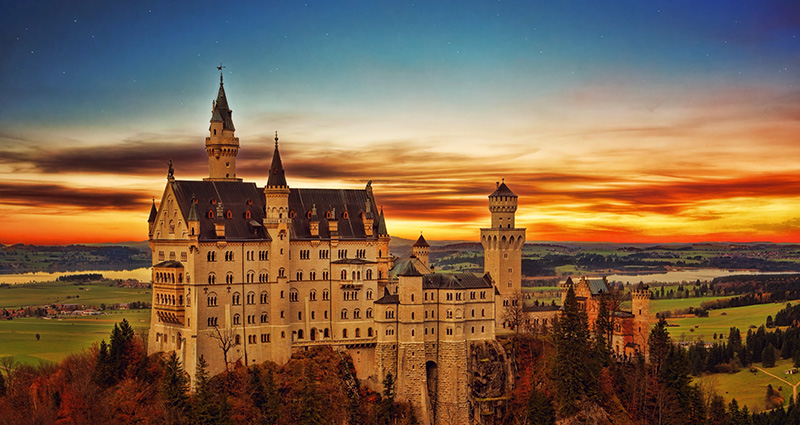 #5 Veiled in secrecy and legend – Lake Blausee, Switzerland
This place is without a doubt different from the four already mentioned above. The romantic lake Blausee, located in a forest surrounded by mountains, is shrouded in legend  about a blue-eyed girl whose heart broke out of dispair from unrequited love. The dark blue lake, located in the heart of a wildlife reserve, is a special place for a wedding photo session on the bosom of nature. It's also famous for its underground springs and picturesque setting. Hidden in the middle of a forest and between mountains will charm everyone who will visit it. If you like the bosom of nature and the secrets that nature holds, think about organizing your wedding photo session at the Lake Blausee.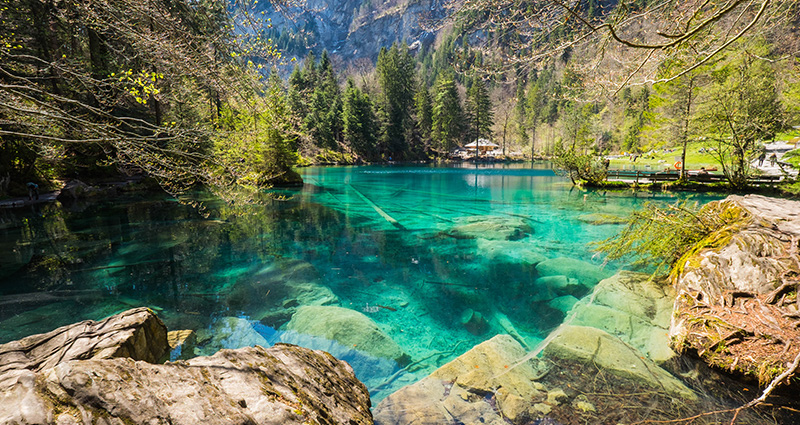 #6 A chilly scenery for photos filled with love - Iceland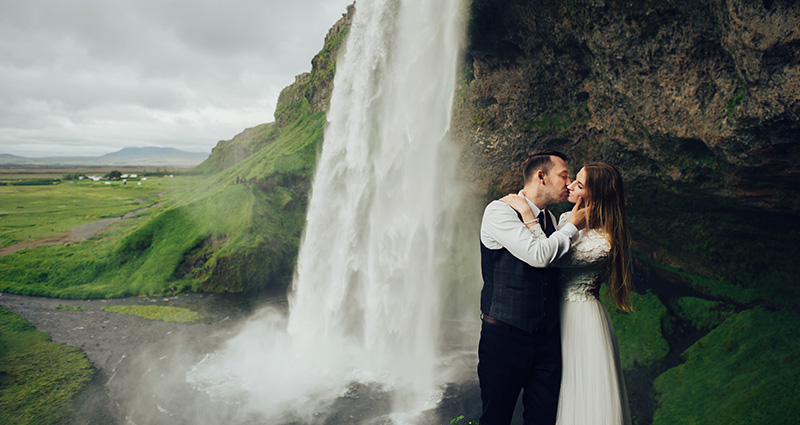 When it comes to Iceland as a setting of your wedding photo session it's difficult to decide upon only one, specific spot. This country has a mysterious feeling to it, with whites and grays in majority, monumental nature, rocks, rocky beaches, rough sea, waterfalls as well as volcanos... and glaciers. It's a country full of  contradictions, which can be a real paradise for fans of wild nature. It's also a beautiful setting for a wedding photo session; full of mystery and wildness, and the feeling cannot be compared to any other country in Europe. Make sure to capture the aura of the Jökulsárlón lake and the Seljalandsfoss waterfalls in your photographs.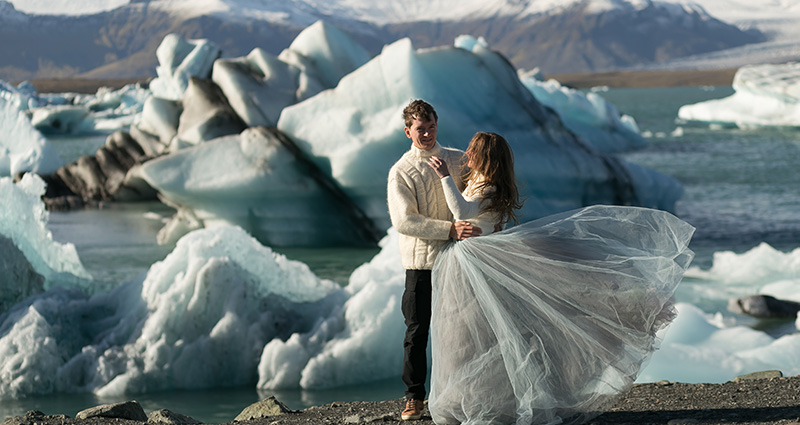 #7 White-blue paradise – Santorini, Greece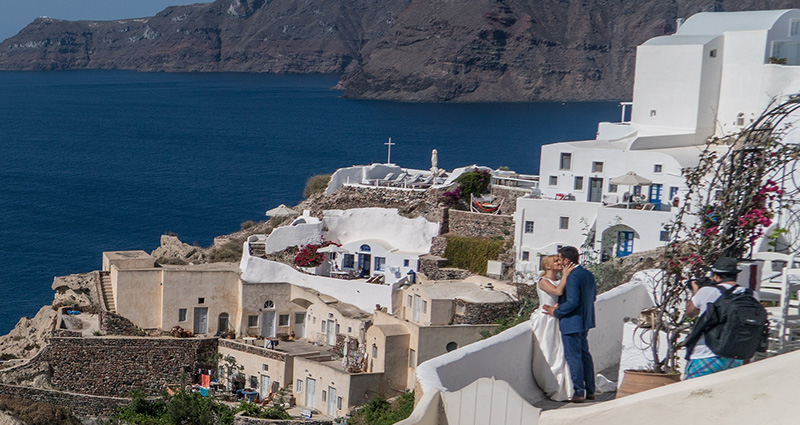 Santorini  is called one of the most beautiful Greek islands. A white-blue paradise which offers the most beautiful sunset in Europe. Is that true? It's best to check it out yourself. This little Greek island that stuns the whole world is, without a doubt, one of the most charming places to have your wedding photo shoot at. Small white houses and countless small churches with blue roofs located on steep rocks extremely close to the sea surely attract with the magic of the setting. It's a place which doesn't need much explanation and its charm will surely show on your wedding photos adding some romance to them.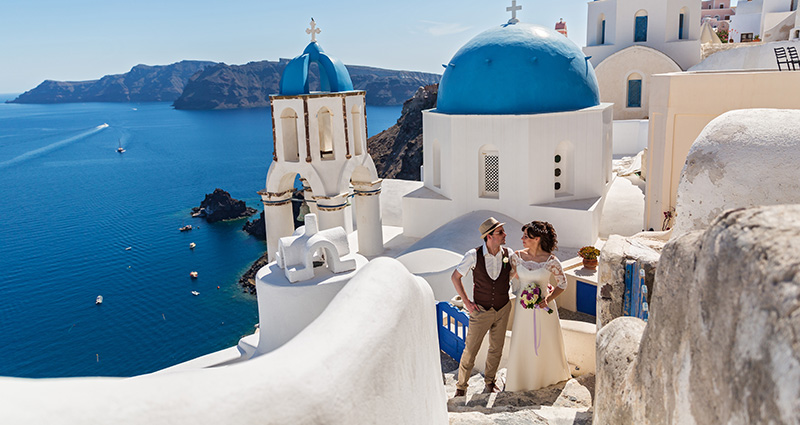 #8 Picturesque coastside from the list of UNESCO monuments – Amalfi and Positano, Amalfitan Coast, Italy
The Amaltifan Coast is on the UNESCO heritage list and is one of the most picturesque places in Europe. It's famous for its mediterrenean climate and mountainous views with beautiful houses cascading down steep slopes which makes them look like they were glued onto the cliffs. It's no surprise that this region attracts millions of tourists each year. It's also an ideal place for organizing a wedding photo session. For newlyweds, we especially recommend two towns – Amalfi which is most famous for its shiny, white houses, located on a hill with a view of the sea and surrounded by a plantation of citruses, and Positano with picturesque colourful houses located on steep rocks. Photos taken in both of these places will look amazing. Tip: It's best to travel to the Amaltifan Coast outside of the high season. :)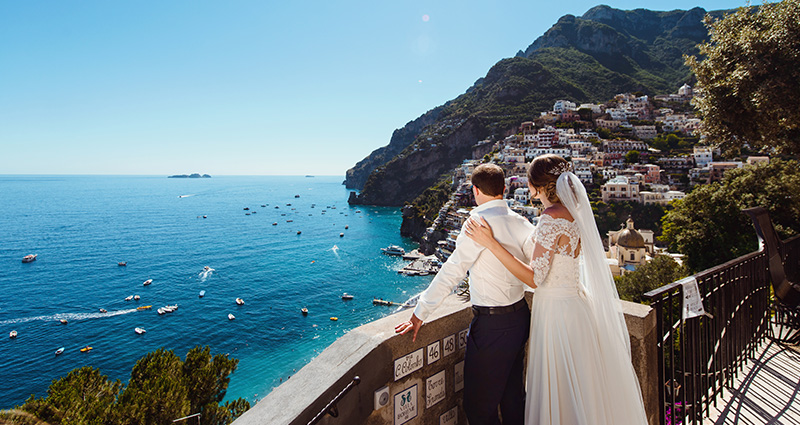 #9 Violet fields of lavender – Provance, France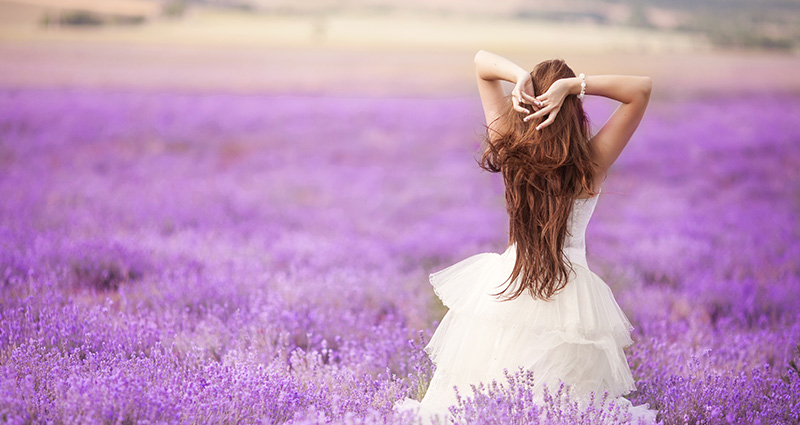 Another idea for a photo session on the bosom of nature? Violet fields of lavender. And if we're speaking of lavender, then only about the one from Provance. Before going there, however, remember that lavender blooms in violet only for about less then a month - from the second half of June till the second half of July. It would be best to plan ahead. Valensole and its surroundings is the place which we reccommend the most. it's full of big and small lavender plantations, lavender oil manufacturers, souvenirs and there's also the museum of lavender there. Provance is a place that offers lots of charm and romance - it's ideal for a wedding photo session. If you're not taken by fields of lavender then you might consider a session in the field of sunflowers or crocuses which you'll find in other parts of Europe. The most important part is the colour that you want to have in your photos in the background.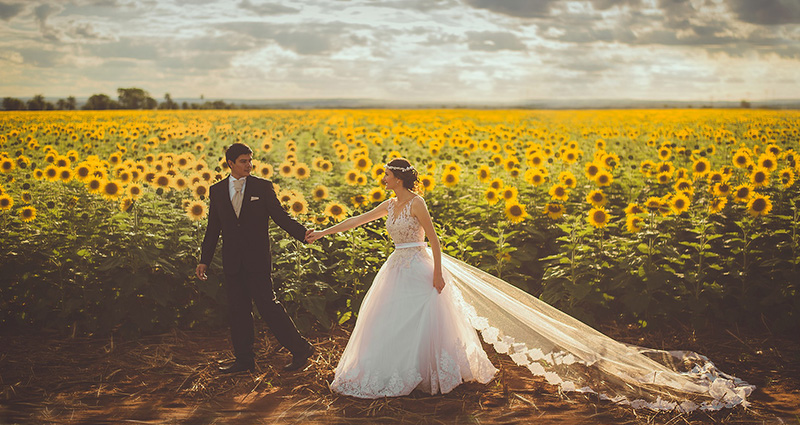 #10 Favourite European lake among celebrities – Lake Como, Italy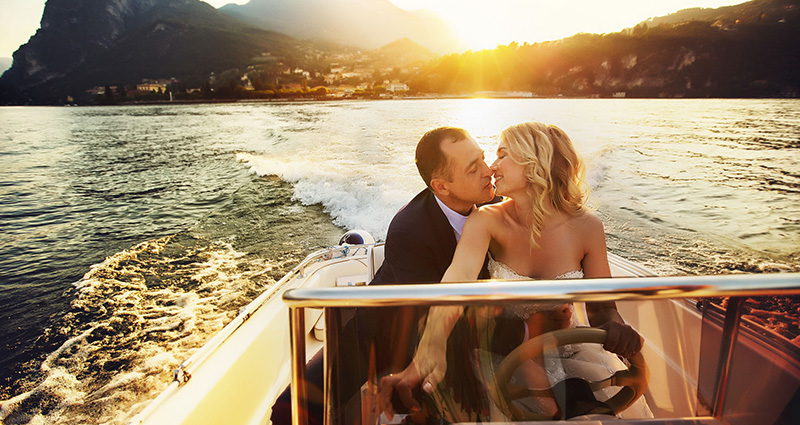 It's the third time when Italy is being mentioned in this article and it's no wonder since this country has so much to offer especially for people in love. This time around we'd like to present the newlyweds with a wedding photo session near the Lake Como, which attracts millions of tourists each year. Lake Como, located in the richest part of Italy is considered to be the most beautiful and exclusive lake in Europe. Celebrities such as George Clooney, Brad Pitt and Sylvester Stallone have their impressive mansions here. What makes this place so special? Como is located where climate zones meet. Even though the Alpine climate is present here, the mediterrenean flora dominates, e.g. palm trees grow near the roads and flowers grow everywhere in towns. That's why it's the place where amazing vistas and charm prevail – it's just perfect for a wedding photo session.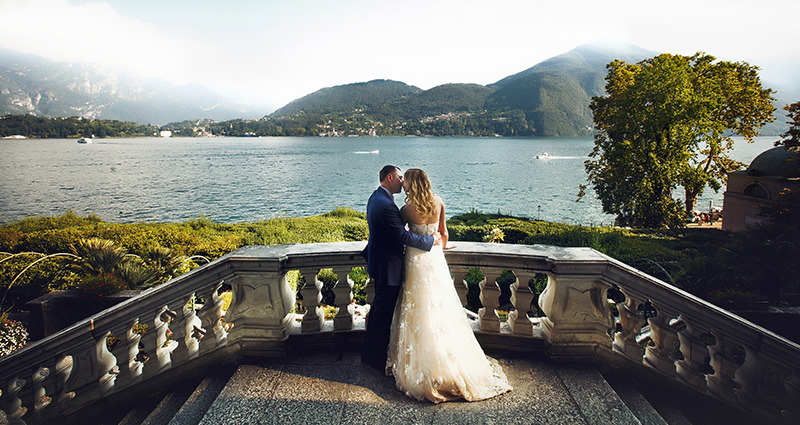 It's impossible to mention all places to have a photo session at while writing about TOP 10 places in Europe to have your newlywed photo session at. We chose the ones which charmed us the most, even though the choice wasn't easy. We wanted each newlywed couple to find something that would suit them, no matter if they like the noise of European cities or the bosom of nature. What are your ideas for a wedding photo session? Make sure to share them with us in the comments below and let's inspire one another!
Of course, don't forget that your photos from such beautiful places are worth immortalizing on incomparable photo products. We highly recommend our Starbook – a star among the photo books - which we wrote about in detail in one of our previous articles. Another ideal product would be a photo album, it's an exclusive photo product which will add more elegance to your photos.  The choice is yours as we wish all newlyweds to have photos full of love no matter the product they choose or the place they take them at. Don't miss our special offer full of amazing discounts!
P.S. If you decide to have a photo session in a castle or on the grounds of a national park make sure to ask around to see if you need a special permission or a ticket to be there. It will save you a lot of time :)