Father's Day messages from daughter and son
by Anna,
18 Jun 2021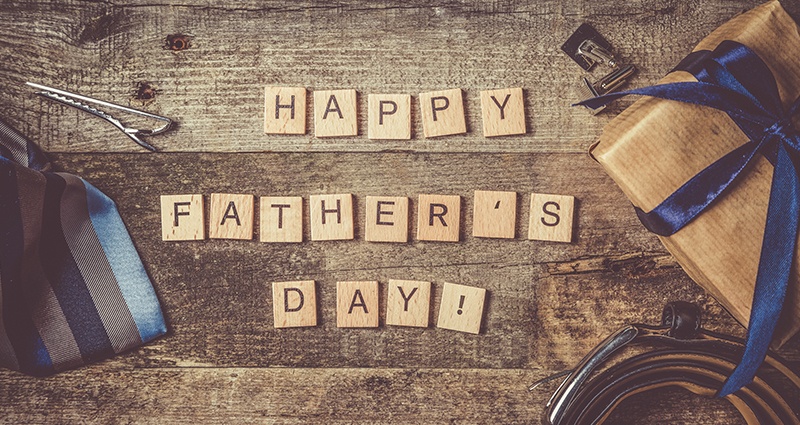 There are many holidays in our calendar. Virtually every day brings us various pretexts for celebration. From the craziest ones such as: Pizza Day or the International Day of Manned Space Flights to the well-known Mother's Day and Valentine's Day. Sometimes, however, we forget about people close to our heart…
Remember who read you bedtime stories, taught you how to catch a really big fish and how to ride a bike. Soon comes the Father's Day, so to reward him for all the good times, it is worth getting him a memorable gift. Specially for this occasion, we have prepared several photo-gift ideas with special wishes for Father's Day.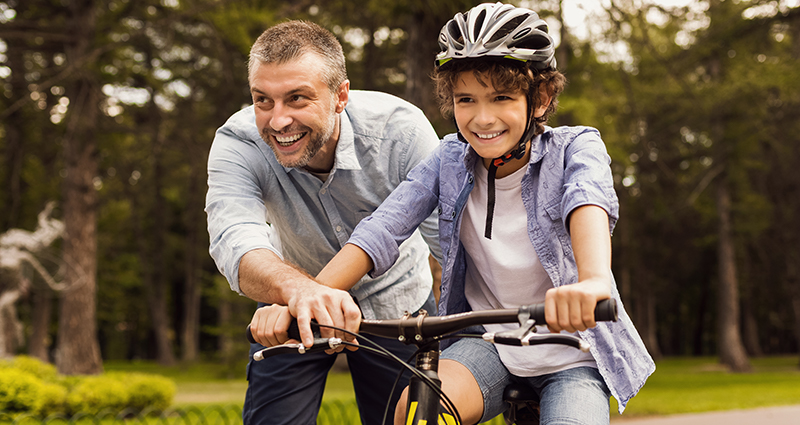 Photo Books with Happy Father's Day Message
Since we live in a digital world, we tend to develop photos less and less often. We view the photos  on our smartphones and computer screens. We quickly scroll through the news feed in social media and even forget about the best shots. A photo book is an excellent proposition to keep what is valuable and worth remembering. See how many cool photos you have accumulated on your disks and turn them into an amazing story. We are convinced that, contrary to popular belief that "men don't cry," your father will be moved and he'll perhaps shed a tear or two.
You can choose from six formats: 24x24, A4 vertical and horizontal, 20x20, 30x30 and A3 horizontal. The whole is printed on elegant chalk paper (200 g / m2). The hard cover can be glossy or matte. Depending on your preferences, a photo book can have from 28 to even 160 pages, the number of photos per page is unlimited – add as many as you need. You can design it in an intuitive online editor, where you can also put nice messages for Father's Day, e.g. "Dad, you are my hero and my role model" or "You're my one and only dad, and I'll always have a special place in my heart for you".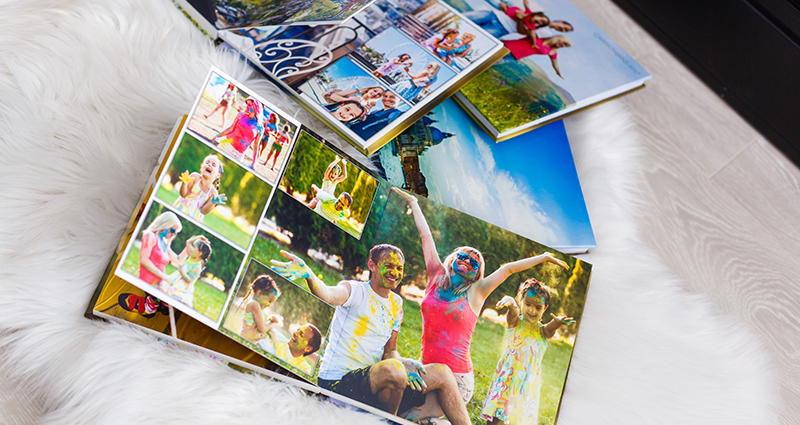 Photo Prints with a few words for Father's Day on the back
It can be said that Photo Prints are classics that we often forget about. Print photos for your dad where you are alone or with your family members. On the other side of the photo you will be able to add some warm words for Father's Day, for example: "The greatest gift I ever had came from God; I call him Dad!" or "A message for Father's Day from his son – Dad, you have given me the best things in life: Your time, your care, and your love. I am truly grateful to have you in my life. Happy Father's Day!". The photos can be put in a family album, framed and hung on the wall and used in any way (a truck driver will place them in his cabin, an office worker will put them on the desk, a bookworm will make a bookmark of them and a car mechanic will attach them to the wall in the workshop). You can choose the standard 10x15 cm format or larger 15x21 cm prints. They are printed on high-quality paper (glossy or matte). In addition, in a convenient on-line editor, you have the option of making simple adjustments, e.g. increase the contrast or correct framing.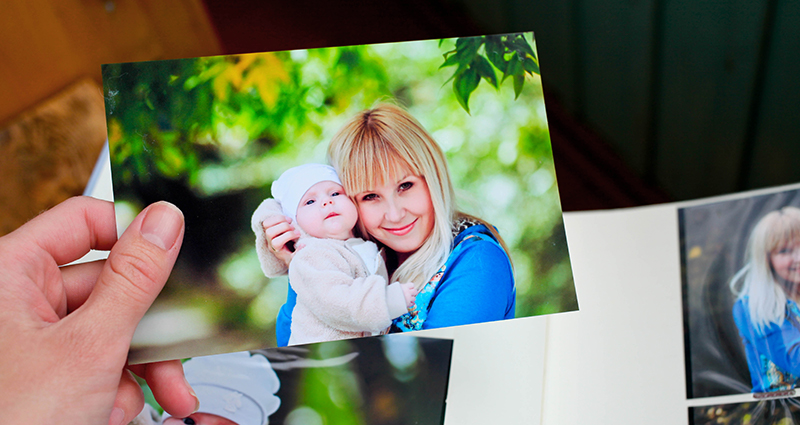 A Photo Mug with funny Father's Day messages
A practical thing that can be used every day – regardless if your dad likes strong, black coffee or cannot imagine a day without an aromatic cup of green tea. Using our convenient editor, you can add a photo and additional text that interests you, for example:
'Father's Day Message from Daughter – Best Dad of Best Daughter'
'Dad – the stylish head of the family'
'Message for Father's Day – You're the best father in the world'
'The best father in the world'
'Cool dad'
'When God was assigning dads, he chose the best one for us'
'His majesty Dad John'
'Dad – a superhero for special tasks'
'Being a father is the easiest part of the job. Being a dad is the challenge! You're great!'
'Anyone can be a father but only you can ba a super-dad!'
'A cup of my beloved daddy'
'Dear Dad'
'If dad can't fix something, nobody will'
'Dad, thank you for helping me build my life'
'The best dad in the galaxy'
'Fathers day message from daughter. I love you dad – Amy'
'The only real man'
'You should get a medal, dad!'
'And that's what the best dad in the world looks like'
'Dad, good job! I am wonderful'
'Being a Dad is the best profession in the world'
'A mug for a dad who's always right'
'Thanks for super genes dad!'
'Dad rules here * (* when mum is not at home)'
'Dad – board chairman of Family Inc.'
Depending on the design, the photo mug can hold up to 350 ml of your favorite drink, which, if necessary, can also be heated in the microwave.
Funny Father's Day Messages
'Daddy I want to let you know,
How lucky Mommy and I are,
Because when it comes to daddies,
You really are a star!'
Dad you know that I like Batman,
And Superman's cool too,
But I don't really need them,
As long as I have you!
Daddy I know your secret,
That you've tried to keep suppressed,
I promise I won't tell anyone,
But I know you like me best!
Dad; pronunciation 'daaaaaaad!' (noun)
Definition:
1. Mr Fix-it
2. Free taxi service
3. Creator of silly songs and voices
4. Best chilli chef ever
5. Master of the TV remote
6. Head of vehicle maintenance
7. King of corny jokes and forwarded emails
8. Resident Math tutor
9. Endless source of guidance and encouragement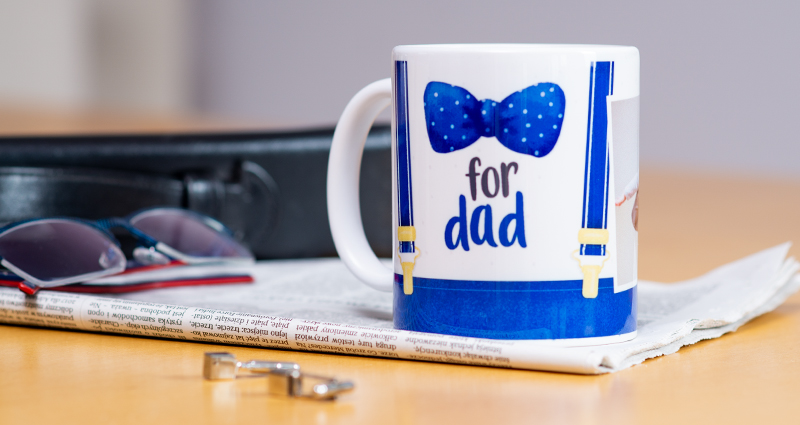 Photo Magnets – a unique idea for a nice Father's Day message
Imagine that every time your father looks at the fridge he'll see the faces of his loved ones and smile. It doesn't have to be a photo only, it can also convey a message for Father's Day, e.g. 'You're an amazing father, you've got wonderful kids and a fantastic wife – should you really eat all the fatty stuff in the evening? Take care of your health, dad!' Photo Magnets are available in different sizes (6.5x6.5cm, 9x9cm, 9x13cm, 15x21cm), the photos you add will have wonderful colours and the materials used are resistant to scratches and contact with water.
A Photo Canvas with Father's Day wishes
Create a unique Photo Canvas for your father. Your family photos printed on Canvas will definitely look great on your wall. Use a simple online wizard. First, choose the template you like, add your photos and become an author of a real masterpiece. Photo Canvases are sold with or without decorative frames and a practical hanger.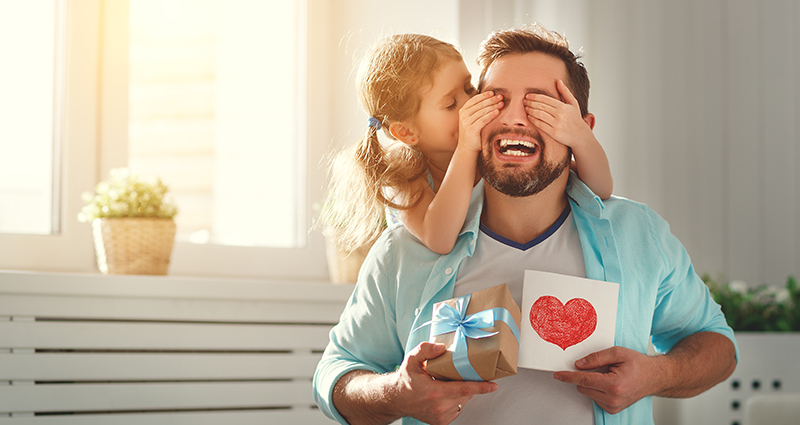 Father's Day wishes – summary
Whatever you choose to give your dad for Father's Day you need to know that the most important thing is that you remember about him. The sheer fact that we remember to call or visit him makes him happy. It's always worth to show your feelings. Life's just too short so don't put it off. On this special holiday, give the best withes to your father. We've got some advice, too. Set an alarm in your phone in order not to forget about it or write a sticker note and put it on the fridge. Better safe than sorry!