DIY Christmas tree - 3 ideas
by Anna,
09 Dec 2021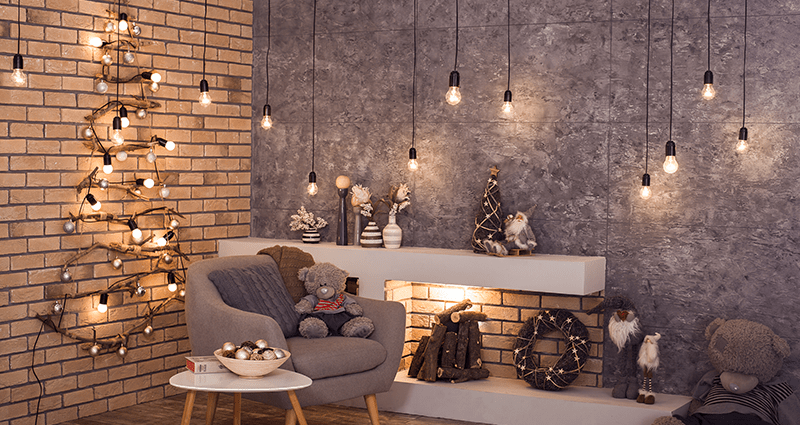 In the run-up to Christmas, the layout of every home changes slightly. Instead of the sofa or the kitchen, family life revolves around it - the Christmas tree - sometimes small, sometimes huge, but always radiating Christmas magic. Would you like a slightly different Christmas tree this year? Well, it's a good thing, because we have prepared some ideas on how to make a DIY Christmas tree!
Be more eco-friendly - DIY wooden Christmas tree
A forest-scented Christmas tree in the centre of the room - that's probably how you plan to decorate your home in the coming month. But there are times when you don't need a real tree. Whether it's because you're away at Christmas or because your little cat friend goes crazy over the colourful decorations. What to do in such a situation? The best solution is to create a DIY wooden Christmas tree. All you need is a few sticks of different lengths, some decorative string, any decorations you like and... the tree is almost ready. Of course, the emphasis is on "almost" because you still have to fix the sticks so that they hold the weight of the ornaments. The best way to do this is with the right ties - glue alone may not be enough. Don't forget to attach a bracket at the top so that your DIY wooden Christmas tree can hang on the wall. You can decorate the finished tree with LED lights. Little work, big effect!
There is also a simpler way to make a wooden Christmas tree - buy a ready-made, triangular form to decorate as you like. Without any decoration, it looks like an ordinary triangle, but all you need is some cinnamon sticks, colour, decorations and the magic happens!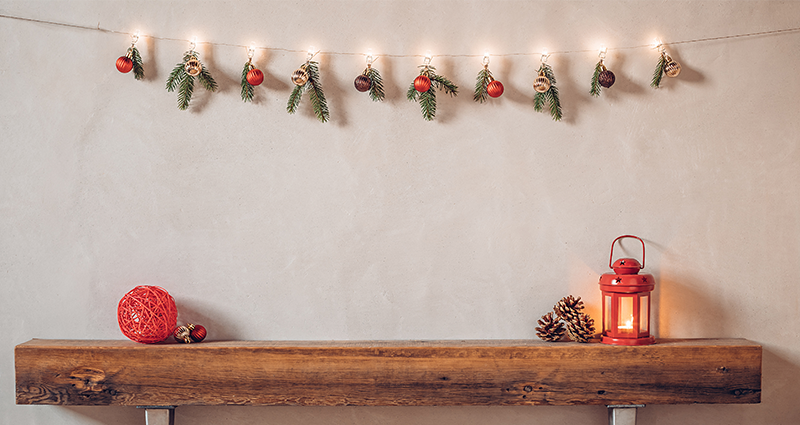 Fun for the whole family - DIY paper Christmas tree
Green paper, scissors, good glue and colourful sheets of paper. Exactly such a set is enough to conjure up a unique DIY paper Christmas tree. Paper trees look great in sets, so prepare a larger number of materials in advance - one Christmas tree is certainly not enough. You can involve the kids in the production too! Of course, a DIY paper Christmas tree doesn't just have to mean a cut-out tree.
Another, but equally interesting version is a model made of... crepe paper. To make it, you need a paper cone (you can glue it from a poster board) and lots of crepe paper, preferably in several shades of green. The rest is pure fun because the task consists of making small balls of the crepe paper and sticking them to the paper base.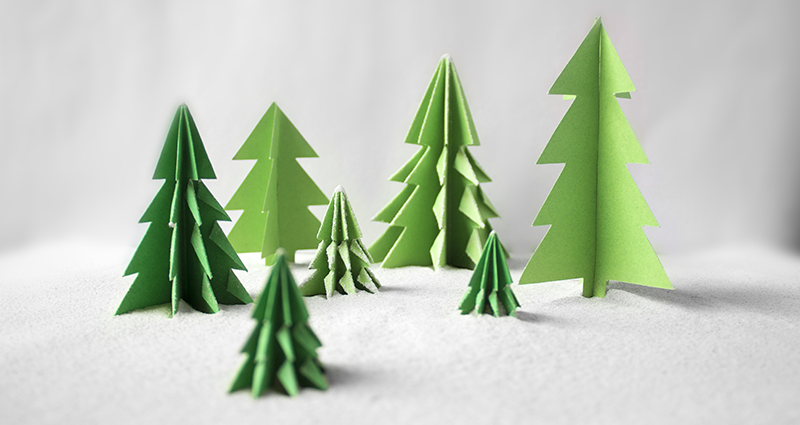 When you have no space - DIY wall Christmas tree
Do you have a piece of empty wall? If so, use the space for a DIY wall Christmas tree! What's interesting, this decoration doesn't have to look like a traditional Christmas tree. It can be a decoration inspired by it, such as a rope decorated with fir or spruce twigs, to which you can attach Christmas prints using wooden pegs.  It doesn't take much work, but it makes a big impression - especially if you choose prints in a non-standard size or with a retro effect. You can, of course, decorate your DIY Christmas tree wall decoration with ribbons, LED lights, etc. Ribbons, led lights, small wooden ornaments - your imagination is the only limit!