Create your own Christmas card!
by Anna,
15 Dec 2021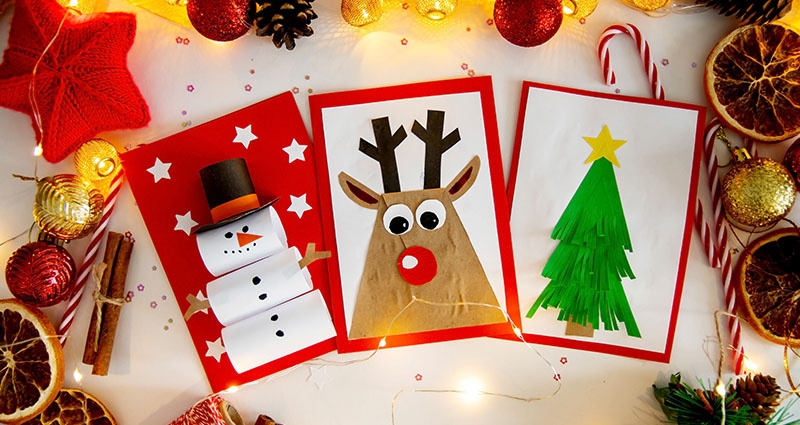 How to make your own Christmas cards and where to find inspiration? You must read this text! At the beginning of December, a festive atmosphere full of magic and love slowly tiptoes into our homes. We usually associate Christmas with spending time with our loved ones. Even if you're not able to spend this special time with your family, it's worth showing them that you're thinking of them. Nothing works better than handmade Christmas cards! Looking for some inspiration? Let me give you a few ideas so that your cards will be heard of at every family celebration!
Is it worth sending Christmas cards?
Although in the age of the Internet and social media frenzy it might seem that the tradition of sending Christmas cards has been completely forgotten, many of us still cherish it. Often this activity becomes a ritual during the pre-Christmas bustle. Many people can't imagine preparing for Christmas without a trip to collect colourful cards. This tradition is particularly strong in the generations of our parents and grandparents. Young people are also taking to it more and more! Each card is a unique gift, which testifies not only to the closeness but above all to the memory of our loved ones at this beautiful time.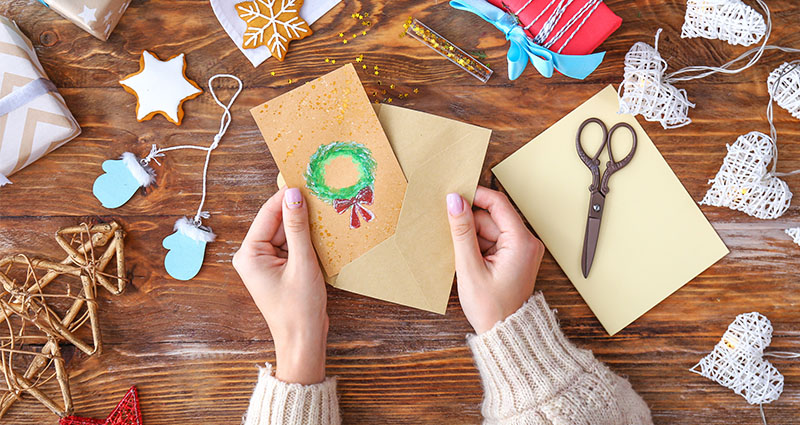 Why opt for handmade Christmas cards?
There are many reasons, but let's focus on the most important ones. First of all, you'll bring joy and smile to the face of the person who receives it. Nowadays, it would be much easier to write a long text that you can post on a social networking site, send by email or send to all your contacts on your phone via SMS. Handwritten wishes are much more valuable than elaborate content sent digitally. A few handwritten words have much more power than impersonal wishes addressed to everyone. Another advantage of Christmas cards is that they are "indestructible" - they are not as easy to delete as an email or text message! I also have to be a bit cruel in my honesty - the chances that in a few years' time, sitting with a hot cup of tea, you'll be digging out the Christmas wishes you received by email are really thin - you'd sooner reach for the box in which you collect all the occasional cards. Plus - you don't need the internet to create a card! Of course, a good Wi-Fi connection can be helpful for finding inspiration, but it's not essential! You create a card, put it in an envelope, send it off and that's it - there's nothing complicated about it! In addition, you show your loved ones not only a lot of love but also respect. The person who receives your card will feel appreciated - it took more effort to prepare it than to send the same text to everyone.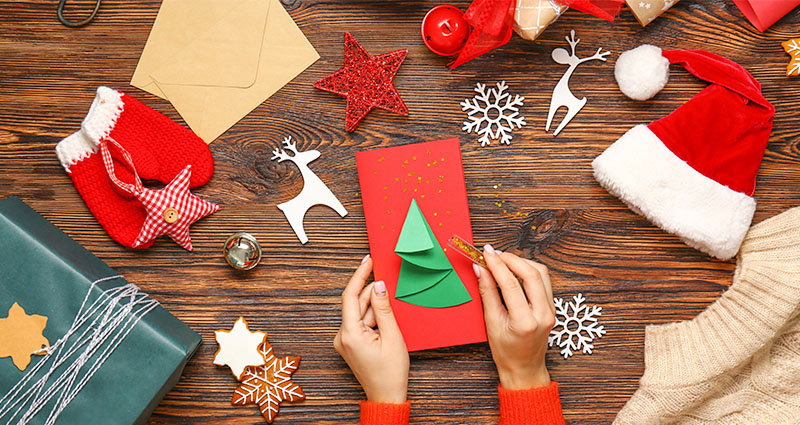 Your own Christmas card - how to do it?
You don't have to be afraid of anything, you don't need to have great artistic talent to create beautiful and unique cards. In fact, all you need is the will and a little free time. Below I present you the easiest ways to impress your loved ones this Christmas!
You don't have to go shopping for special products to start creating your cards - you can use whatever you can find in your house. The first simple way to make an original card is to use seemingly useless materials you find around the house such as fabric scraps, ribbons, old newspapers, strips of Christmas paper or even peelings from a sharpener! Whichever material you choose, you can use it to make a Christmas tree. Whether it's strips of coloured cards, ribbons, torn up pieces of newspaper or peelings, you can make it unique! Underneath the glued Christmas tree you can write anything you like, e.g. Merry Christmas! If you want to add some sparkle, use pearls or sequins. That's it - your handmade card is ready!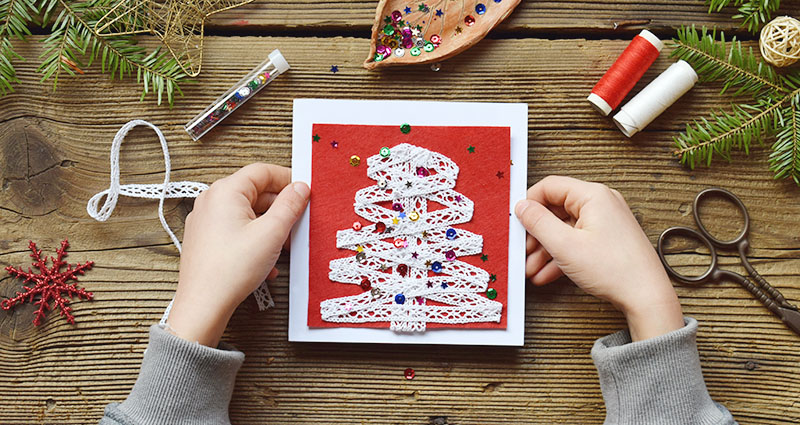 You can also use buttons to create your unique Christmas card! They work great in the form of baubles. You can use them however you like - they will look very striking both solo and accompanied by a Christmas tree cut out of paper. A simplicity that will give your cards an amazing expression.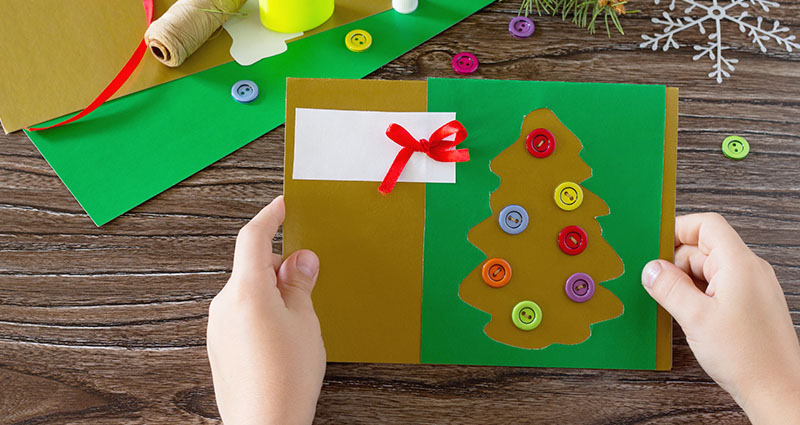 If you want to make your card as personal as possible, you can opt for imprinting your hands and adding some Christmas decorations to them! All the necessary elements - such as baubles, chains and lights - can be drawn with a ballpoint pen or cut out of coloured paper. It's so easy to do and it's a real eye-catcher.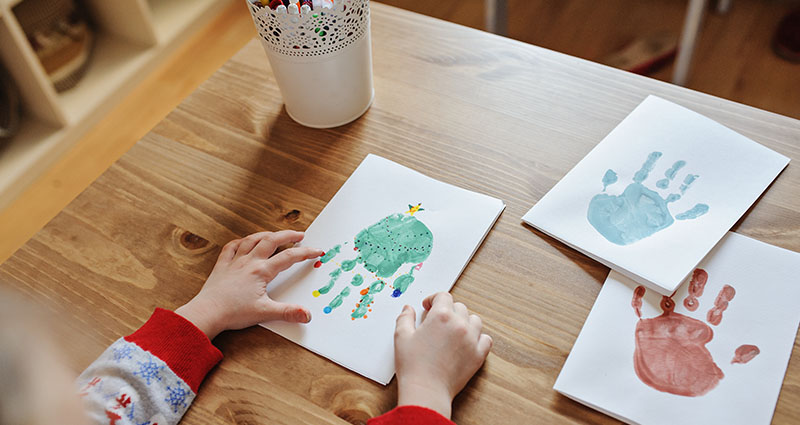 When creating your special Christmas cards, you can also use photo prints! Thanks to the possibility of personalising your photos with a text of your choice, creating a unique Christmas card becomes even easier! You can decorate your photo any way you like, e.g. with button baubles, half-pearls, sequins or strips of festive paper - it's up to you!