3 ways to make an Easter bunny – Easter table decorations with Colorland
by Julia,
21 Mar 2018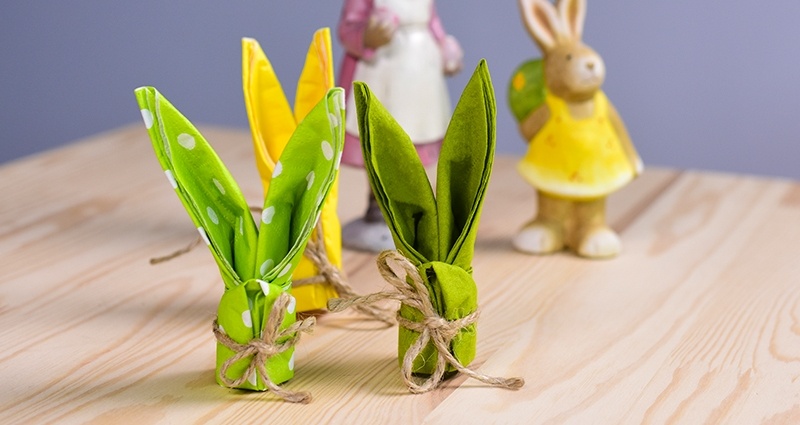 Easter is coming! It's worth thinking about Easter table decorations. Due to the fact that our Christmas decorations article met with a vast interest from our audience (you can find it here), we decided to prepare a similar post for Easter, but beware! This time, we have come up with something truly outstanding – there would be 3, or 4, actually, video tutorials! The main theme of each footage is an integral part of every Easter – a bunny! Videos are classified according to levels of difficulty: from the easiest to the most difficult one in regards to execution. Check it out!
1. Paper bunny as a serving coater
1. Prepare a bunny template (you can download it here), copy its contours on a coloured card and cut it out.
2. Cut two parallel horizontal lines in the middle of the rabbit.
3. Prepare a thin strip from paper of a different colour and stick it between two slits.
4. Tie paper bunny up with a decorative ribbon.
5. Put cutlery and... that's it!
2. Bunny ears made of napkin as a practical decoration for cutlery
1. Prepare two napkins of two different colours and patterns
2. Spread the first napkin and fold it in half along the long edge.
3. Fold all 4 corners along the edge in the middle of the napkin.
4. Repeat all the above steps with the second napkin.
5. Put both napkins against each other with folded corners facing inwards
6. The napkin which would serve as an inside of the ear should be located on the top.
7. Fold the upper parts of the napkin along the internal folding line. Fold the whole piece again in half along the long edge.
8. Fold ears in half and tie them up with a decorative ribbon – that's all!
3. Origami bunny made of a napkin
1. Spread a napkin and then fold it in half along the long edge.
2. Turn the napkin so the opening side is upside down.
3. Fold two sides to the central and original folding line so that the upper side of each of them touches the central fold.
4. Wrap the bottom corners of the napkin to the central diagonal fold. You will get a square. Then fold lateral corners to the middle to create a kite.
5. Turn the napkin on the other side. Fold a bottom corner to an upper side exactly in the middle of the bottom triangle.
6. Hold the napkin and fold so the first bottom corner comes in the second.
7. Tie paper bunny up with a string and… that's it!
And now something special!
Have you ever wondered how to pack your Easter gift in a creative way? Check out our packing tip which we would show by the example of our Colorland mug, which we always pack in a polystyrene box in order not to get destroyed in delivery.
1. Wrap you mug up - packed in a polystyrene box - in decorative or grey paper
2. Pin ears from video tutorial no. 2 to it. Additionally, you might want to attach them on the back with a paper clin, just in case.
3. Draw eyes, whiskers and teeth and as a nose, stick or attach a decorative button.
4.  Add a pompon from the back which would serve as a tail.
5. … and that's it! Your gift is ready!
How did you like our Easter ideas?
We hope you will try them on your own! They're not so difficult as they seem!
PS. Don't forget to take photos of your decorations and print them along with other pictures taken during Easter! And if you are looking for amazing deals, you have to check our Special Offers!