Nursery décor ideas – what to buy and what to save on?
by Anna,
21 Aug 2020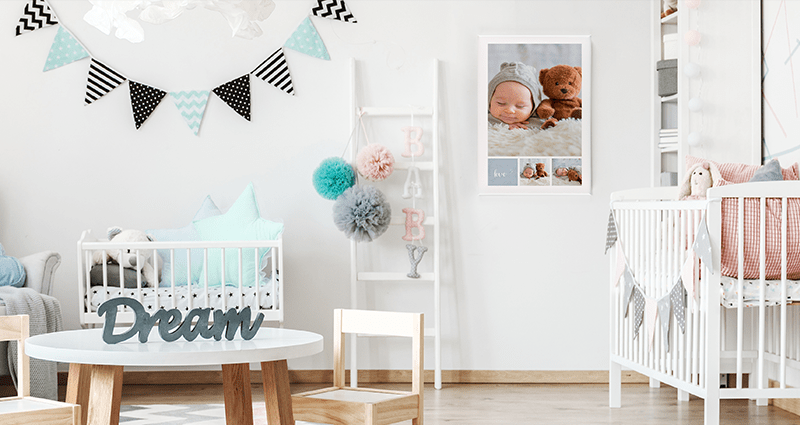 Regardless of whether you are decorating the whole room or just a children's corner in your bedroom, you need to remember that, at the beginning, it will also (or perhaps mainly) be your space. An infant doesn't need much to be happy (theoretically). He has to be: full, changed, rested and safe. Against all appearances, those duties will fill up your day (and night) so it's not really worth following plenty of the Instagram trends with all the impractical solutions to make your life more miserable. Be practical!
1. Breastfeeding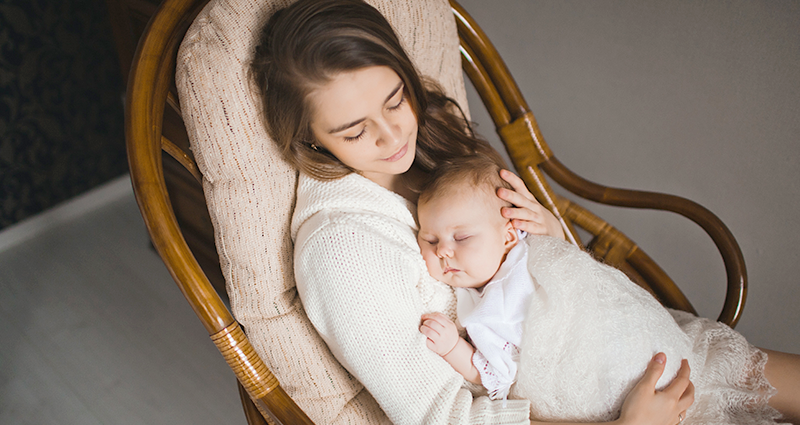 Infants eat often and slowly (sometimes taking a nap in the meantime). Therefore, the place you will feed your baby has to be comfortable. Trust us, you'll spend there more time than you think :). Hence the armchair you will sit in has to be chosen from those you already own (maybe you've got your favourite one for binge-watching or reading?). You can, of course, buy one too, but test it in the shop before you do so.
Additional tip: don't buy a bottle warmer straight away. Some children drink only the room-temperature milk.
2. Changing
Some parents don't buy a changing table and change the baby on e.g. the bed. It's an individual matter and the decision about buying one can be postponed into a couple of weeks after the birth. Regardless of what you choose, you will need: protective mats that can be easily exchanged and a chest of drawers with an organiser. You don't have to buy any special organisers, those from your kitchen will certainly do.
Additional tip: if you decide to buy a changing table, make sure you can adjust its height. It's especially important if you or your partner are tall.
3. Sleeping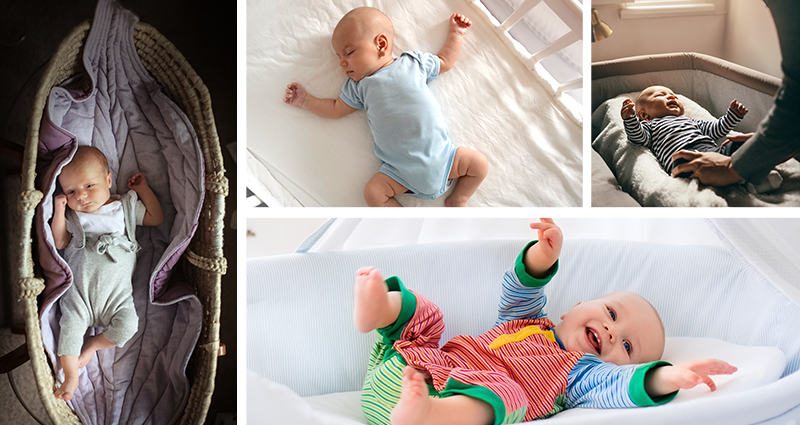 An infant can sleep in a cot, a bassinet, a cradle or in an extra bed. Some specialists suggest that for the first six months the child should sleep in the same room as the parents but not in the same bed. If you'd like to have your baby close, choose an extra bed. It's also the most convenient solution for all the mums who decide to breastfeed. The bassinet is, on the other hand, very convenient throughout the day. It can be easily moved around the house to keep an eye on the baby all the time. An extra bed, a bassinet or a cradle are only the solutions for children under three. A cot, though, that can be modified, can be of support for many years.
Additional tip: when buying a cot, make sure it will not only 'grow with the baby' but check how thick the mattress is. Only during one night you will have to bend over the cot lots of times.
4. Safety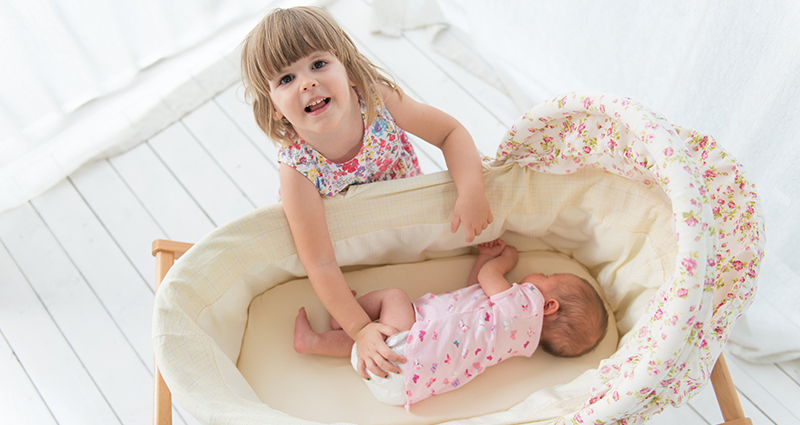 While checking all the beautiful nurseries straight from Instagram, we have to filter them a bit and use common sense (financial reasons can also be of use here ;)) Some of the decorations you see may be highly dangerous1 to your child. The baby should sleep in a swaddler and there can't be anything else in the cot. Hence, don't buy anything like protective pads, additional blankets, toys or other decorations.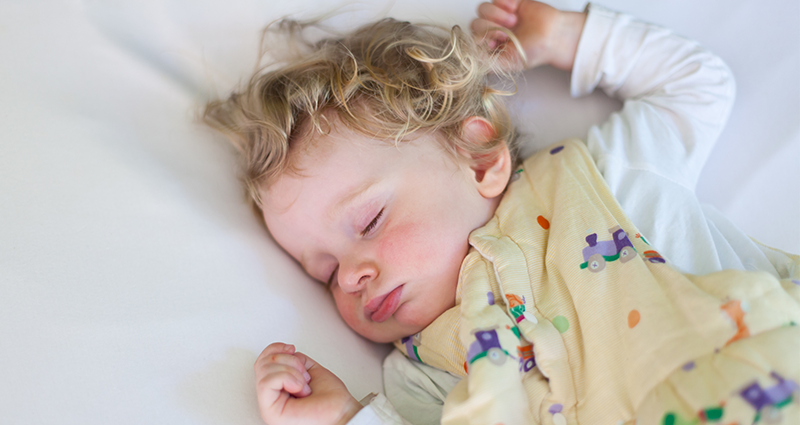 While sleeping in a cot in only a swaddler the child will not suffocate.
Additional tip: you can get a breath monitor that will alarm you if the baby stops breathing. It is highly recommended for all premature babies. Even though it is not a mandatory thing to have, it can calm down all the stressed parents.
Nursery wall décor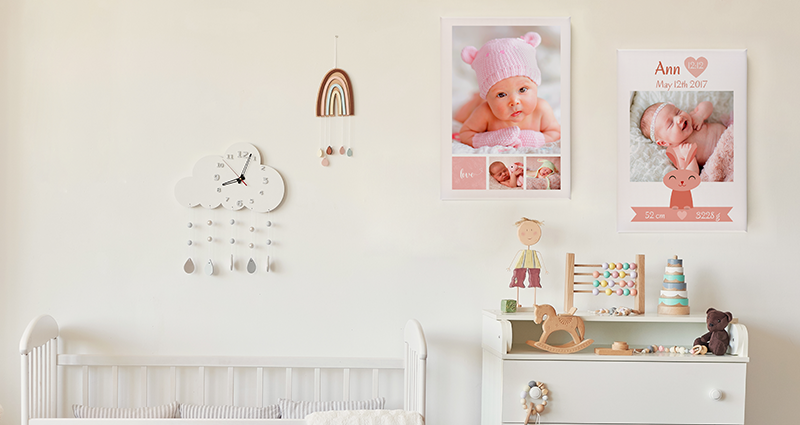 All photos of children will go well with delicate templates, e.g. Sweet Angel Pink.
Does all the above mean that we should limit the shopping to only practical things? Can't the room be practical and look good at the same time? Of course it can. There are plenty of cute furniture on offer. We, on the other hand, can recommend our nursery wall decorations - Photo Canvases. We have prepared a few templates that will go well with either a nursery for boys or girls.
When planning the décor think of places you would like to hang the Canvases. We can assure you, soon there won't be any place left. For the very beginning we recommend our Mr Teddy template that can have all the data provided on the birth certificate – you can add the baby's weight, name, etc.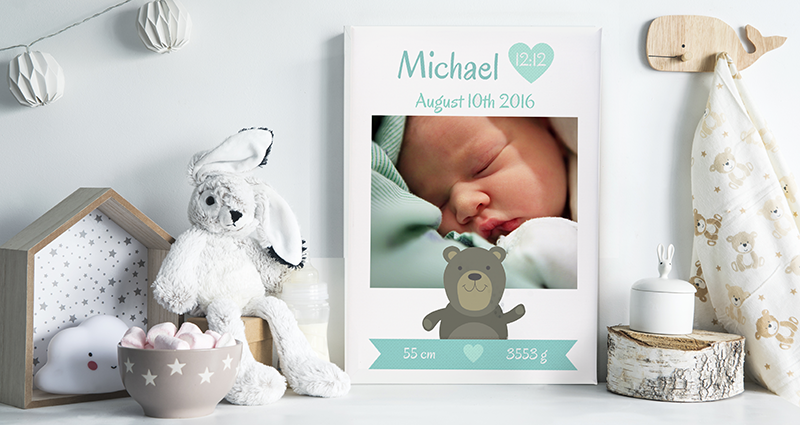 Photo Canvases are the type of decorations that can be quickly rearranged and don't cost much. It can be an interesting idea to create a small photo gallery of birthday canvases where the photo of your child can be pasted into a number.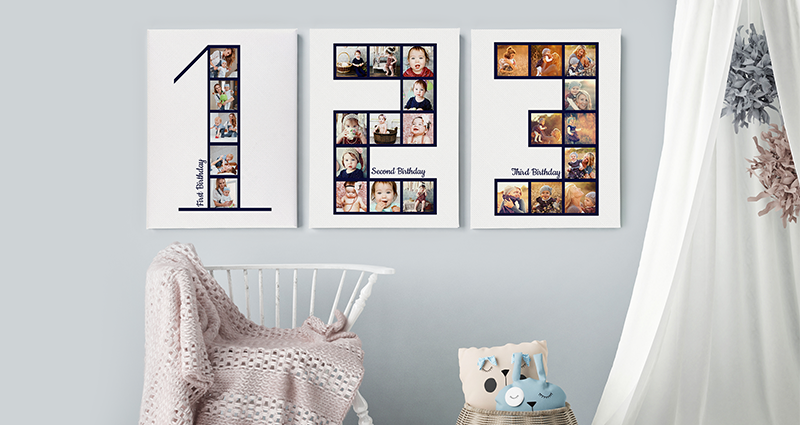 Babies change so quickly. Clothes become too small too soon and photos that used to show an infant in a crib are now showing a sitting baby. You can, for instance, take a photo of your child every month and prepare a collage at the end of the year.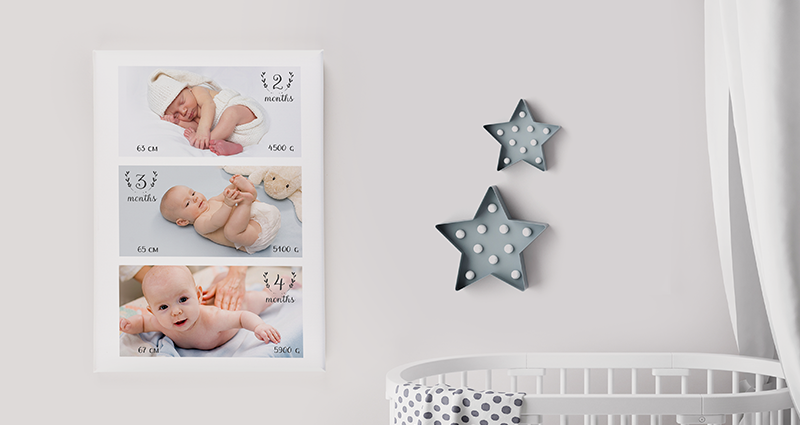 All captions can be added in our online editor while creating the canvas.
A few useful tips from mums from our team
We've got a few mums in our team. Madzia, who used to take care of our Instagram and Facebook is now resting at home and waiting for her second child to be born. She has recently pointed out a few things that turned out to be completely useless: a chicken-shaped pillow for breastfeeding and a basket that absorbs odour. The pillow turned out to be too small and a regular basket would be more than enough. She has decided, though, to get a baby monitor which is nice to have when the baby sleeps in a different room.
As you can see the chicken-pillow survived, but it is not meant for breastfeeding at all, and our mugs can do a great job even during 'the tea time with your son'.
Kathy, who used to take care of our Facebook commercials, became a mum a few weeks ago. She did her shopping reasonably and she uses all the things she bought regularly. What are the most important things for her? A swaddler (her little girl can't sleep without it), a chest of drawers by the bed (with all the most important things) and little led lights (that will not wake the baby up, but will let you change him or her).
When becoming a mum for the second and next time, one probably has everything planned. If you are getting ready to welcome your first child, it's worth to read some advice from others. If you are a mum already, please share some experience and leave a comment. Help other mums!