Fun Christmas Family Activities
by Anna,
11 Dec 2020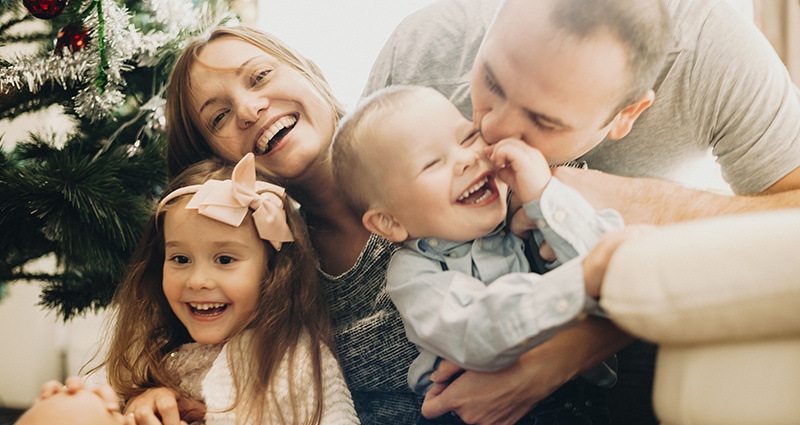 Can we still play together? Sure we can! Sometimes we just lack the idea :) We've gone out of practice because we rarely spend whole days together without school, work, running errands. Therefore, we've collected a few fun Christmas games for the whole family!
Yorkshire puddings? Done.
Cookies? Baked (twice!)
The house? Decorated with hand-made ornaments!
We're ready for Christmas!
But… what now? What to do at Christmas? When we finish all the preparations we suddenly realise that we have too much free time and we don't know what to do with it.
Christmas activities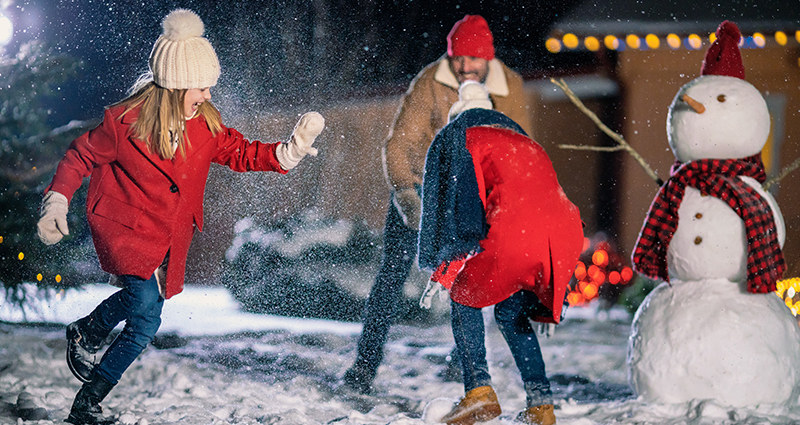 Every parent knows that the key to a calm and happy Christmas is… a tired child. They still have this internal need for movement. It's something we – adults – lost while working and sitting at the desk all day or somewhere on the way to work while driving a car. Except for a free evening, there are other benefits of a tired child! When was the last time you went skiing or ice-skating or just for a walk on your own? Exactly! Remember, activities will let us burn some extra calories, will definitely make us feel healthier and more hungry so we can keep celebrating and, well, eating :) (no food should go to waste).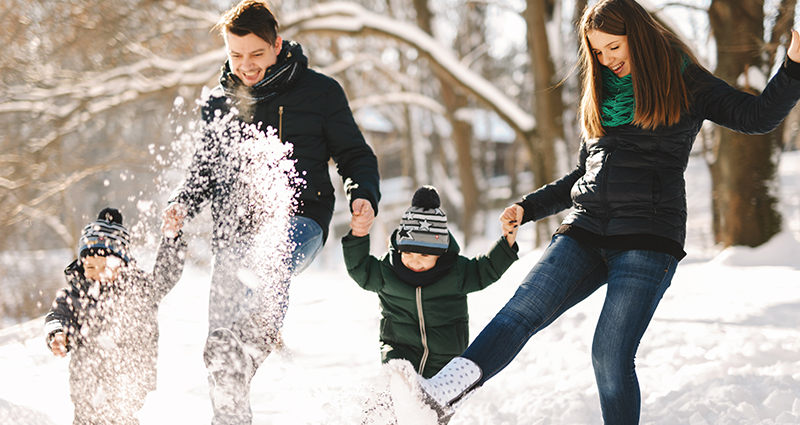 Christmas activities at home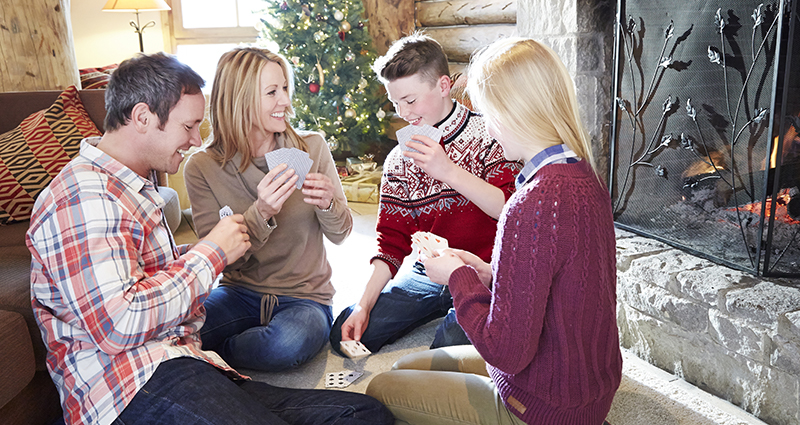 And what if you can't leave the house? Or you go out but, suddenly, it starts pouring or snowing heavily? Don't worry, there are a lot of things to do without the need for going out.
When you have more than one child but there is a big age gap between them, coming up with any game to spend the time together can be problematic. Then, the best what you can do is to prepare a Christmas lottery!
During the Christmas lottery every member of the family has to come up with some ideas for spending time together and then write them down on pieces of paper. All the ideas are then put into a Christmas socket and jumbled up. Then comes drawing lots. The picked idea has to be played by the whole family. You can, of course, suggest some fun activities that you know will be loved by all the kids.
→ The home cinema – turn off the light, prepare popcorn, find straws for your drinks, prepare tickets and even... play some commercials before the actual movie :) going to the bathroom must be done quietly not to disturb others!
→ Build a base from blankets and pillows and read books in it.
→ Play pictionary and see your family trying to guess what you mean.
→ Sing Christmas carols and check who's got the best memory and remembers most of them.
→ Organise a photo shoot and check who's the best model, photographer or the make-up artist (more about Christmas photo shoot ideas can be found here).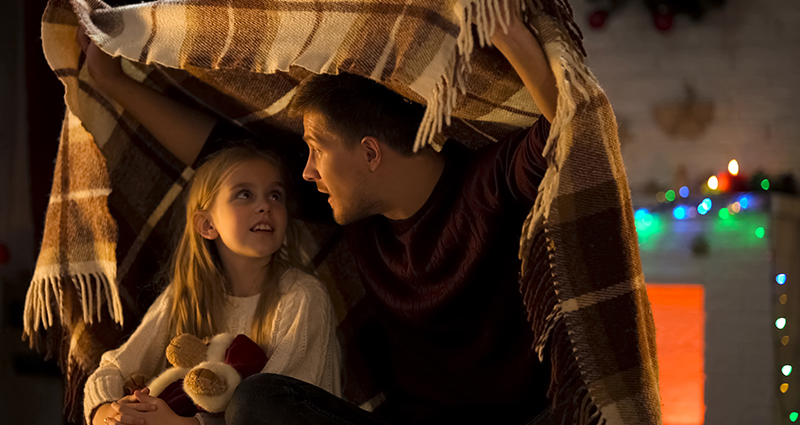 Another idea can be a Christmas quiz. Split into two teams and solve puzzles, answer questions or complete some tasks. Ideas? No problem:
→ Name two Christmas dishes.
→ Name three Christmas carols.
→ Sing the third verse of 'Silent Night'.
→ What kind of animals does Santa keep?
→ What colour is the Santa's suit?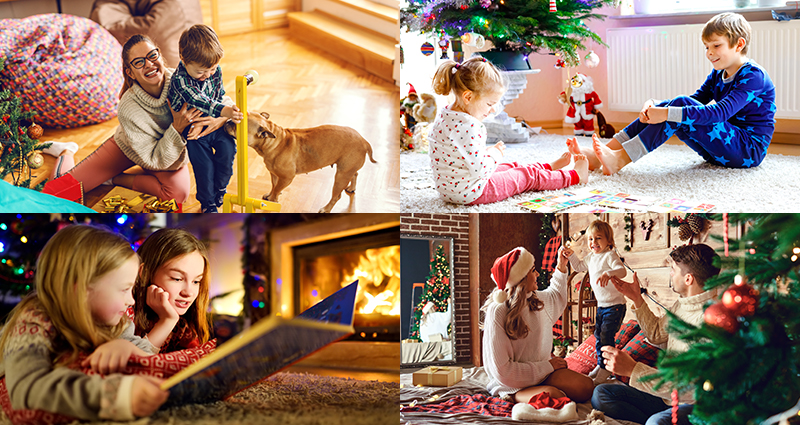 Before you start playing, decide what the prize will be for winning. Our idea? The winner team chooses the film to watch after the game is over. This way you've got plans for a couple of hours of good fun and for the evening, too!
Are you looking for an idea for a game to play here and now? No preparations? Or perhaps you need to keep the children busy in the car? Create your own Christmas story! In such a game, every member of the family creates a fragment of the story which will later be combined. To make the fragments fit, you need to listen carefully to what others say.
If coming up with your own stories seems too difficult, use audiobooks. What to do to make children listen to a story? Tell them that when the story is over, you will ask them three questions about it. If they answer right, they will get a prize! You know your children best so choosing something for them shouldn't be a problem :)
Christmas is the time to celebrate traditions. We start the dinner at a proper time, we eat the same dishes every year, everything has its own turn. Do you already have some traditional Christmas activities? What do you usually do with your whole family? Let us know in the comments and help others organise their time at Christmas :)