8 ideas for personalized mini gifts for wedding guests that you didn't know
by Anna,
21 Feb 2021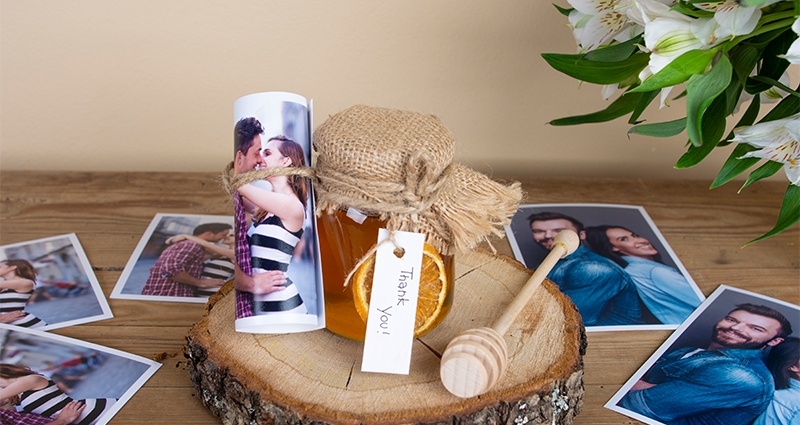 When going to a wedding ceremony or wedding party we always bring a gift for newlyweds. Nowadays it's become more and more popular to prepare thank you gifts from newlyweds.... to wedding guests. Read that blog post which will present you with plenty of ideas on how to prepare personalized mini gifts for wedding guests. Those ideas include prints and sharebook from Colorland!
Why prints and sharebook?
Because it's so far the easiest way to give a touch of personalization to the gifts for wedding quests. What's more, prints, insta photos (no matter the size) or sharebook are easy to make and the best part of it is that they don't burden the budget of a bride and groom. But they will make the gift more unique and fully handmade. So now - let us inspire you!
1. Mini cactus with a photo of bride and groom
When writing about gifts for wedding guests we're thinking about the things that will amaze them and, at the same time, they won't burden the bride and groom's budget. That is why the first idea is mini cactuses or succulents in decorative pots which you can decorate as you want and attach a rolled up photo of you with a little thank you caption on the back of it on a skewer or a wire. It wouldn't be just a practical gift but also a keepsake which will remind them about that day that is really important to you. Remember that you can also personalize the wishes on the back depending on who you're going to give it to – your auntie or your best friend.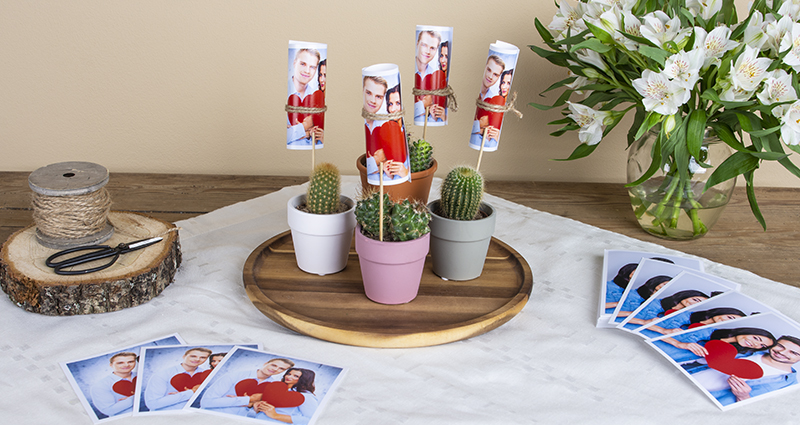 2. Personalized wine bottle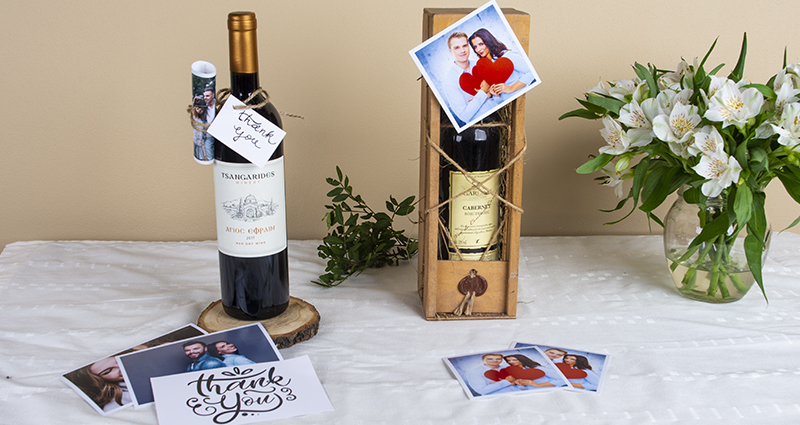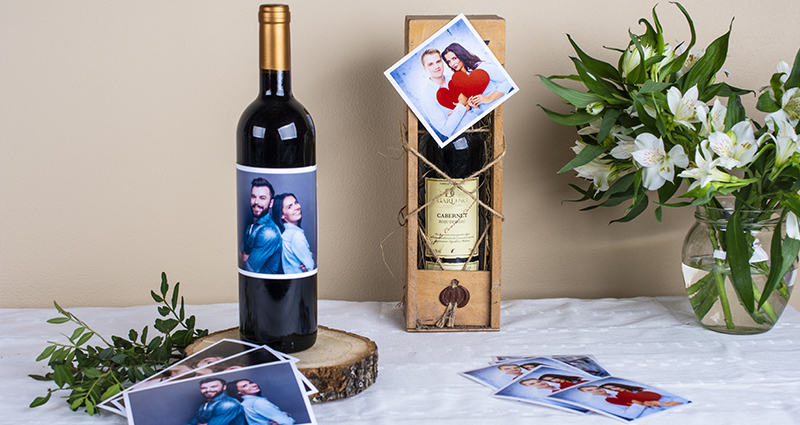 Another idea for a unique thank you gift for wedding guests? Personalized wine bottle decorated with your picture – only for grown-up guests of course. ;) You can glue your photo to the bottle (instead of the lable) or tie it with a jute string with a thank you card attached (as presented on the photos above). In order to create such a gift you can use classic prints, but also photos from sharebook, a big advantage is that they are made of paper that is prone to folding and rolling up. It is up to you what you will choose.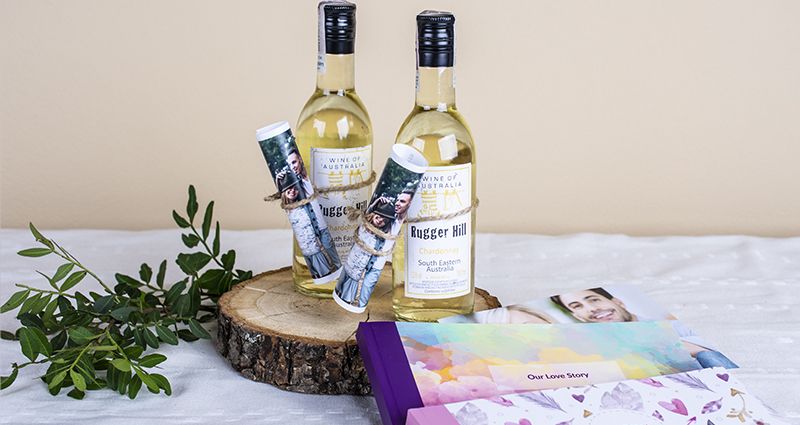 3. Personalized (photo)gifts for those who have a sweet tooth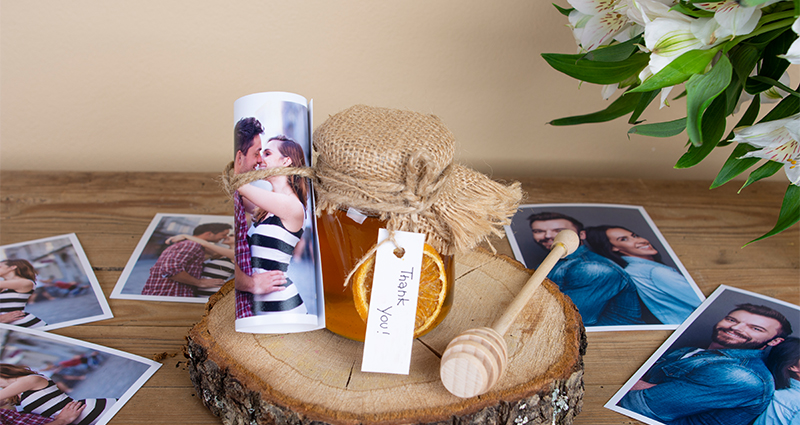 Don't be shy – majority of people love sweets and only some of them are quite sceptical about it. While preparing wedding gifts you should take a 'vox populi' into consideration and prepare eg. A small jar filled with honey or a container filled with candies or coffee. It is enough to decorate those little containers with a jute string, your photo and/or a thank you card and you will get a uniqe gift in no time! Surprise yourself and your guests by giving them this extraordinary gift on your wedding day!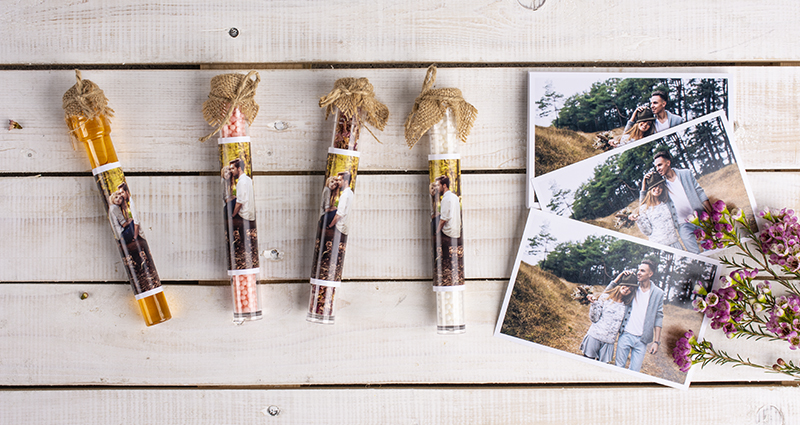 4. Prints on a stick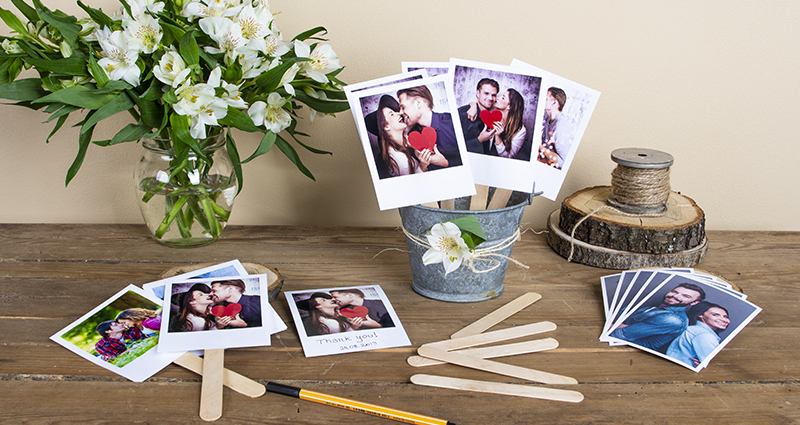 When it comes to the lollipops it is the same as with chocolate - everyonoe loves them. ;) Maybe it is a good idea to choose lollipops made with prints? You just need to glue an ice cream stick to a print (classic, insta or retro) and your gift is ready! On the back or, as in case of retro prints, below the photo you can write down a thank you note that will make the gift even more personalized. Such photo may decorate a flower in a pot or a muffin! There is plenty of possibilities!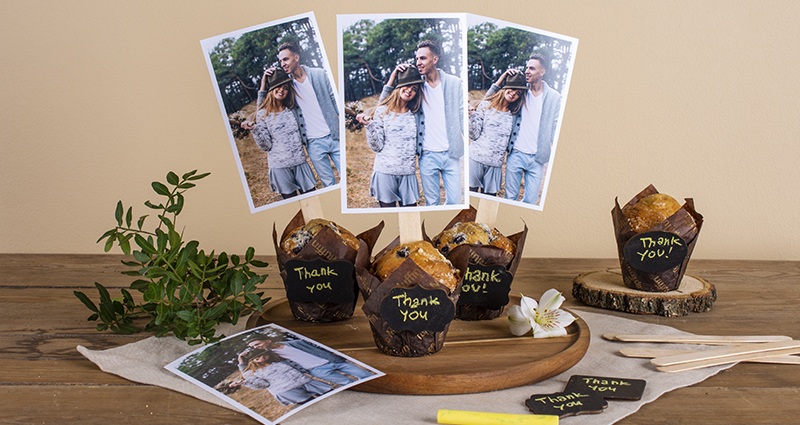 5. A mini scrapbook with your photos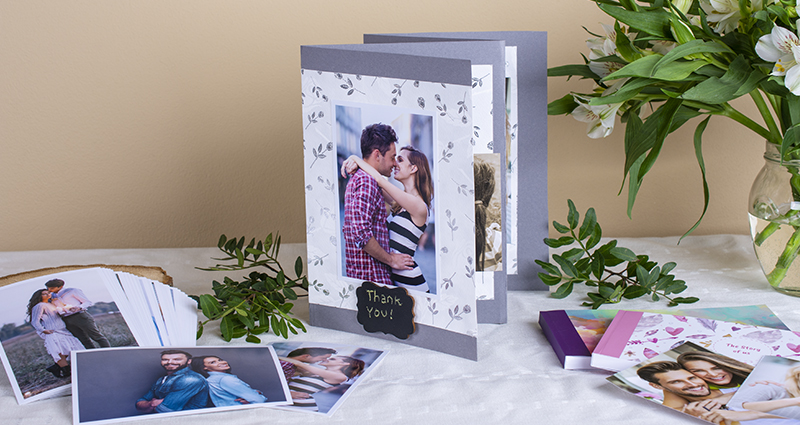 Maybe you would like to create a mini scrapbook with your photos? Of course preparing such a gift requires a bit more time, but all what you will need is a piece of bristol paper and decorative cardboard, also your photos which you would want to share with your wedding guests and a unique keepsake is ready. You can use classic prints or photos from sharebook to create  such scrapbook. Our photos show only the basic option of a scrapbook which everyone can make, but please remember that in a scrapbook supplies store you can find plenty of scrapbooking supplies such as hole maker, stamps or stickers. And how your scrapbook will look like?
6. Smell of love with a photo of a newlyweds
How about a gift that smells like love? No problem! Give your wedding guests a scented candle with a photo of a future bride and groom! It seems like a trinket which won't burden your budget for sure but will put a smile on the faces of your wedding guests. Please remember that a print gives you various possibilities – you can write a thank you note to express your appreciation for each of your guests on the back of it. It will be a thoughtful personalized gift!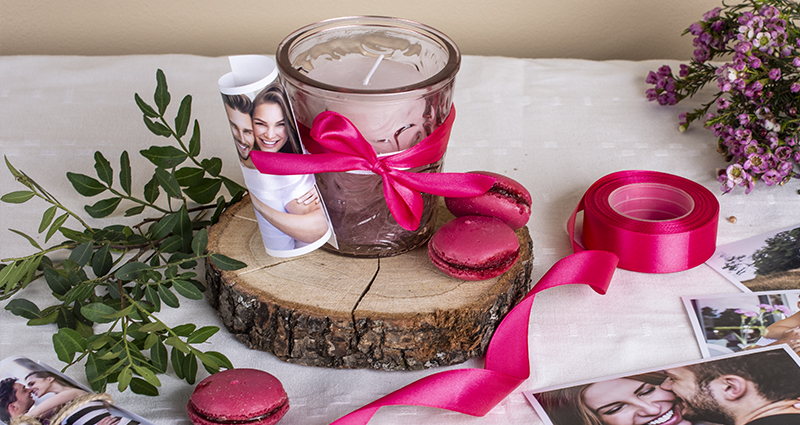 7. Personalized chinese fortune cookie made of print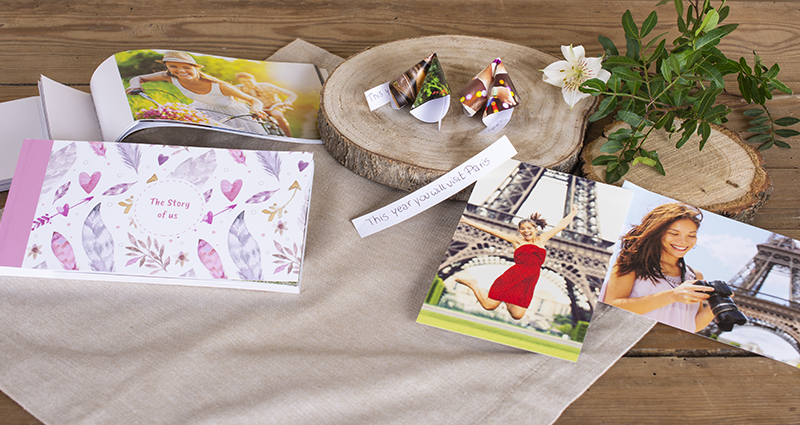 What do you think about a cookie, but in 100% fit which will tell you the fortune? :) That's the idea for a unique mini gift for wedding guests – you need to fold your print (once again we would recommend a sharebook photos because they are made of paper that is more flexible, you can fold it or roll it up) and put a note with a fortune inside! A print (of a bride and groom connected with a fortune note) is a great keepsake for a wedding guest and a great game during a wedding party! Remember to match the fortune to a person that it will be given to and think of those that won't offend anyone or surprise them in a negative way. Those chinese cookies made of prints can be prepared for another occasions as well, eg. birthday pary. ;)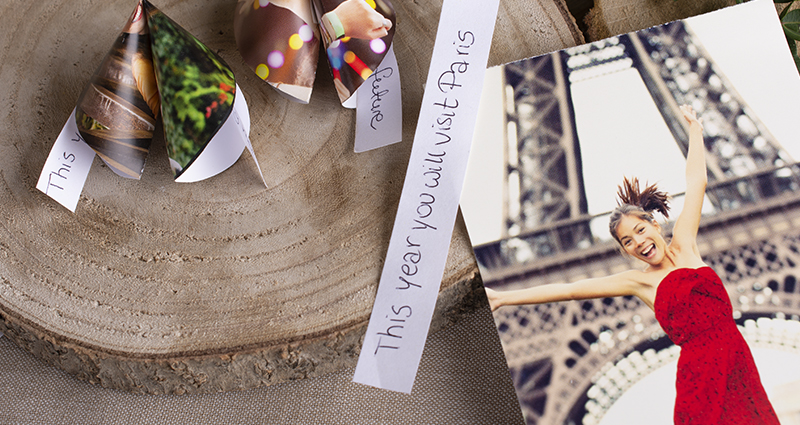 8. Personalized gift bag with a photo of newlyweds
There is a plenty of ideas for a thank you gifts for wedding guests and we don't want to impose anything. However, no matter what you will choose, please, remember that if you want to surprise your guests even more you should think about a unique gift bag which will impress them for sure. You need a regular paper bag, a piece of ribbon and insta photo with your face in it attached with a tiny wooden clip. The gift is ready! It's easy-peasy and impressive, right?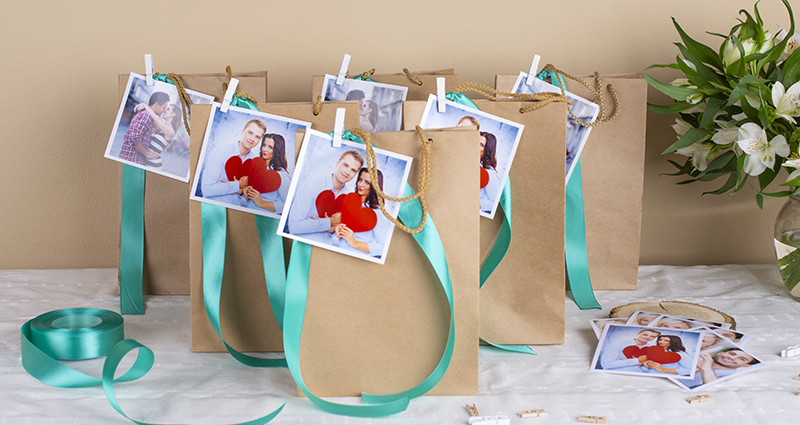 Which idea do you like the most? Be sure to let us now in a comment! We hope that we've inspired you to make those mini gifts for wedding guests by yourself! Try it yourself, you will see how much fun and satisfaction it brings!
If you have other ideas how to prepare gifts for wedding guests using Colorland's photo products we would love to see them. Please, share those with others handmade enthusiasts by tagging us on Instagram or Facebook. Let's do it!