You are about to choose a Photo Book which you will then be able to personalise with your photos. The number of photos and the theme of the book are only up to you. We've got lots of free templates to choose from to make sure you find something for yourself.
Personalised Photo Books comparison
| | A5 landscape | A4 | A3 landscape | 10x15 | 20x20 | 24x24 | 30x30 |
| --- | --- | --- | --- | --- | --- | --- | --- |
| Classic | √ | √ | √ | | √ | √ | √ |
| Exclusive | | √ | | | √ | | √ |
| Starbook | | √ | | | √ | | √ |
| Softcover A5 | √ | | | | | | |
| Sharebook | | | | √ | | | |
| | Paper | Weight of paper |
| --- | --- | --- |
| Classic | semi-matt Silk paper | 200 g/m2 |
| Exclusive | semi-matt Silk paper | 200 g/m2 |
| Starbook | snow-white glossy paper | 205 g/m2 |
| Softcover A5 | semi-matt Silk paper | 200 g/m2 |
| Sharebook | semi-matt Silk paper | 200 g/m2 |
| | Number of pages | Binding |
| --- | --- | --- |
| Classic | 28 - 160 | glue binding |
| Exclusive | 28 - 160 | glue binding |
| Starbook | 28 - 160 | glue binding |
| Softcover A5 | 32 - 100 | glue binding |
| Sharebook | 50 | glue binding |
| | Cover | Cover's laminate |
| --- | --- | --- |
| Classic | hardcover | glossy (or matt optional) |
| Exclusive | hardcover | eco-leather or textile |
| Starbook | hardcover | matt (or glossy optional) |
| Softcover A5 | softcover | glossy |
| Sharebook | softcover | matt |
Personalised Photo Books comparison
Make your own Photo Book online
Photo Books for any occasion
There are lots of occasions but a personalised photo book is always a good gift idea. We know that sometimes you create custom photo books without any particular occasion, e.g. as a souvenir for yourself or your loved ones. The books, then, may include photos from many years back – holidays, family reunions and trips. Photos taken in every season. Which template to choose then? To make the decision and the designing process easier, we have created a few templates that will definitely go well with all sorts of photos. A customised photo book, the one in your favourite colour and with matching ornaments, filled with your carefully selected photos will definitely make an exceptionally sentimental keepsake. You don't need a special occasion such as a wedding, birth of a child, crazy holiday, etc. to create it. It's worth creating even with regular photos which we collect over the years from seemingly insignificant events.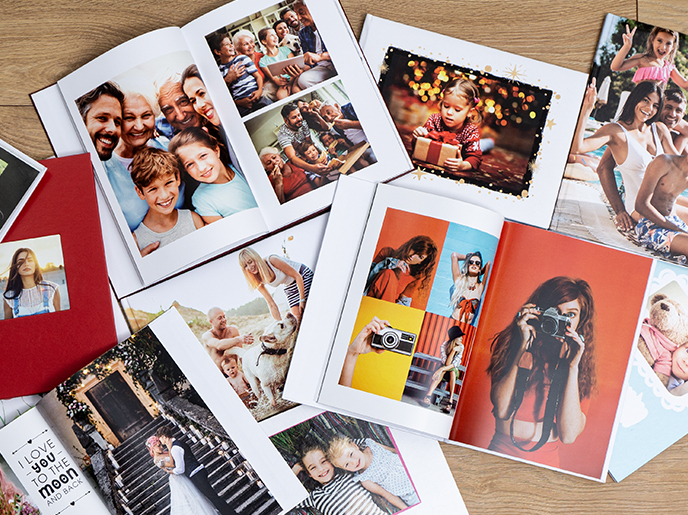 In the past we used to glue our photos into heavy photo albums. Today, you can make your photo book online. You can start designing a Photo Book with a blank theme which you will fill not only with photos but also with ornaments – clip art, frames, text, etc. All elements, used in the remaining, ornamented templates are grouped and available in the editor. Designing from scratch seems to be time-consuming and requires an idea and some artistic skill. Especially, if one likes photo books full of patterns and colours.Even if you choose a ready-made template, you will still be able to modify all the elements it contains. What does it mean? It means that you can e.g. change the colour and the pattern of the background, add or remove frames, text and clip-art. Thanks to that, you will be able to create a unique photo book which will fully suit your needs. Modifying or creating a template from scratch can surely take some time, especially if you're not keen on minimalism. Choosing the right colours, patterns and photos and make them go together well in a photo book is not an easy task. That's why we have created a couple of templates which will surely help with creating your photo book.
Make your own Photo Book with unique background
Every template can be modified at choice. Your final project may even look nothing like the template you started with. Together with our Design Team we try to diversify our templates to make it easier for you to prepare and then order the book. We match the colours, patterns and layout to highlight the colours and the vibe of the added photos. We have also prepared a few templates in which we tried to leave some more space for text and your comments or stories. A personalised Photo Book with text should be really well-organised and thought-through so it is still clear and the pages are not cluttered with all the elements.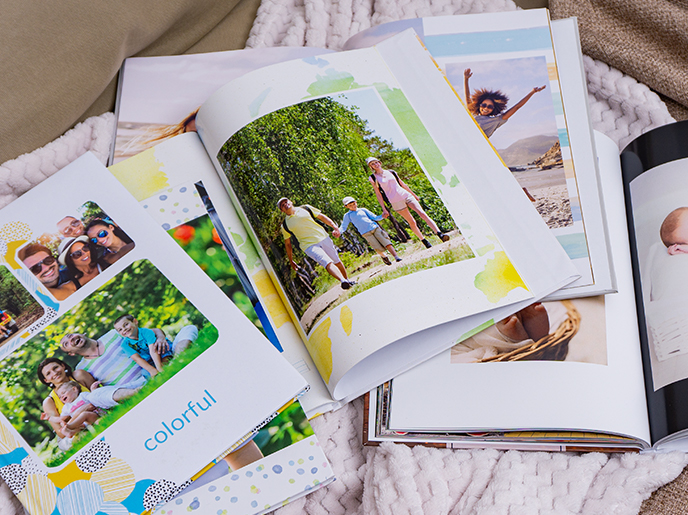 Thanks to the fact that every photo book can be modified – changing the colour, intensity or pattern of the background is very easy. But to make the process even easier and faster, we've prepared templates containing unusual backgrounds which otherwise could be very time consuming to create.
Wodden templates – 'Wooden' and 'Wooden Facture' use background which look like they have a texture of real wood. 'Wooden' is kept in brown tones while 'Wooden Facture' is kept in ash grey. The wooden texture is trendy nowadays, that's why it's not difficult to guess if the gifted person will like it or not. Take a good look at the objects this person has in their house, if they wear wooden jewelry, maybe a wooden watch or a wooden case for their smartphone.
Templates with vibrant patterns – Peppermint, Plaid, A gift for Grandparents, School Memories Keepsake. Thanks to geometric patterns such as stripes and plaid your photos will get that extra expression. 'Peppermint' and 'School Memories Keepsake' have bright backgrounds while 'Plaid' and 'A gift for Grandparents' have dark backgrounds.
A glitter template – 'Hen Party' is a photo keepsake from a hen party. Most of the pages will have a black background which underlines the decorations and goes well with the vibe of the hen party. If you change the background to white (you'll be able to do that in the "Backgrounds" section in the editor) the template will become a perfect fit for a teenage girl.
Many of our templates have plain colour backgrounds – white or pastel. Such photo books are incredibly universal – they suit many occasions. Among the ready-made universal templates there are also a few with the dark background. Photos in such a book will look totally different from the ones in a book with a bright background. What's interesting is that black and white templates are one of the most popular photo book templates in all countries.
Light and calming colours are called pastels. Their delicate effect is achieved thanks to blending with the white colour. Products with such tonality have been really trendy for several years now. Every season new clothing items, accessories or even household goods and home decor are kept in pastel colour tones. Pastel pink coats and scarves, mint-coloured fridges, mugs or pillows are just the most popular examples. Even though those are not as classic colours as black and white, they are still in vogue.
We are trying our best to make the templates universal and useful. That is why pastel backgrounds are often used in our templates. They work for baby's photo books as well as wedding ones, as a thank you gift and travel keepsakes. This kind of background is a great option for photo books that include photos from different occasions and periods of life.
Make your own Photo Book online
A Photo Book with text
All photo book templates can be freely modified. One of the various options which our editor offers is incorporating text. You can choose the size and alignment of the text as well as style and color of the font. To simplify the process of creating a photo book even further we've prepared templates with spaces intended for different amounts of text.
Templates with short descriptions – 'Memorable Quotes' and 'Photo Story' both have minimal patterns with photos on a white background and textboxes for short captions or inspiring quotations. Such photo book is perfect if you like to have your photos captioned. No family gathering or hangout with friends will ever be overpowered by an argument of who is on the photo and when it was taken.
Portfolio template – 'Booklet' is a minimal and modern template with which you can divide your photos into categories. Each category is graphically marked with a space in which you can describe it and shortly caption your photos. Thanks to clear categories this template will be a particularly good choice if you are a computer graphic designer or a photographer.
Business template – 'Business'. A template with neutral colors and decorations required during official business meetings. It's got a big textbox – the text can take the whole page or a significant part of it so it can be a combination of a portfolio with a letter of application or CV.
Questions and answers about Photo Book
What kinds of photo books are there in our offer?
Which photo book from our offer is the best?
What formats are available?
How to make a photo book online?
How many photos can I add to a photo book?
Which template to choose to match the photos I have?
Can I start a project without a template?
Can I create and print a photo book with pictures from Facebook?
Can I autofill my project with photos?
How can I add text to the photo book?
How can I change the number of pages in my photo book project?
Can I order a photo book without the Colorland's logo?
How to create a photo book with the highest print quality?
Questions and answers about Photo Book